As DACA Fate Remains in Limbo, Nearly 100K Undocumented Kids Graduate From High School Each Year, New Data Show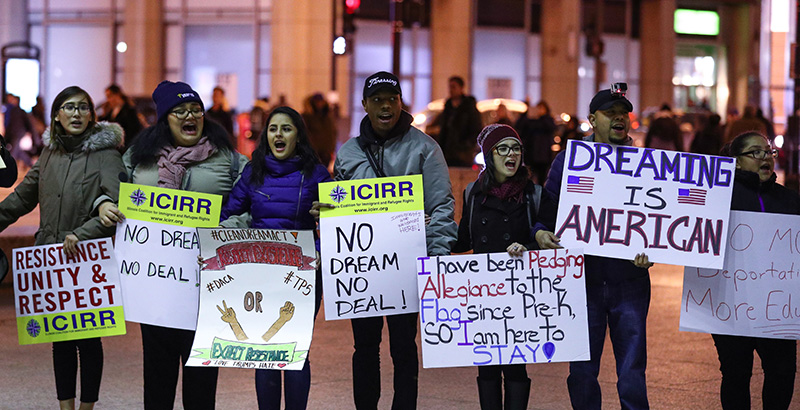 As the debate over the fate of Deferred Action for Childhood Arrivals (DACA) recipients continues in Washington and in federal courts, a report released Wednesday found that nearly 100,000 undocumented students graduate from high school each year.
The DACA program, which the Trump administration has aimed to terminate since 2017, grants deportation relief and work permits to undocumented immigrants who were brought to the country as young children. The new report by the Migration Policy Institute, a nonpartisan think tank focused on immigration, argues that many of those high school graduates face uncertain futures as the fate of DACA remains unstable.
The Institute estimates that about 98,000 undocumented teens graduate from high school each year. That's a sizable increase from an earlier report, which the Urban Institute released in 2003, estimating that about 65,000 undocumented immigrants graduated from U.S. high schools each year. Public schools typically don't ask students about their immigration status. However, the Supreme Court found in a landmark 1982 decision that states cannot deny a free public education to children based on their immigration status.
Jeanne Batalova, a senior policy analyst at the Institute, said it was important to update research on undocumented student graduates to get a more accurate sense of how many people would be affected by proposed immigration policies.
"Any policy needs to be based on what's happening in the world," she said. "For us, it was important to understand how many people are now in this situation where those [DACA] protections are no longer available."
For decades, Congress has debated legislation to provide a legal status to undocumented immigrants who were brought to the U.S. as children, often referred to as Dreamers. Then-President Barack Obama created the DACA program in 2012 through an executive order. Since then, nearly 800,000 people have received DACA benefits and, as of January, about 680,000 have benefited from the program.
But in September 2017, the Trump administration announced a plan to phase out DACA. In the announcement, then–Attorney General Jeff Sessions called DACA an "open-ended circumvention of immigration laws" and said the Obama administration overreached its authority to create the program after Congress "specifically refused to authorize" similar protections.
The issue remains unsettled in Congress, and Trump has since attempted to use the DACA protections as a bargaining chip to secure other immigration priorities, including a wall along the U.S.-Mexico border. However, federal courts have handed the Trump administration several setbacks. Under pending court injunctions, DACA recipients can renew their benefits, a process that's required every two years, but eligible immigrants who did not previously apply for the protections are currently unable to do so.
"For many of the new high school graduates, the program is no longer available, which means they are at risk of deportation. They can't get a valid work permit [and] it will be harder to apply for and to get in-state [college] tuition and other benefits," Batalova said.
In January, the Supreme Court decided not to consider the fate of the program. Batalova predicts the Supreme Court will agree to hear a case on DACA's fate in October.
In order to estimate the number of high school graduates who are undocumented, researchers at the Institute analyzed census data and determined that roughly 125,000 undocumented students reach graduation age each year. That tally was then compared against the national graduation rate. While researchers were unable to determine how many of those 98,000 high school graduates each year currently receive DACA protections, Batalova predicted it's a small fraction of the overall population.
Through the analysis, researchers found that the bulk of undocumented high school graduates reside in just a few states. In fact, more than a quarter reside in California, and another 17 percent live in Texas. Since a majority of these graduates likely lack DACA protections, Batalova said, state policies take on greater importance. For example, 20 states, including California and Texas, allow undocumented students to pay in-state college tuition. But in Arizona and Georgia, state law explicitly blocks undocumented immigrants from receiving in-state tuition.
Support The 74's year-end campaign. Make a tax-exempt donation now.