Prime-Time XQ: Inside the 'Super School' Telethon That Called on Americans to Rethink the Concept of High School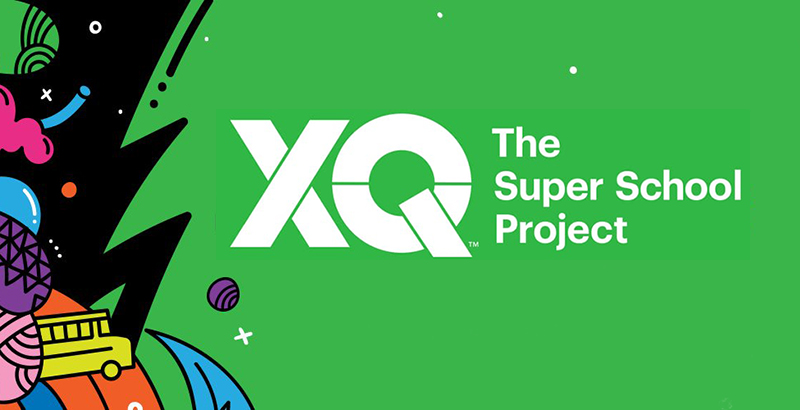 Education reform made prime time Friday night with a slew of celebrity guests to promote the XQ Super School Project. (Here's a little background on the nationwide campaign to rethink high school.) The hour-long special aired on all four major TV networks to inspire people to become involved in rethinking the high school experience for the nation's teenagers.
EIF Presents: XQ Super School Project aired from the Barker Hangar at the Santa Monica Airport on ABC, CBS, NBC, and Fox live on the East Coast and taped-delayed on the West Coast. Viola Davis and her husband, Julius Tennon, co-produced the show, which featured live and taped musical performances with student performers in colorful clothing, comedy acts, and inspirational speeches from celebrities including Samuel L. Jackson, Tom Hanks, and Justin Timberlake. The show also highlighted schools that have received some of the $115 million in grants XQ has given, including Da Vinci RISE High School in Hawthorne, California.
"Tonight is not a telethon; it's a call to action. And the first step is really simple — join the conversation," Davis said, encouraging viewers to text "XQLive" to 22 55 68, which brings a message from Davis and a promise of periodic updates.
"This is a moment to come together," Davis said, acknowledging that there is no quick fix.
XQ is a project of the Emerson Collective, which was founded by Laurene Powell Jobs, and the broadcast was in partnership with the Entertainment Industry Foundation. XQ is led by co-founder and CEO Russlynn Ali, a former assistant secretary of education for civil rights. Its board is chaired by Powell Jobs, Steve Jobs's widow.
Two years ago, XQ challenged educators, students, school administrators, and business leaders to rethink and reimagine America's high schools and how students learn what they need to know for the 21st century. They argue that high school hasn't changed in the past 100 years even though technology has changed drastically. "Students, you are our future," Powell Jobs told the audience before the show started. "I know you hear that a lot, but it's true. Your skills and your values, your minds and your hearts will determine the future of our society."
Ali said the broadcast was just the beginning: "The beginning of a renewed sense of optimism in America that every child, every student from any ZIP code, can get the education they deserve to lead a successful life."
Last year, XQ gave $100 million, twice what it had planned, to 10 innovative high school projects across the country, including in California, New York, Iowa, Michigan, Delaware, and Texas, some with a focus on technology.
Two Los Angeles educators received $10 million to start RISE High to help foster and homeless youth graduate from high school. They have started a pilot program at Da Vinci Schools in Hawthorne, where 10 students obtained their high school diploma in June after designing their own personalized education plans to meet graduation requirements.
"The work that we're doing is to provide equity for communities that have never seen that," Erin Whalen, RISE's founding assistant principal, said in a video played during the broadcast.
The video featured Kia Reid, who graduated this spring, the first in her family to graduate and go to college. After a video of RISE High played, Andra Day performed her song "Rise Up."
Furr High School in Houston was also highlighted; it was described as a "dropout factory" but now has a graduation rate that tops 90 percent. The school has an environmental justice focus. XQ projects in Nashville, Tennessee, Washington, D.C., and Cedar Rapids, Iowa, were also featured.
"We owe it to our kids to give them the best shot at life, and that's why I'm here, because good enough isn't good enough," said Justin Timberlake, who noted he has a 2-year-old son.
DJ Khaled brought his young son with him onto the stage. He encouraged students to go to school. "Don't sit on the sidelines. Do the right thing," he said.
In a segment that riffed on James Corden's popular "Carpool Karaoke" skits, Corden and Tom Hanks sang "Kids in America" in a school bus filled with students.
Nick Melvoin, a new board member at the Los Angeles Unified School District, attended the event and said he has been speaking to Emerson and XQ about ways to incorporate out-of-the-box ideas, innovation, and collaboration into LA Unified schools, especially low-performing ones.
"LAUSD just built 131 schools, and now we want them to run effectively," he said.
Former U.S. secretary of education Arne Duncan, who is managing partner at the Emerson Collective, and American Federation of Teachers President Randi Weingarten also attended.
Four California schools have received XQ grants. Last year the recipients were RISE High, Vista High in San Diego County, and Summit Elevate in Daly City in the Bay Area. This spring Santa Ana Unified received a $2.5 million grant from XQ for its Círculos High School program concept, in which students will work with business leaders and community leaders on projects while completing their coursework online. (Here's more info on all the schools that have received XQ funds.)
The closing number of the night was a performance of "Come Together" with Jennifer Hudson performing live.
Get stories like these delivered straight to your inbox. Sign up for The 74 Newsletter