Wolfe: During COVID, States Let Students Get Speech Therapy, Mental Health Counseling & Other Services Online. Make Those Changes Permanent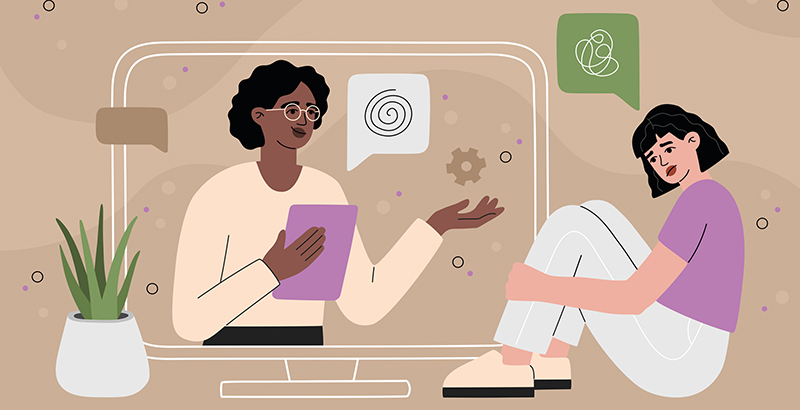 Get essential education news and commentary delivered straight to your inbox. Sign up here for The 74's daily newsletter.
Over the past year, states have eased rules and regulations across sectors — from virtual notary services to alcohol delivery — in response to the ongoing pandemic. One of the most critical areas is telehealth, which allows for virtual interactions between clinicians and patients — or, in the case of schools, therapists and students with disabilities.
Stay-at-home orders, social distancing guidelines and other barriers to travel prompted revisions to telehealth regulations in order to make health care more widely accessible via videoconferencing. In October, for example, the Centers for Medicare & Medicaid Services expanded the list of telehealth services that Medicare fee-for-service will pay for during the pandemic. At the state level, California Gov. Gavin Newsom facilitated the waiving of in-person supervision requirements for speech-language pathology assistants, as well as certain requirements for professionals operating on a temporary license, to allow them to practice via telemedicine. In New Jersey, Gov. Phil Murphy expanded access through legislation that authorizes any health care practitioner to provide telemedicine and telehealth services for the duration of the state's COVID-19 public health emergency.
Now, states are realizing that expanding access to telehealth is important whether we're fighting a pandemic or not. South Dakota recently made its pandemic-related telehealth waivers permanent, including removing the requirement for providers to conduct an in-person medical exam before delivering telehealth services to a patient. North Carolina recently made speech-language telehealth a permanently reimbursable service through Medicaid. In California, legislation has been introduced that would indefinitely continue the telehealth flexibilities that the state put into place during the pandemic. This spring, Nebraska became the tenth state to sign Audiology & Speech-Language Pathology Interstate Compact legislation into law, jump-starting the process to begin to make the compact — which will allow licensed providers to apply to practice across state lines without having to become licensed in multiple states — operational.
These revisions to permanently remove barriers to telehealth will make providing and receiving care easier for people across the country, particularly when it comes to serving students in school-based settings. Prior to the pandemic, practitioner and clinician shortages, especially in rural and heavily populated school districts, left students without access to effective speech-language pathology, behavioral and mental health counseling, and occupational therapy. Even before the pandemic, more than half (54 percent) of school-based speech-language pathologists reported that job openings for clinicians exceeded job seekers in their type of school and geographic area; unfortunately, these shortages aren't showing signs of improvement. The Bureau of Labor Statistics has noted that 41,900 speech-language pathologists will be needed to fill the demand between 2018 and 2028.
School closures in response to the pandemic have exacerbated these issues of access, at a time when students need mental health supports more than ever. As of December 2020, 84 percent of elementary school principals reported that they are very concerned about student mental health and 68 percent do not have sufficient professionals on site to meet those needs. Since many underserved students rely on school-based mental health services, it is likely that many children went without this critical assistance if their schools were not able to offer it remotely during the pandemic.
School-based telehealth, when implemented according to research and best practice guidelines, helps provide students with access to clinician expertise and high-quality care. Highly skilled, fully licensed and credentialed therapists and counselors use the same methods and evidence-based practices as they would in person. The most effective online therapy combines the therapist's or counselor's services, real-time progress tracking and a secure, high-fidelity videoconferencing platform.
Some students even prefer online mental health therapy, as they feel it provides a more confidential setting. They don't have to be concerned about running into their therapist in town or their friends seeing them walking into the counselor's office at school. In an era of Snapchat, Instagram and TikTok, the youth of today are more comfortable in front of a screen than in person.
Recent federal and state waivers that remove barriers to telehealth should be made permanent. These licensing and regulatory changes make it easier for schools and districts to leverage technology to provide therapies to students with disabilities and students in need of mental health supports — providing continuity of service during the pandemic and beyond.
Kelly Wolfe is a former educator and advocacy leader for children's health in Minnesota and vice president of strategic partnerships and regulatory compliance at PresenceLearning.
Get stories like these delivered straight to your inbox. Sign up for The 74 Newsletter