Distanced by Pandemic, School Psychologists Improvise Ways to Connect With Struggling Students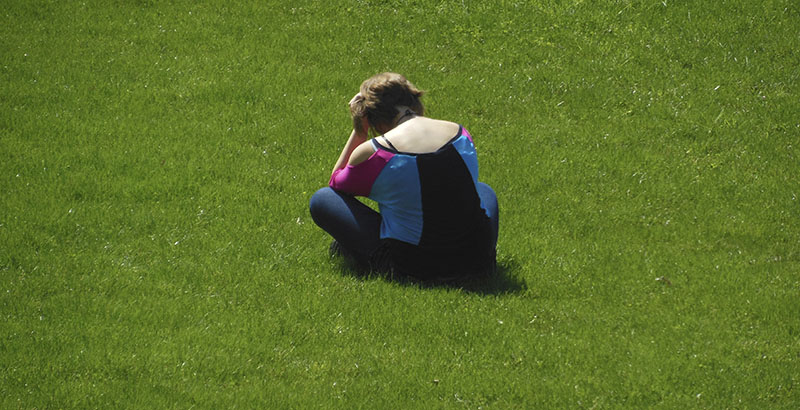 Walla Walla Public Schools in the state of Washington calls them "look fors" and "listen fors": the subtle but telltale signs that students are struggling with their mental health.
The district is asking the entire school community to watch for these clues as it connects with its 5,690 children by phone or online during the unprecedented shutdowns brought on by the COVID-19 pandemic.
The guidance comes as schools from New York to California face the enormous challenge of providing mental health services to some 55 million students who are no longer on site.
"Be clear, matter of fact and to the point," Walla Walla school officials advise: Show "a non-judgmental acceptance of the student's state of mind," and don't avoid using words like suicide, as uncomfortable as that may be.
School psychologists from across the country say they worry most about those students who already faced problems before the shutdowns began, including financial instability, which could be exacerbated by surging unemployment. And although online platforms have existed for years to allow help to be delivered remotely, many campuses have been slow to adapt to the technology, in part because mental health professionals have been able to treat students in person — until now.
Already in short supply and vulnerable to budget cuts, school psychologists say they can't go it alone and are calling on teachers, principals, parents and even students themselves for help. In an effort to address the disconnect, they've packed their districts' websites with tools on everything from positive self-talk to breathing exercises and conversation starters for those who suspect a child is in distress.
Meghan Stets, a counselor at Pinnacle Charter Elementary School in Federal Heights, Colorado, a suburb of Denver, called teachers "the eyes and ears" of the school district during the shutdowns.
"Right now, we must rely heavily on teachers to keep a pulse on their students' well-being and to assist us in identifying families in need of any resources," she said.
Still, Stets is doing her part: She's already joined a Google Hangout meeting with several fifth-graders worried about moving on to middle school without saying goodbye to their teachers, and she plans to hold several other virtual gatherings later this week for children coping with parents' divorces or incarceration, among other issues.
But, she said, the discussions won't be the same as the ones she held before the closures.
"This is more to show them that everything is OK, and that we are all working from home and doing all right, since some of the topics that students would typically discuss in group are not as appropriate or confidential when done via web," she said.
'Figuring it out in real time'
Jada Bromberg, 16 and a sophomore at W.T. Woodson High School in Fairfax, Virginia, is a gifted singer-songwriter and pianist who has struggled with clinical depression for years. She's highly sensitive to the mental health needs of her fellow students, especially those who have committed acts of self-harm or talked of suicide in the past.
"I'm worried about people feeling like they are really isolated at home," said Jada, president of Woodson Minds Matter, a mental health and wellness club at her school.
Jada has made a series of informational videos promoted by her school district urging peers to stay connected online, attend virtual wellness classes and wash their hands to avoid contracting or spreading coronavirus.
She added that while some might enjoy a break from rigorous coursework — many worry about earning the high marks needed to gain admission to the nation's top colleges — they're also missing out on sports, music and other clubs, activities that can reduce stress.
"It's tough because you don't have those things to lean back on," said Jada, who also suffers from anxiety. "Isolation has been really hard for me. It feels like many things that gave me joy are now gone, so I don't have that layer of support anymore. But that is why it is so important to find joy from other activities at home that you can focus on, because in the end, all the little things really do add up."
School psychologists nationwide say they have triaged students based on need, first contacting those with whom they've worked closely throughout the school year and then crafting ways to reach the others. But no matter what their approach — phone calls, emails, letters, Zoom meetings — they struggle with how to serve students moving forward, especially when considering privacy concerns.
"We are figuring it out in real time," said Stephen E. Brock, professor of school psychology at California State University in Sacramento and lead author of the National Association of School Psychologists (NASP) PREPaRE school safety and crisis response curriculum. "Everything we are talking about is evolving and ongoing. Every day is different and creates a new challenge."
Previously, children had a guaranteed safe space on campus, mental health workers say. A closed door cut off the rest of the world, but this is not so at home, where other family members — some of whom might be at the root of the child's troubles — are often within earshot.
While April is National Child Abuse Prevention Month, child advocates warn of an uptick in abuse claims during the pandemic. Childhelp, a national nonprofit, has seen a 31 percent increase in calls, texts and chats on its child abuse hotline (1-800-4ACHILD) in the month of March compared with last year, including from children trapped in houses with their abusers.
Andria Amador, senior director of behavioral health services for Boston Public Schools, said her district was better prepared than most to make the move to online services.
The district, which serves 56,000 children at 125 schools, has long-standing relationships with dozens of community mental health organizations; more than 100 outside clinicians are helping the district serve students remotely. It also has a solid partnership with the Boston Police Department, which can be called upon by the district to conduct wellness checks. As a result, Amador said, her office was performing nearly all of its typical mental health functions within three days of the closures.
But even they are having a difficult time in reaching all of their students — particularly those they believe are in the most need — and in securing privacy. Not every student has a home computer, online access or a house large enough to guarantee seclusion. Coronavirus-related layoffs have already forced some families to double up on housing or to become homeless, Amador said, leaving students little opportunity to speak without being overheard.
"So then the counseling session has to shift to be more of a general check-in and resource installation," she said. It must focus on students' coping skills "versus something more confidential and personal."
Checking for signs
Ben Fernandez, lead school psychologist at the Loudoun County Public Schools in Virginia, a district that serves some 83,000 children, has extensive training in crisis intervention. NASP named him school psychologist of the year in 2012. Still, his district is struggling with best practices in this new, online era.
"What's tricky," said Fernandez, "is that myself and the other psychologists on staff, none of us were trained in tele-mental health."
He and his staff are talking with students and parents by phone and online as they transition to working remotely.
His district, like many others, is asking parents to watch their children closely, especially those who have lost someone to COVID-19. Dozens of teachers, coaches, principals and other school staff have already succumbed to the virus nationwide — including a beloved reading specialist at Fernandez's district.
Fernandez said parents, in trying to assess their child's grief, should check to see if their sadness seems typical and fades away, or if it gets worse and hurts their ability to function.
For younger children, he said, that might mean they are not eating, sleeping, concentrating or playing. Older children might exhibit these and other problems.
"For older kids, suicidal ideation, self-injury, substance use — those are more concerning," he said.
Fairfax County Public Schools in Virginia, which serves roughly 187,000 children, is currently offering 30-minute counseling sessions for students and parents who request it, with the appointments scheduled within 24 hours of the initial call.
This is the first time such a service has been made available during the school year. Dozens have already reached out, said Dede Bailer, the district's coordinator of school psychological services.
"We want students to recognize, whether they are healthy, struggling, worried about something or someone, there are people they can go to," Bailer said. "It could be a favorite teacher or coach. We want every child to have at least one significant adult outside their family circle whom they know will help them. Those people are still there for them."
The district is also encouraging all high schoolers to visit online training resources meant to help them identify friends in need.
School psychologists say children, no matter what their age, like to know what comes next in life. The abrupt change to their schedules and the cancellation of college entrance exams, proms, graduation ceremonies and other gatherings has left them uncertain about the future.
"The biggest thing I'm hearing is kids feeling really disconnected from school and friends," said Angela Mann, a professor of school psychology at the University of North Florida and a member of NASP's board of directors. "One of the biggest buffers to stress is social connection, and that is a lot trickier to do right now."
Get stories like these delivered straight to your inbox. Sign up for The 74 Newsletter