With Emphasis on Academic Growth, New Report Names Best and Worst Metro Areas for Education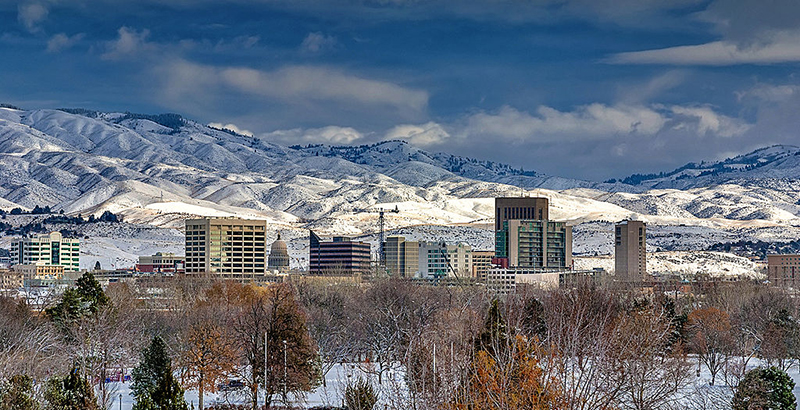 No paywall. No pop-up ads.
Over the past decade, population in Idaho's Ada County has grown 26 percent, including an influx of over 10,000 Californians during the pandemic.
Quality of schools in the region, which encompasses Boise, could be a factor, according to a new analysis from the Thomas B. Fordham Institute and the U.S. Chamber of Commerce Foundation that identifies the nation's best and worst metro areas for educational effectiveness. 
"Literally, you see the houses springing up like mushrooms," said Terry Ryan, CEO of Bluum, a nonprofit supporting charter and district schools in the area.
The region is among those where schools made above-average academic progress prior to COVID-19, the report shows. With the pandemic now accelerating population shifts toward suburbs and smaller metro areas — and often away from high-priced coastal cities — the authors say families and business leaders looking to relocate should factor in school quality when deciding where to settle down.
Michael Petrilli, president of the Institute, cautioned that there's no guarantee the pandemic hasn't stalled progress in areas where student performance once trended upward. Some experts, for example, have called recent drops in state test scores "staggering." But he said the message to districts and charter schools that were effective before the pandemic is to stay the course, and those that are ineffective "cannot just go back to normal."
"I would assume that school districts and charter schools that were doing well by kids before the pandemic are probably largely the same ones doing well by them during the pandemic," he said.
Using the Stanford Education Data Archive — a national database of student performance — and graduation data from the U.S. Department of Education, the Fordham-Chamber project focuses on 100 large and mid-sized metro areas. The top locales include Miami, which recently received back-to-back A ratings from the state; Memphis, where Black, Hispanic and low-income students have shown above-average academic growth; and the Atlanta region, which ranks fourth in the study.
Atlanta has been ranked among the best places to start a new business, attracting tech leaders like Microsoft. Collaboration among districts across the metro area is one reason why students were making progress before the pandemic and are "well-positioned to return to growth," said Kenneth Zeff, executive director of Learn4Life, a nonprofit working to improve education outcomes across the metro Atlanta area. "Substantial inequities still exist, but the gap in several key indicators has been slowly eroding."
Smaller metro areas, such as Jackson, Mississippi, and Brownsville, Texas, also emerged as places where schools performed better than expected based on demographics.
Those on the lower end of the spectrum include the Salt Lake City area, Las Vegas and Tulsa. Average achievement in math and English language arts has improved over the past six to 10 years in the Las Vegas metro area — essentially the Clark County School District — but schools still perform below average nationally, according to the report.
Eighty percent of the population
The researchers focused on the nation's metro areas because that's where 80 percent of the U.S. population lives and where economic activity and labor market trends tend to have the most impact. Issues such as school choice and racial segregation also affect multiple districts.
In addition to identifying areas with above- and below-average academic growth, the researchers factored in progress among Black, Hispanic and disadvantaged students, a region's improvement over the past six to 10 years, and high school graduation rates. They combined these indicators into a measure they call "student learning accelerating metros" — or SLAM. The report includes interactive features so users can isolate results for specific indicators, subject areas or demographic groups.
The authors stressed that while achievement scores might seem to be an obvious indicator of high-quality schools, achievement alone often reflects students' family backgrounds instead of a school's effectiveness.
That's why "Best Places to Live" lists should provide families a more comprehensive view of school quality instead of relying on standardized test scores, the authors wrote.
The SLAM rankings show that a metro area in which students have high achievement scores overall might not perform as well on the other measures.
In North Carolina, the Chapel Hill-Carrboro Schools, in the state's Research Triangle region, has among the highest ACT scores in the state, but also large disparities in achievement between Black and white students.
That hasn't stopped the region from attracting Google, Apple and Nike, which are expanding in the area.
And the Raleigh area ranks fourth in raw achievement scores, but falls to 48th in the report when the other indicators are considered. On the other hand, the McAllen, Texas, area — which includes the Sharyland, Edinburg and Hidalgo school districts — ranks 41st in raw achievement, but third based on the report's SLAM measure.
Brenda Berg, president and CEO of BEST NC, a nonprofit organization of business leaders in North Carolina, praised the report for providing relevant data for her state, where countywide districts include both urban centers and higher-performing suburbs.
She said in an email that she's "most concerned" about Wake County, which includes Raleigh, and is "most eager" to see where the Guilford and Charlotte-Mecklenburg districts go in the years to come.Those two districts, she said "have some really interesting promising practices emerging" around literacy and teacher recruitment in high-needs schools.
The authors note that while charter growth and district reform efforts have often focused on the cities at the heart of a metro area, the "suburbs are where many of the kids — and much of the action — are at, and they often explain a metro's grade."
Looking at broad trends across metro areas, however, can hide "meaningful variation" from one district to the next, said Alex Spurrier, associate partner at Bellwether Education Partners. In October, the think tank released a report showing how a lack of affordable housing in some of the nation's most sought-after districts limits educational opportunity.
"Even if families decide to move to a metro area with higher-performing public schools," Spurrier said, "their access to specific public school systems may be limited based on where they can afford housing," Spurrier said.
Get stories like these delivered straight to your inbox. Sign up for The 74 Newsletter