With Better Data, Academic Results by Mexican Americans Thought to Be Stagnant Are Now Shown as Trending Steadily Upward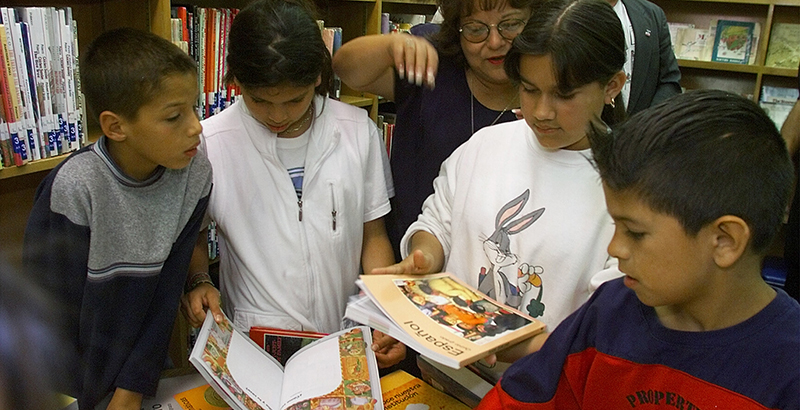 Mexicans arrive in the United States with less education than other immigrants, often having spent just seven or eight years in school. Nearly 40 percent have less than a ninth-grade education, and on most measures they never catch up. Their American-born children go much further, but improvement stalls in the third and fourth generations, with Mexican-descended students a full year of schooling behind their non-Hispanic white counterparts and one-third of a year behind their African-American peers.
These deficits in learning have presumably bolstered the politically potent idea that unauthorized Mexicans, who comprise about half of U.S. immigrants from that country, are a threat to national prosperity. "When Mexico sends its people, they're not sending their best," Donald Trump said at the start of his presidential campaign, "They're bringing drugs. They're bringing crime. They're rapists."
A study published recently by the National Bureau of Economic Research, however, found that Mexican Americans assimilate more successfully than they are credited for; their academic gains have been masked by commonly used data sources that don't identify a child as being of Mexican descent if parents no longer identify that way. Working with newly available data, researchers determined that parents who changed how they identify tend to have more education and much higher-performing children.
Because these students aren't counted along with their ethnic Mexican peers, weaker performers are overrepresented on measures of Mexican-American academic achievement.
A team of economists led by Brian Duncan at the University of Colorado Denver was able to correct for the imbalance by tracking immigrant families using the birthplaces of grandparents rather than relying on the self-reporting recorded by the U.S. Census. Although absolute achievement remained low, they found Mexican-American students made significant gains from one generation to the next.
The study indicates that Mexican Americans as a group had effectively been penalized for assimilating quickly.
"Our findings suggest that Mexican Americans do indeed experience substantial progress," Duncan and his co-authors write. "This progress is obscured by limitations of the data sources commonly used to look for it."
In an interview with The 74, Duncan said, "The advocacy that I would argue for is that we should be asking the right questions on large surveys. There is this concern that Mexican immigrants aren't assimilating across generations as quickly as other immigrant groups [but] the evidence of that is misleading."
Between the first and second generations — the latter defined as the first generation born here — the average schooling among Mexican immigrants rose by 3.2 years (wages also rose by one-third). After that, though, Mexican Americans as a group didn't appear to achieve the generational improvement that's common to other immigrant nationalities. The primary reason, the study found, was "ethnic attrition": over time, large and increasing numbers of ethnic Mexicans stop self-identifying with their family's country of origin, most frequently because they marry non-Mexicans.
Until the National Longitudinal Survey of Youth, published by the Bureau of Labor Statistics, began recording its respondents' ancestral birthplaces recently, social scientists were limited in measuring attrition. Thanks to this recent feature, the study's authors determined that 20 percent of the third generation — or the second generation to be born in the U.S. — didn't consider itself Mexican.
The 20 percent included higher-achieving children of intermarried families. Third-generation students with a mother of Mexican ancestry and a non-Mexican father averaged 1.05 years more schooling than a peer with two Mexican parents, the authors found. (In another study, Duncan and a co-author found that having a non-Mexican parent was associated with lower dropout rates, compared with those with two Mexican parents, and — perhaps not surprisingly — fewer problems with English.)
In all, the researchers found a slight decline from the second to the third generation, by 0.06 years of schooling, when they used standard census figures. Using the ancestry-based youth survey data allowed them to add back in assimilated students and resulted in a 0.57 gain, however.
The new data showed increases in average years of schooling: 11.85 years in the first generation rose to 12.97 years in the second generation and 13.54 years in the third.
The percentage of high school graduates also rose, from 62 percent in the first generation, to 76 percent in the second generation, to 84 percent in the third generation. Few students earned a bachelor degree, but this percentage rose, too: from 9 percent to 14 percent to 20 percent.
The better data, which at the time of the study tracked students born in 1997 through 2015–16, also enabled the researchers to distinguish the third from later generations. Because the survey asked for grandparents' place of birth, it provided information through three generations only; a fourth-generation cohort had to be compiled relying only on self-identification. The researchers' finding was consistent with their other conclusions: Without assimilated higher achievers, the fourth generation reversed decades of progress, dropping by three-quarters of a year of schooling, from 13.54 to 12.79.
"Ethnic attrition generates greater downward bias for the 4th+-generation sample," the study said of the increasingly negative effect over time of departing high performers.
Unlike school-age newcomers from other countries with large immigrant populations, like India and China, Mexican students often arrive without both parents or may suffer from unstable or undocumented legal status, both of which are associated with lower academic performance.
Enduring gaps between Hispanic and other immigrant groups have lessened on some measures, though: 1 in 3 older Hispanic students dropped out in 1993; about 1 in 8 did in 2014. Their college enrollment rate rose from 22 percent to 33 percent over that time.
Get stories like these delivered straight to your inbox. Sign up for The 74 Newsletter