With Barrett Poised to Join Conservative SCOTUS Majority, Lower Courts Weigh Granting More Students Access to Private and Religious Schools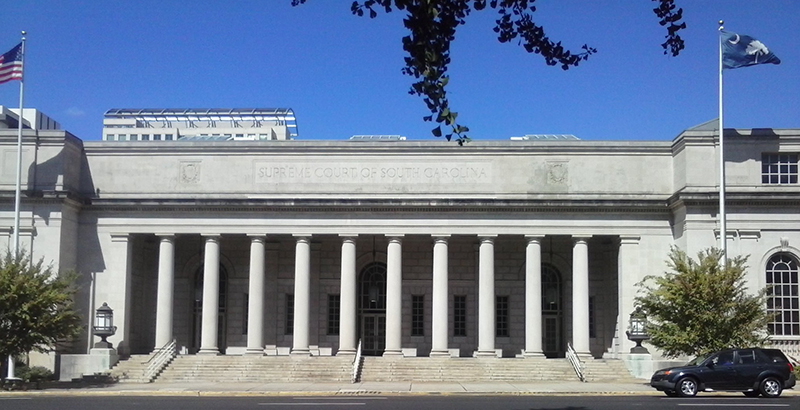 Updated October 7
The South Carolina Supreme Court ruled Wednesday that Gov. Henry McMaster can't use $32 million in federal COVID-19 relief aid for a voucher program that would pay for private school tuition for roughly 5,000 students. 
In their opinion, they wrote that they "reject the Governor's assertion that the discretion provided him in the [Coronavirus Aid, Relief, and Economic Security Act] preempts our constitutional mandate prohibiting the use of public funds for the direct benefit of private educational institutions."
Derek Black, a law professor at the University of South Carolina and an expert witness for the plaintiffs, called the decision a "resounding victory for public education on every front." In a statement, the governor said he remains "committed to providing educational opportunity for lower-income families" and would ask the court to reconsider the opinion.  
The South Carolina Supreme Court is expected to rule soon on whether Republican Gov. Henry McMaster can use $32 million in federal pandemic relief funds for a voucher program to finance private school tuition for roughly 5,000 students.
The case is one of several at the state and district court levels testing the boundaries of using public funds to educate students in private schools. Recent lawsuits seek to follow a landmark U.S. Supreme Court ruling in Espinoza v. Montana Department of Revenue earlier this year that weakened states' ability to hinder the flow of public dollars to religious schools. The push also comes as the Senate prepares to consider whether to add Amy Coney Barrett to a high court supermajority expected to further ease restrictions on private and religious schools.
In South Carolina, retired educator Thomasena Adams, of Orangeburg, sued the governor in July after he announced his Safe Access to Flexible Education program. Palmetto Promise Institute, a nonprofit that planned to work with the governor on the voucher program, is also named in the suit.
A county circuit court judge immediately blocked the governor from implementing the program. And a month later, the state supreme court agreed to take over the case.
The governor "is using a shell game to avoid our constitutional prohibition on giving these funds to private institutions," Skyler Hutto, attorney for the plaintiffs, said during a Sept. 18 hearing.
It was clear during the proceedings that the judges were well aware of U.S. Secretary of Education Betsy DeVos's recent legal battle in multiple federal courts over plans to shift funding from the Coronavirus Aid, Relief, and Economic Security, or CARES, Act toward private schools.
In a response, Thomas Limehouse, representing McMaster, said the governor has the authority to "allocate these one-time, use-it-or-lose-it funds. Private litigants cannot come in and second guess those decisions."
DeVos's 'backpack' image
DeVos informed states last Friday that she won't appeal the opinions of three judges who ruled against her on pandemic relief.
Prior to the pandemic, DeVos visited South Carolina to promote her federal $5 billion Education Freedom Scholarships plan that would pay for private school tuition through tax credits for donations to scholarship-granting organizations. In the fall, state lawmakers considered school voucher legislation that would have provided low-income students, those with disabilities and those in military families with a $7,000 scholarship to attend private schools — roughly the entire amount that the state pays for each student to attend public schools.
Derek Black, a law professor at the University of South Carolina and an expert witness for the plaintiffs, described the legislation as a state version of a "backpack" metaphor DeVos has frequently employed to describe how money should follow the child.
"When the backpack landed on the Ways and Means desk, they almost had a heart attack," Black said. "That shut that down."
Gov. McMaster originally told the U.S. Department of Education that he would use the state's $48.4 million federal relief allotment to focus on distance learning. But in mid-July, he expressed frustration that schools were not reopening in person quickly enough. About a week later, he announced his SAFE grants program.
Black said he's never seen a lawsuit in the state reach the supreme court this quickly. But that's because of the time limit set on the funds. "If it really is coronavirus aid, then people need it now," he said.
The state constitution bars public funds from being "used for the direct benefit of any religious or other private educational institution" — also known as a Blaine Amendment.
School choice advocates, however, interpret that statement differently than the plaintiffs. The Institute for Justice, a libertarian law firm that has won several school choice cases, filed an amicus brief with the South Carolina court, arguing that the funds are not a direct benefit if they go to a parent who then decides where to enroll their child.
Tim Keller, a senior attorney with the firm, added that the plaintiffs are relying on an outdated version of the state's constitution that banned "indirect" payment to private schools.
"Our purpose in getting involved there was to ensure that South Carolina's Blaine Amendment could be constructed to create [school choice] programs in the future," he said, but added that because of the justices' discussion of the DeVos litigation, the case "metastasized into just about everything under the sun."
'Unconstitutional under Espinoza'
South Carolina is just one state where Keller and the institute are challenging state policies that limit parents' ability to use public funds at private and religious schools.
The Espinoza ruling found that excluding religious schools from a tax credit-funded scholarship program violates an individual's First Amendment right to freely practice their religion. And some suggest future decisions could further lift restrictions on religious schools receiving public funds.
Espinoza "left open the incredibly important question of whether religious instruction itself might be funded through private school voucher programs, and that's where we may see cases come before the Supreme Court in the future," said Maggie Siddiqi, director of the Faith and Progressive Policy Initiative at the left-leaning Center for American Progress. She referred to Barrett's past work suggesting the court should not be bound by precedent in addressing constitutional questions. "This lack of concern for precedent could radically redefine our nation's approach to the separation of church and state, and have devastating consequences for religious freedom for years to come."
For now, the Institute for Justice is focusing on states that Keller said should amend their programs in light of the Espinoza decision. One of them is Vermont, where families in rural areas can attend private schools at their district's expense if local public schools don't offer the grade levels their child needs.
The firm represents three families, including Michael and Nancy Valente of Mount Holly, Vermont, and their 10th grade son Dominic, who attends a Catholic school, because the town doesn't have a high school. But the state is not covering tuition costs.
"We believe this is unconstitutional under Espinoza," Keller said. "Under current law, all religious schools should be able to participate."
Ted Fisher, a spokesman for the Vermont Department of Education, said the agency wouldn't comment on pending litigation. A response to the lawsuit, filed in the U.S. District Court for Vermont, part of the 2nd Circuit, is due Oct. 16.
The institute is also waiting on a response by Oct. 14 from the New Hampshire Department of Education where it has filed a lawsuit representing grandparents in the town of Croydon. Dennis and Cathy Griffin are sending their grandson Clayton, a 7th grader, to a religious school because the town doesn't have a middle school. Under the state's "town tuitioning" program, similar to Vermont's, districts usually pick up the cost at a private school in these situations. But the policy excludes religious schools.
Keller said the institute filed the complaint in state court because it already has a lawsuit focusing on another "tuitioning" program in Maine in the 1st Circuit.
New Hampshire State Superintendent Frank Edeblut said in a response that in light of Espinoza and another Supreme Court religious liberty case, Trinity Lutheran Church of Columbia Inc. v. Comer, he asked the state attorney general's office "to review our programs to ensure they comply with the law and treat all nonpublic schools equally regardless of religious affiliation."
But Keller said, "the cleanest way to give everyone assurance is to get a judicial ruling one way or the other."
Support The 74's year-end campaign. Make a tax-exempt donation now.