Wisconsin District Could Owe Services After Cutting Trans Student's In-School Learning
Rhinelander schools reached an unusual agreement with the Office for Civil Rights after telling student to only attend class in person 3 days a week.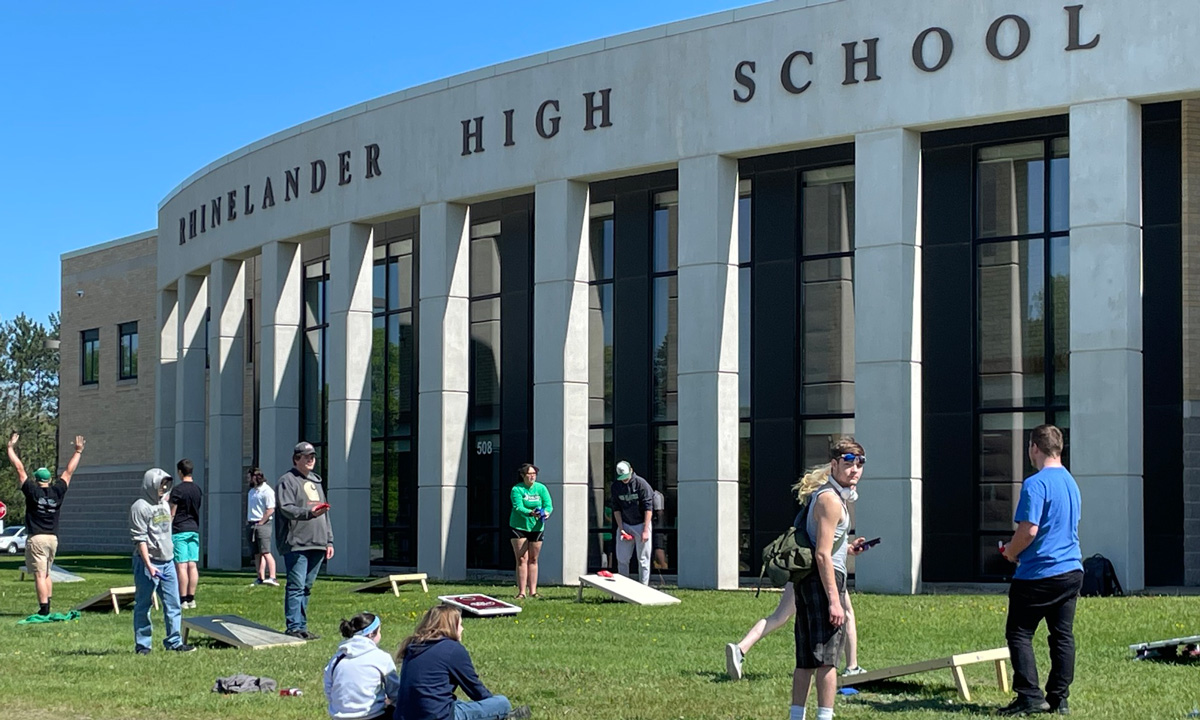 No paywall. No pop-up ads.
A Wisconsin district could owe hours of instruction to a transgender student after reducing their class schedule to three days a week to prevent further harassment, according to a recent federal civil rights resolution.
During the 2021-22 school year, the School District of Rhinelander, in the central part of the state, altered the student's schedule so they "could take in-person classes with teachers who were allies," and attend the rest of their courses online.
Teachers and students wouldn't use the student's preferred pronouns despite multiple complaints, and the student faced both physical and verbal harassment. "Kids whispered and giggled the name" of the student, according to the complaint.
"[The Office for Civil Rights] is concerned that the district response to the persistent harassment limited the student's participation in school activities," according to OCR's statement on the agreement. In addition, the district's actions don't reflect "steps to ensure the student's equal access to education with their peers."
By the end of October, the district must train all staff on compliance with Title IX, educate students on sex-based harassment, including gender identity, and conduct a school climate survey to better understand the extent of the problem.
The case stands out for a few reasons. Compensatory education is typically a remedy for a student who was denied special education services. Last year, a California district agreed to reimburse a family up to $5,000 for counseling or therapy services because it failed to promptly address harassment of a transgender student, but experts said they were unaware of other agreements like the one in Rhinelander.
In addition, students typically subjected to what is known as informal removal, such as being placed in virtual or home-based instruction, often have disabilities that contribute to discipline problems. That wasn't the issue with the Rhinelander student, but advocates said the situation likely isn't isolated.
"Too often these incidents are unreported and unaddressed," said Aaron Ridings, chief of staff and deputy executive director for public policy and research at GLSEN, an LGBTQ student advocacy group. "That results in long-term harm in terms of educational outcomes and overall health."
While Wisconsin isn't among them, multiple states have considered and passed anti-LGBTQ and transgender legislation this year. Over 400 bills were introduced, and a recent analysis by The 74 shows that LGBTQ students face harassment in both red and blue states.
GLSEN's research shows that transgender and nonbinary students are roughly twice as likely as other students to say they've missed or changed school because they felt unsafe or uncomfortable.
But in the Rhinelander case, an assistant principal officially changed the student's schedule and was "looking to move Student A away from particular students," according to the complaint. The family, however, expressed that those victimizing the trans student should be removed from the classes.
The student is no longer enrolled in the district and moved out of the state, but Eric Burke, superintendent of the 2,300-student system, said officials planned to discuss compensatory services with the family. If the student returns, the district must offer counseling and identify a staff member that the student can go to if they experience further harassment, according to the resolution.
In a separate statement, the district said it agreed to resolve the complaint "instead of fighting over the merit of the allegations" and that providing "more training was a commitment we have already embraced."
The investigation found that the district also frequently reported incidents involving the student as "peer mistreatment" instead of sexual harassment, as in the case when a "male student 'bumped' Student A in the hallway and used a derogatory term … toward them."
As part of the agreement, the district must create an online record-keeping system to document conduct that could amount to sex-based harassment.
GOP recommends cuts
Title IX complaints made up roughly half of the nearly 19,000 complaints OCR received in fiscal year 2022, according to the agency's annual report. While thousands were from the same person and most involved athletics, the Biden administration's rewrite of Title IX to include discrimination based on sexual orientation and gender identity has likely made LGBTQ students more confident officials will investigate their case, experts say.
"For the first time in history, it is possible to more comprehensively combat pervasive denigration of young people based on their gender identity under federal law," Ridings said.
The administration, which saw a drastic reduction in OCR staff under President Donald Trump, has been trying to rebuild the office and asked Congress for a 27% increase in funding — $178 million — for fiscal year 2024.
House Republicans, however, have recommended a 25% cut in a budget proposal that aims to advance "conservative priorities." The bill would also halt implementation of President Joe Biden's inauguration day executive order on civil rights protections for LGBTQ individuals across the federal government.
Democrats have warned that the bill, which is still before the House appropriations committee, would lead to "devastating cuts" in federal education programs, namely an 80% cut to Title I grants for high-poverty schools. But the debate over funding is still likely to stretch well into the fall.
"It's hard to see what the end game of this strategy would be," Charles Barone, vice president of K-12 policy with Democrats for Education Reform, a think tank, said about the bill. He noted that most Republicans represent districts that would be affected by the proposed cuts. But he added, "They're going to be fighting over this into Christmas."
Get stories like these delivered straight to your inbox. Sign up for The 74 Newsletter