Williams: What Would Hillary Do on Education? Community-Focused Reading List Offers Clues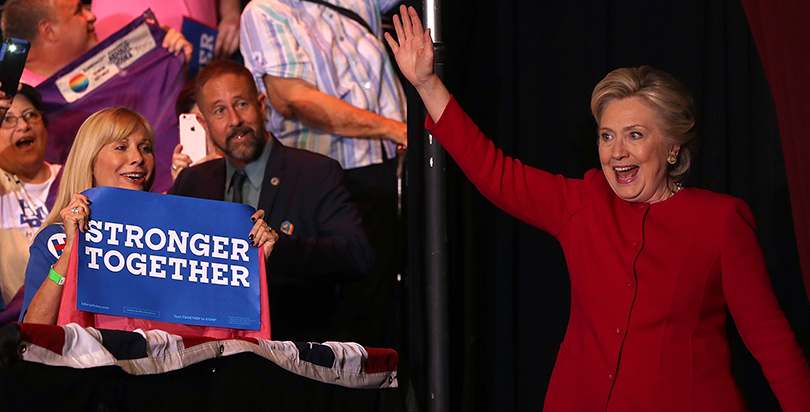 It's fashionable now to gaze out at the United States and see nothing but fissures. Republicans gasp and flee decorum
to back a bully who promises to force those divisions closed
, presumably by turning back time. Meanwhile, Democrats nod, grimly, and wait for their growing portions of the demographic pie
to carry them
to a hard-won political destiny. Many shake their heads in wonder at the fragility and vulnerability of American political norms.
More than ever, this election season, we agree on just one move: despair. On abandoning any faith in the sanity or basic decency of our opponents, who look more like enemies now than ever before.
In an end-of-summer interview with Vox, Hillary Clinton ran the obligatory campaign gauntlet and named a few books that have influenced her. She cited a group of thinkers who are generally recognized as members of a school of thought known as communitarianism, including Christopher Lasch, Robert Bellah and Robert Putnam. In a moment when the country is full of pluribus but short on unum, is it any wonder she's thinking about how we might foster healthy communities?
These thinkers and their books are unquestionably distinct. Bellah's Habits of the Heart was a sociological work written with a crowd of co-authors, Lasch's work spans genres but is best known as history, and Putnam's is a work of social science. Yet all explore the interplay between individuals and their social, political, economic and cultural contexts. Communitarians treat these things as inseparable. If each of us is shaped by the communities we inhabit, then clearly it's in the public's interest to foster strong communities that can launch successful, healthy, happy individuals. Ideally, of course, this ought to be a harmonious feedback loop, in which those individuals bolster their communities (and/or others) through their success.
Increasing divide between the privileged and the poor
In the interview, Clinton led with Putnam's most recent work, Our Kids: The American Dream in Crisis. The book's analytical mainspring is a comprehensive comparison of the opportunities available to American children growing up now versus 50 years ago. On page after page, Putnam meticulously documents how today's growing economic inequalities are reproducing themselves in a variety of spheres, from public health to cultural attitudes, social capital, even marital stability.
Putnam argues that this dynamic drains the American dream of any substance for many American children: They are born into poverty that they did not choose, and its effects radiate throughout their families and communities. Their families can face extraordinary obstacles when trying to build them a safe, dignified childhood, let alone provide them with opportunities to build toward academic success that will give them access to upward mobility.
Demeaning and shameful as this situation already is, it's made even worse by the growing distance between these children and their wealthier peers. American families with higher incomes have always, by definition, had more resources to enrich their children's lives and increase their chances for success. But Putnam shows that the now-yawning material gap between rich and poor families is producing much more disparate results than it once did. That is, increased economic inequality manifests itself as increased opportunity gaps between children from wealthy families and their classmates from lower-income families.
Or, rather, it's one of the proof points for Putnam's hypothesis that those wealthier kids are less likely than before to have more than a scant few lower-income classmates enrolled in their schools. It's an account of an America coming apart at the seams.
There's nothing specific or technical to be found in Clinton's invocation and discussion of these books. They don't clarify her positions on teacher evaluations or charter schools. And yet, in a moment when veteran reformers are calling for more capacious thinking about how to support students' opportunities and achievement, perhaps a community lens is a good place to start.
A likely focus on schools within their communities
Does this lens tell us anything about a Clinton administration's hypothetical education agenda? It certainly means that we're likely to continue hearing more about programs that support students
and families through locally driven, federally supported, intergenerational strategies. These commonly include the
community schools model
and
dual-generation approaches
that develop families' health and skills alongside students'.
For those accustomed to thinking of the Obama administration in terms of its support for charter schools or teacher and school accountability, this may seem like a departure. Yet the current administration has shown consistent support for community schools and dual-generation programs supported by its Promise Neighborhoods grants.
These programs have been communitarian in that they have emphasized the importance of thinking about student services in terms of both substance and process. They support and engage students' broader community, but they also require local involvement in development and implementation. (Click here for an example of how this worked in San Antonio, Texas.)
Any discussion of community is always implicitly about education. Schools prepare students to achieve, yes, but they also train our future citizens, voters, neighbors, friends and partners. Schools shape the tone and tenor of our future communities, just as our shared vision for our common lives guides how we think about schools.
So while we might not know precisely where Clinton stands on implementation of the Every Student Succeeds Act, we do have a reasonable idea of her relevant priorities — and they're as comprehensive as they are defensible. So even if education remains not-an-issue this electoral season, at least we're getting a clearer view of one candidate's thinking about communities, opportunity and schools.
Support The 74's year-end campaign. Make a tax-exempt donation now.