WI Senator and Senate Education Committee Member Tammy Baldwin in Increasingly Tight Race Targeted by Republicans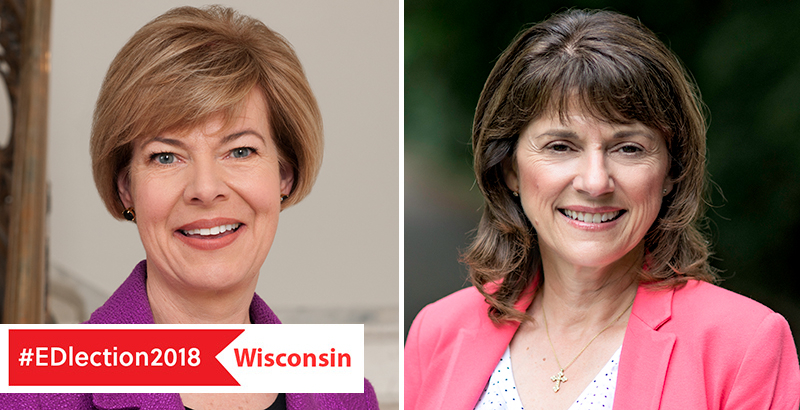 EDlection 2018: From coast to coast, The 74 is profiling a new education-oriented campaign each week. See all our recent profiles, previews, and reactions at The74Million.org/Election (and watch for our Election Night live blog Nov. 6)
Democratic Wisconsin Sen. Tammy Baldwin has served on the Senate education committee since she was first elected to Congress in 2012, and her GOP rival, state Sen. Leah Vukmir, has a long history of advocacy for school choice.
The contest between the two tightened significantly Wednesday with the release of a Marquette University Law School poll showing them separated by just two points among likely voters. Both have deep records in education, and although the topic has not figured prominently in the race, its outcome could have implications for K-12 and higher education.
"They're not clashing on education, at least right now," Michael Wagner, a journalism and communications professor who works with the Elections Research Center at the University of Wisconsin-Madison, told The 74. "The way that I can see education getting into this race is that the governor's race will have a focus on education."
The Marquette poll has Republican Gov. Scott Walker and Democrat Tony Evers, the current state superintendent of education, tied at 46 percent each among likely voters.
Vukmir has said she wants to take nationwide the steps controversially championed by Walker to limit the collective bargaining powers of Wisconsin's public-sector unions, including teachers. The two-term governor is despised by the National Education Association and the American Federation of Teachers, both of whom are backing Baldwin.
The incumbent Democrat's positions are more in line with "supporting the public school organization," said Alan Borsuk, a senior fellow in law and public policy at Marquette University and a weekly education columnist.
The real pivotal issue, he said, will be voter sentiment toward President Donald Trump and his agenda, and whether that's a good thing for Wisconsin and the country.
Baldwin has been a top target of Republicans, who see her as vulnerable, and more than $4 million in outside money has been spent against her.
One of 10 Democrats running for re-election in states Trump won in 2016, Baldwin was ahead of Vukmir by double digits in polls ahead of the Aug. 14 Republican primary. Among all registered voters in the Marquette poll, Baldwin maintained a wider lead than among likely voters, 51 percent to 39.
A win by Baldwin of "somewhere between 2 and 5" points is likely, Wagner said prior to the Marquette poll being released, "but she could lose this race."
For Vukmir, education an entry into politics
Vukmir, who was elected to the state legislature in 2002, entered state politics through education advocacy.
The trigger, she said in a 2001 video, was her 5-year-old daughter's assignment to create her own newspaper, in which "creative spelling" was encouraged. She questioned district officials, who said they didn't teach children proper spelling until the second grade, and her concerns were dismissed, she said.
In 1994, she founded Parents Raising Educational Standards in Schools (PRESS), a group "committed to raising academic standards by increasing parental awareness and involvement in the school reform process," she said in the video.
PRESS worked on school choice issues on a larger scale, including, in 1997, an unsuccessful effort to lift an income cap on Wisconsin's voucher program. Vukmir, a 60-year-old nurse from Milwaukee, was a driving force to expand the program, initially limited to students in a few big cities, statewide in 2013, according to a profile in Milwaukee Magazine.
Vukmir previously served as chair of the board of directors of the American Legislative Exchange Council, a conservative advocacy group that works with corporations to write model legislation, including to expand school choice. Baldwin's first ad against Vukmir dings her for these corporate ties. Vukmir has received donations from members of Education Secretary Betsy DeVos's family, according to federal campaign finance records.
Though PRESS is now defunct, some content from the group's website, including columns Vukmir wrote as president, is available on archive sites. One story that has attracted particular attention is a 1999 column in which she blamed a "preoccupation with protecting [teenagers'] self-esteem" for the mass shooting at Columbine High School, where 12 students and a teacher were killed.
"While the interplay of [many] variables may have influenced the events that unfolded, our national obsession with the feelings of teenagers has played an enormous but heretofore unrecognized role in what is transpiring nationwide," Vukmir wrote at the time. "Unless we change our attitudes and approach to dealing with the normal developmental phase of years known as adolescence, I fear another Columbine is inevitable."
Numerous school shootings did follow Columbine, most notably in Parkland, Florida, in February, making gun-related deaths in schools a major political issue in 2018. Vukmir said earlier this year that school shootings are a multifaceted problem, but "the self-esteem movement" is still one of them, according to a column in the conservative Washington Examiner.
Her campaign website makes no mention of K-12 education issues. Vukmir's campaign declined to comment on her education priorities generally and did not respond to a further request for comment on her Columbine remarks.
For Baldwin, a focus on higher ed, CTE, opioids
Baldwin, a 56-year-old attorney who previously served in the Wisconsin Assembly, was elected to the U.S. House in 1998. She was the first woman elected to Congress from Wisconsin and the first openly gay person elected to the U.S. Senate six years ago.
In the Senate, she has focused on higher education, working to reauthorize the now-lapsed Perkins loan program, which provided low-interest federal loans to students with high financial need. Baldwin has promoted physical education and also touts her work as co-chair of the Career and Technical Education Caucus.
She's been endorsed by the NEA and the AFT, the country's two largest teachers unions, and has received more than $26,000 in donations from the groups since the start of 2017, according to OpenSecrets.
Her campaign website highlights her proposal to let students refinance student loan debt and to offer two years of free community college or trade school.
She's also weighed in on the opioid crisis, particularly the increasing number of grandparents raising children whose parents are addicted. Baldwin's own grandparents cared for her for much of her childhood; her parents had divorced and Baldwin's mother suffered from mental illness and opioid addiction.
"As a little kid, I felt like I was trying to fix things and I always failed. You can't cure somebody's mental illness. You can't cure their addiction. I was a little kid and I didn't know better," Baldwin said of the time she would spend with her mother, adding that she sometimes worried what would happen to her mother when she left.
Baldwin's campaign did not respond to a request for comment on her education record or priorities.
Election taking shape
The contours and issues of the general election are beginning to take shape after the Aug. 14 primary, in which Vukmir bested former Marine and self-styled outsider businessman Kevin Nicholson by nearly 6 percentage points, or about 26,000 votes.
The GOP primary was contentious, with more than $12 million in outside spending in support of and opposition to Vukmir and Nicholson, according to OpenSecrets.
Party leaders, however, have vowed to unite in an effort to defeat Baldwin. They're hoping to avoid a repeat of 2012, when former Republican governor Tommy Thompson spent a lot of money to narrowly beat two more conservative challengers, hampering him going into the general election against Baldwin.
"I don't think it's going to happen again," Borsuk said, adding that Vukmir will have plenty of money, and this primary was not as antagonistic as the 2012 contest.
There's been no shortage of outside spending on radio and TV ads against Baldwin — more than $4.3 million, according to OpenSecrets. SuperPACs tied to Wisconsin businessman Richard Uihlein and the Koch brothers have put in the most money against Baldwin.
"If Vukmir loses, it won't be for a lack of attack on Tammy Baldwin," Wagner said.
Vukmir has painted Baldwin as too far left for Wisconsin, dinging her in particular for supporting the Medicare for All program advocated by Sen. Bernie Sanders.
Though certainly not the most liberal member of her congressional caucus, Baldwin is by some measures the most liberal Democrat running for re-election in a state Trump won in 2016 — if only by 22,748 votes. (Trump was wildly incorrect this summer when he claimed to be the first GOP presidential candidate to win Wisconsin since Dwight D. Eisenhower in 1952.)
Baldwin, for her part, has said she represents the people of Wisconsin and won't be beholden to the "special interests" that have paid for attack ads against her.
Before the closer margins seen in the Aug. 22 poll, independent handicappers had generally rated the seat as likely to remain in Democratic hands, and the electoral winds seem to be at Baldwin's back.
There is stronger Democratic energy nationally and in Wisconsin: More than 94,000 more Democrats voted in the contested gubernatorial primary than Republicans voted in the Senate primary. Baldwin also has more money in the bank: $6.7 million on hand, as of a July 25 campaign finance report, versus less than half a million for Vukmir.
She is one of six Democrats on the HELP Committee up for re-election; only Sen. Bob Casey of Pennsylvania also represents a Trump-won state. His seat is rated safely Democratic by most handicappers. Among HELP Republican members, Sen. Orrin Hatch is retiring, with Mitt Romney, the former Massachusetts governor and 2012 Republican nominee for president, likely to replace him.
Support The 74's year-end campaign. Make a tax-exempt donation now.