Why New York Should Apply New Standards for Yeshivas to Public Schools, Too
Adams: NYC has never said what it considers an acceptable number of passing students for a public school. Could new private school criteria apply?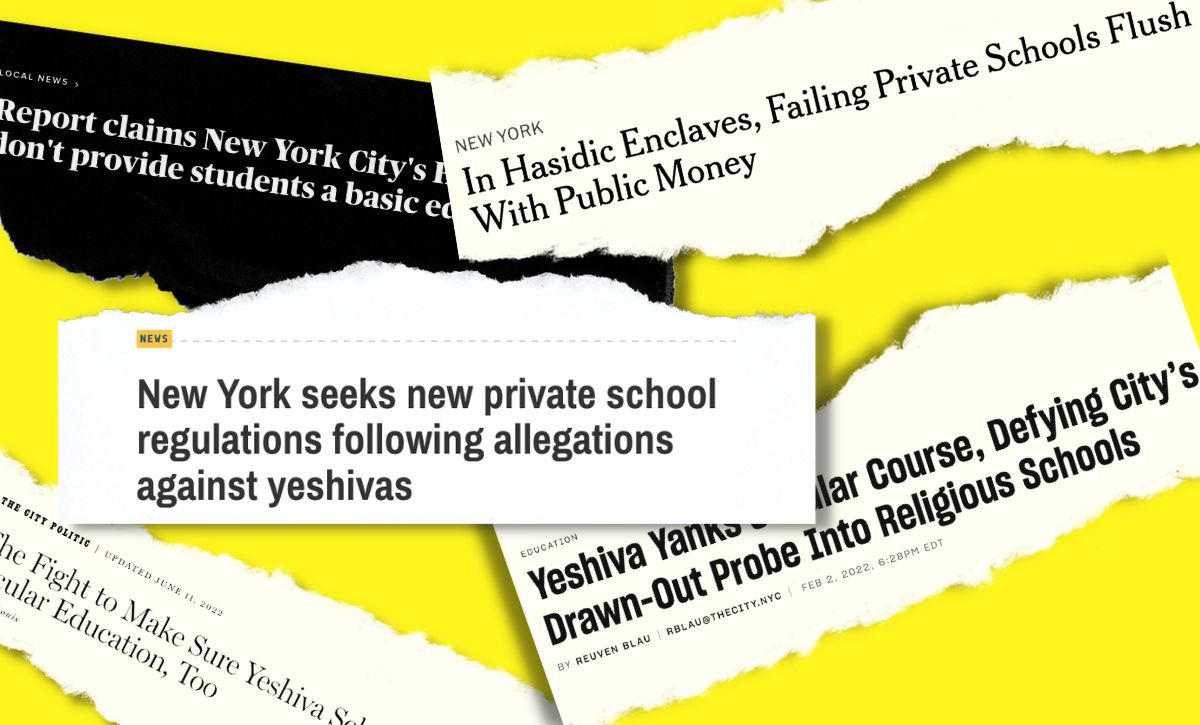 Support The 74's year-end campaign. Make a tax-exempt donation now.
A Sept. 11 New York Times expose titled "Hasidic Enclaves, Failing Private Schools Flush with Public Money" prompted the New York State Board of Regents to pass new rules a scant two days later ordering all private schools to provide students with an education "equivalent' to what's available in public schools.
New York City has, on paper, been investigating the Orthodox Jewish yeshivas since 2015, amid reports that students at 26 of the schools failed to pass state reading and math assessments. In 2019, the most recent year when data is available, less than 1% of students at nine Hasidic boys' schools tested at grade level, the Times found. Those schools were the only ones in the state with results so low.
It took New York City seven years to admit that it has a problem with the yeshivas, where the public money referred to in the Times headline doesn't go to education, but to subsidiary services like buses, free lunch and security, as well as to universal pre-K at some locations.
Now, how long will it take for city officials to concede that a huge number of the public schools it fully funds, including curriculum, teachers and administration, are posting state test results nearly identical to the ones reported from the yeshivas?
According to an analysis by Students First NY, in 2017, there were "eight community school districts where zero traditional middle schools meet basic standards. … This means that nearly 73,000 NYC students living in these districts don't have a quality middle school option." Compare that to the 1,000 or so students invoked in the yeshiva outrage.
In addition, in 2019, over 140 public schools — compared with the slightly more than two dozen yeshivas under investigation — had at least one grade where more than 90% of pupils did not score proficient on their state tests. In 23 schools, at least one entire class had not a single student pass a math or ­English grade-level exam. And this was all before the pandemic.
Under these circumstances, could the Regents' ruling actually prove a boon to public school students?
After all, how can a governing body that says private schools where most students fail to perform at grade level in English and math must be revamped or shut down continue turning a blind eye or, worse, accepting similar results in their own public schools?
In 2018, the city attempted to shut down, for the second time since 2011, a Harlem middle school where academic performance was deemed "not acceptable." The local community, including the NAACP and scholar Cornel West, who teaches nearby at Union Theological Seminary and was recruited by the school's librarian, protested the decision to merge Wadleigh Secondary School for the Performing & Visual Arts with a higher-performing school and demanded to "maintain our identity as an arts school with an (sic) strong academic component."
The request was heeded, and Wadleigh was allowed to continue operating. As of the latest data, less than half of the student body, 42%, is deemed proficient in math.
Does New York City really want to so much as suggest it cares more about the education of Orthodox Jewish boys in Brooklyn than about the education of low-income and minority students in all five boroughs? Those would be some pretty terrible optics. And just fundamentally wrong.
City Comptroller Brad Lander opined, "The government has an oversight responsibility to ensure … public dollars are spent as intended. Unfortunately, in recent years, both the city and state have failed to hold yeshivas to appropriate educational standards. It is time for that to change."
I couldn't agree more. But why should those "appropriate educational standards" be limited only to yeshiva students?
Don't all New York City students deserve to be equally looked out for by their representatives?
The Board of Regents has determined that only 1% of yeshiva students performing at state-mandated grade level isn't enough. Would 42%, like at Wadleigh, be enough? The city has never issued any kind of indicator of what it considers an acceptable number of passing students for a public school.
In light of the latest ruling, once the Regents generate minimum standard criteria for what makes a private school eligible to operate, can those conditions be imposed on public schools as well?
If nothing else, it would, for the first time ever, compel city officials to make clear just what is and what isn't an "acceptable" achievement level. Once they've done that, they will have many fewer excuses for why they aren't doing everything necessary to reach their own goals. And parents will have hard facts from which to decide whether what New York City considers a good enough education is good enough for them.
Support The 74's year-end campaign. Make a tax-exempt donation now.