While DeVos Drama Took Center Stage, Congressional Republicans Push School Choice Bills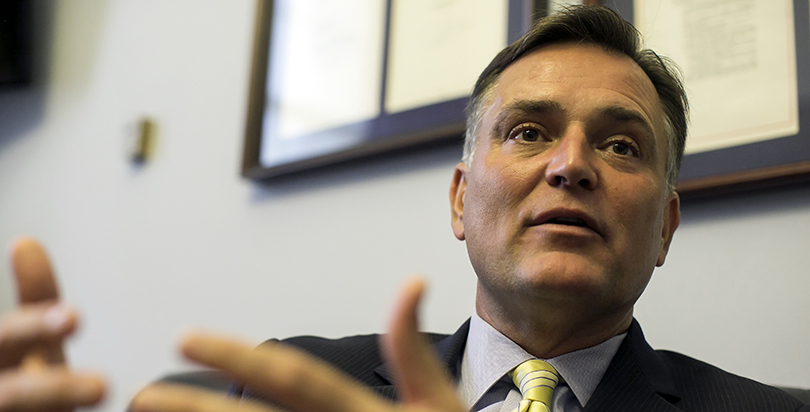 As congressional Sturm und Drang swirled around Betsy DeVos's confirmation vote, Republican school choice advocates aren't wasting any time, starting the legislative process on several bills that stand a greater chance becoming law now than in years past.
The most recent, introduced Thursday by Rep. Luke Messer, would allow Title I funds to follow low-income children as they transfer among private or public schools if states so choose. Allowing that $14.5 billion in federal money to follow children, often called "portability," would be a key step in President Trump's campaign pledge to create a $20 billion federal school choice program.
A House education subcommittee also held a
hearing
Thursday on school choice.
"What school choice is really about is trying to make sure that in an imperfect world, we give every kid a chance. I believe in school choice because I trust America's parents. I trust that in the imperfect world we live in, the best way to figure out what's best for a child is to empower a parent," Messer said at the hearing.
Democrats, who for the large part back charter schools, have been equally skeptical of private school choice.
"Everybody supports and values choice. It's a question around what the parameters of choice are, and what that market, which needs to be designed to benefit students and families first, needs to look like," Rep. Jared Polis said at the House hearing. He started two charter schools in Colorado.
Polis raised specific concerns that private school choice programs could require parents of students with disabilities to sign away their rights under the Individuals with Disabilities Education Act, or that private schools could exacerbate discrimination against LGBT students.
The idea of Title I portability hasn't had universal GOP support, either: Sen. Tim Scott of South Carolina offered an amendment when the Senate considered what would become of the Every Student Succeeds Act that would have done the same thing, but it earned the support of only 45 Republicans.
Republicans, who control the House and Senate, also introduced about a half-dozen other bills in conjunction with School Choice Week last week. Most were reintroductions of proposed legislation that had been put forward at least once before.
Scott last week reintroduced his "CHOICE Act" that would expand private school options for students with disabilities, children living on military bases and low-income students in Washington, D.C.
The bill "will help unlock the potential of students who might otherwise be left behind," Scott said in a statement. "I look forward to working with soon-to-be-confirmed Education Secretary Betsy DeVos on this bill and other issues critical to the future of our children," he added.
The bill would provide startup funds for states to create private choice programs for students with disabilities and use federal funds issued under the Individuals with Disabilities Education Act to expand them further.
It also would create pilot programs on at least five military bases to provide $8,000 scholarships for elementary school students and $12,000 for older students to attend private schools. It would apply only to bases without schools run by the Defense Department.
And for D.C. students, it would clarify that students previously attending private school would still be eligible for the existing Opportunity Scholarship Program as long as their family meets income requirements. The program gives $20 million a year in federal money to some 6,500 students from low-income families to attend private and parochial school. Right now, the law gives priority to students attending failing public or charter schools but doesn't ban students already enrolled in private school.
Jeanne Allen, president of the Center for Education Reform, in a statement praised the act as a "fantastic proposal to provide greater educational opportunity to families and students most in need."
"There is no question that success in enacting the CHOICE Act would transform lives for many," she added.
The bill has some marquee co-sponsors: Majority Leader Mitch McConnell and Sen. Lamar Alexander, who chairs the Health, Education, Labor and Pensions Committee and oversaw DeVos's recent confirmation hearing.
Scott has introduced the measure twice before. Indiana Rep. Todd Rokita, a Republican, introduced a House version last week, the second time he has done so. Neither received a hearing or markup by a committee.
Other bills reintroduced include:
Measures to expand 529 college savings plans to cover K-12 education expenses and raise the annual contribution limit on Coverdell accounts that provide tax breaks for K-12 expenses. Introduced by North Carolina Congressman Patrick McHenry.
Create a federal tax credit of up to $2,250 or $4,500, depending on a filer's circumstances, for individuals who contribute to state tax-credit scholarship programs. Proposed by Florida Sen. Marco Rubio.
Totally overturn the federal law governing K-12 education, now known as the Every Student Succeeds Act, and allow states to create vouchers for all students, according to a release, and overturn school lunch standards. Put forward by Iowa Congressman Steve King.
School choice proposals like those proposed by Messer and Scott are likely to encounter resistance from Democrats, who in the Senate still can filibuster legislation. Frayed relationships on the usually cordial HELP Committee after DeVos's contentious nomination process could also be an impediment to a less-expansive bipartisan package that might otherwise attract Democratic support.
Changes to the tax code, though, could hitch a ride on a larger tax reform package, which can be passed through budget reconciliation, which requires only a majority vote in the Senate to get through without the usual requisite supermajority. Republicans used it earlier this year to overturn part of the Affordable Care Act over Democrats' objections.
Get stories like these delivered straight to your inbox. Sign up for The 74 Newsletter