What's the Racial Breakdown of America's Public School Teachers?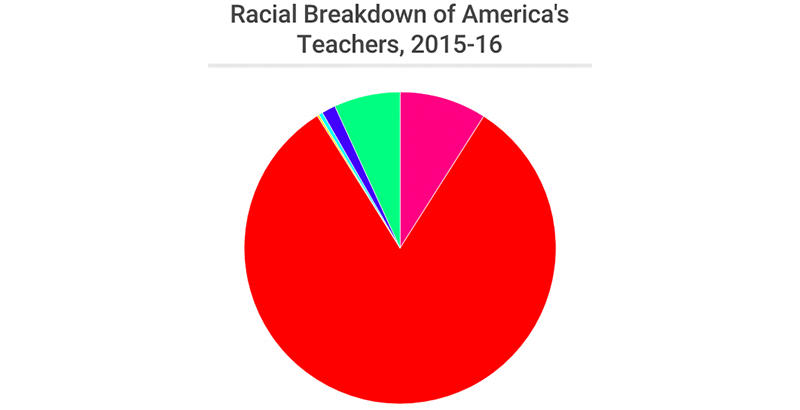 In 2014, according to U.S. Department of Education projections, the demographics of the nation's classrooms were set to break a historic barrier: For the first time, the majority of students in America's public schools would no longer be white.
Based on population trends, National Center for Education Statistics predicted that 50.3 percent of the student body for the 2014-15 school year would be people of color — a precursor to the country as a whole becoming majority-minority in the next three decades. (The Office for Civil Rights is expected to release more complete student demographic information for that time span in the next year.)
But are the classrooms of 2018 and beyond rising to meet this seismic shift? Many critics are less than optimistic.
"In general, U.S. schools tend to change more slowly than the country around them, for better or worse," Jon Valant, a fellow at the Brookings Institution, told The 74 in an email. "I'm not sure that I'm seeing or expecting a major direct response to the projected demographic shifts."
Although America is becoming more diverse each year, and is expected to have a majority-minority population by 2044, the teaching force is not keeping up with the changing racial makeup of America's children. Elementary and secondary school teachers form a group far whiter and more female than the students in their classrooms, despite a strong body of research that indicates that a diverse teaching staff benefits students of all races.
Moreover, gaps in academic achievement and high school graduation rates mean large numbers of minority students are falling behind every year, leaving them unprepared to enter the workforce, succeed in college, and participate in American civic life.
Less than 20 percent of teachers are minorities nationwide, compared with more than half of students. In fact, the teacher diversity gap is "larger than expected based on racial differences in bachelor's degree attainment alone," according to a 2017 Brookings Institution report on teacher diversity and educational attainment.
For example, Hispanic students make up about one-quarter of all K-12 students — but less than 10 percent of all teachers, according to data compiled by the Urban Institute last year. Although Hispanic college graduates are becoming teachers at nearly the same rate as white graduates, the numbers have not kept pace with explosive growth in the numbers of Hispanic children. Additionally, Hispanics lag behind other groups in high school and college graduation rates, which shrinks the pool of potential teachers, as The 74 has reported.
The reasons for the gap are many: hiring bias, certification tests that teachers of color are less likely to pass, a racial gap in bachelor's degree attainment, and lower retention rates for teachers of color, among other factors.
Moreover, new research based on teacher turnover in North Carolina suggests black teachers may choose to teach in more challenging school settings, where turnover rates are higher for all educators, which could further exacerbate the overall retention gap.
Making things worse, when teachers from underrepresented groups work at schools where most teachers are white, they are often tasked with additional informal roles, such as translating for Spanish-speaking parents.
Urban Institute Researcher Constance Lindsay, who focuses on teacher diversity, said the best way to increase teacher diversity is "getting more kids of color into college."
"If there's no supply, you just won't have the diverse teachers that you need" to create school staffs that represent the students they serve, she said. This strategy for increasing diversity in the profession can prove doubly challenging, however, when exposure to same-race teachers is a proven lever for decreasing dropout rates and improving student achievement.
Go Deeper: Learn more about how U.S. classrooms in each state changed over the past decade — including which racial subgroups rose (or decreased) the fastest.
Support The 74's year-end campaign. Make a tax-exempt donation now.