WATCH: School Leaders Detail 'Horrific' Fights in Safely Reopening Schools Amid Delta Surge and Mask Showdowns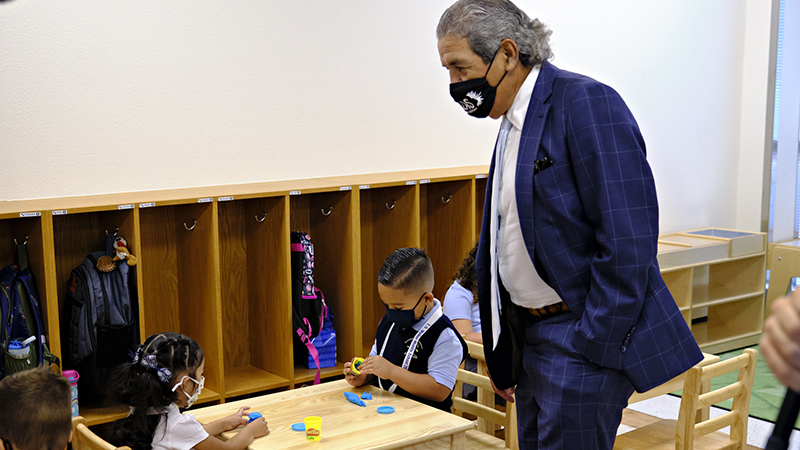 No paywall. No pop-up ads.
As officials in Broward County, Florida, approached the 2021-2022 school year, they did so with a measure of optimism.
According to School Board Chair Rosalind Osgood, educators and district leaders had "a lot of hope about moving our students back into face-to-face school environments in their loving school families and communities where we could love and support each other and help each other academically, where we could provide the mental health support that we need."
"We attempted to do that, and all hell broke loose."
Dr. Osgood was recounting what it's been like to be on the front lines of the COVID-19 mask wars in the past few weeks. Protesters have burned masks outside a school board meeting. Others have videotaped students going into schools wearing masks. And through it all, Florida Gov. Ron DeSantis has berated local school officials for passing mask mandates for students and threatened to withhold funding for districts with such laws.
"It has been horrific for board members," she said. Dr. Osgood was one of several school leaders who joined a panel discussion on Thursday co-sponsored by The 74 and the Progressive Policy Institute that examined the question of how to restart education safely despite the ongoing threat of COVID-19.
"What is happening is something that is immoral and unacceptable," she said of the ways that Gov. DeSantis and others have politicized what should be a public health issue.
"There is absolutely no conscience for the lives of human beings. As school board members we are people; we are human beings; we're living every day with people dying, people being impacted with COVID-19 and people being left with life-long implications."
Dallas School Superintendent Michael Hinojosa has been fighting a similar battle in his state with Texas Gov. Greg Abbott. He too described a sense of optimism as recently as June, as the 2020-2021 school year came to a close. By that time, the daily count of new COVID cases in Dallas County had fallen to 100 per day.
But with the dawn of the new school year, "almost immediately, we started seeing the cases go up, up, up, up." Dr. Hinojosa said it was time for "bold steps." But there was one problem: In May, Gov. Abbott had issued an executive order forbidding school districts to impose mask mandates.
Dr. Hinojosa said he concluded that the order was not enforceable and started consulting with leaders of other urban school districts. "We had a call with all the urban superintendents and the same was happening in every urban county in Texas, when all the people are so close together."
This morning, Superintendent Hinojosa joined students and staff at @pwmontessori in celebration of their first day! Learn more about this new Montessori campus at https://t.co/ckmVHSRYPk.#DallasISDReady pic.twitter.com/RDLekUFykp

— Dallas ISD (@dallasschools) August 16, 2021
"Then I asked my team to give me a plan that I was going to execute within 24 hours and challenge the Governor," Dr. Hinojosa said. "We challenged the Governor, and now 60 school districts in the state of Texas have joined us in defying the Governor."
The battle over whether students should be forced to wear masks is hardly over. Gov. Abbott and his administration has sought to overturn mandates imposed in Dallas, Houston, San Antonio and other cities.
So far, lower courts have generally upheld the local school districts, while the state Supreme Court has sided with the Governor. (All eight of the high court's current justices are Republicans, as is Gov. Abbott.)
In fact, shortly before Dr. Hinojosa spoke to the panel on Thursday he learned that the Supreme Court had sided with Gov. Abbott in blocking the mask mandate in San Antonio. At least for now, the mask mandate in Dr. Hinojosa's district stays in place.
Maritza Guridy, Northeast Regional Organizer for the National Parents Union, had caustic words for the Governors of Florida and Texas, whom she described as "people in power playing games of chess with people's lives." She added: "This is not about infringing on people's freedoms; this is about keeping children alive, keeping our future citizens safe and away from harm."
The Dallas Superintendent and other speakers on the panel spoke forcefully about the need to have children in classrooms and not in remote learning environments.
He noted that his district was 95 percent ethnic minority and 90 percent economically disadvantaged. "Our parents don't have the option to work from home," he said "Our parents are in the service industry; they're running this beautiful city."
He said about half the district's students returned to in-person learning last October. "And the once that came back have learned a lot more than the ones that stayed out."
Guridy, a mother of six, offered a personal testimonial to the value of in-person learning. "My rising second-grader, when she was finally able to go back in school when they started hybrid instruction back in March in Philadelphia, she was able to get on the honor roll just because of that contact, face-to-face, with her teacher."
Michael Mandel, chief economic strategist for the Progressive Policy Institute, said that once the pandemic itself is finally under control, governments will need to spend significant money to make up for the vast amounts of learning loss experienced by students during the pandemic, particularly those in disadvantaged communities.
He pointed to one study that looked at extending the school year by an extra month, which would cost $75 billion across the nation. That "sounds like a lot of money," he acknowledged, but the potential payoff is impressive: $1.2 trillion over the next three decades.
"That's equal to about a $16 return for every dollar invested," he said, "and when you've got an investment like that, this is a no brainer."
Get stories like these delivered straight to your inbox. Sign up for The 74 Newsletter