The 74 & Roland Martin Kick Off National Education Town Hall Tour With Sunday Night Event in Indianapolis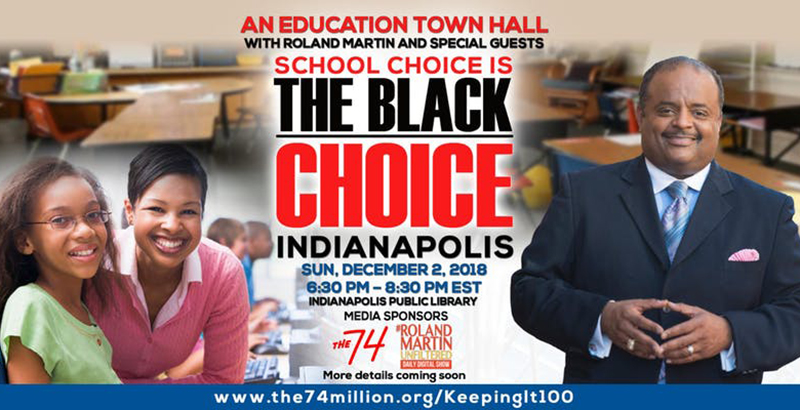 The 74 and broadcast journalist Roland Martin this week announced Indianapolis as the first stop on a 10-city tour they are launching to engage black families on issues of educational equity, student achievement, and parent involvement.
"School Choice Is the Black Choice: Indianapolis" is the first in a series of town halls that will take place across the country. Several hundred people are expected to attend this Sunday's 6:30 p.m. gathering at the central Indianapolis Public Library.
"The grandfather of Maynard Jackson, Atlanta's first black mayor, drilled into him that the most fundamental issues black folks should focus on are the three Bs: the ballot, the book, and the buck," Martin told The 74. "The future of black America cannot be successful without a strong focus on education. Our goal with School Choice Is the Black Choice is to ensure we are participating in all of the avenues to achieve success for our children."
This two-hour event will feature speakers involved in education and equity at the local, state, and national levels and will offer parents the opportunity to network with local education reform, faith, and civic groups and stay engaged in education advocacy efforts. The event is free.
"There is no better partner than Roland Martin when it comes to engaging and empowering black families with stories and information that inspire them to action," said Mimi Woldeyohannes, special projects and community manager at The 74. "This is an unprecedented opportunity for The 74 to connect with, learn from, and better serve its growing parent audience."
Panelists at the event will include education consultant George Parker; Derrell Bradford, executive vice president of 50CAN; Candace Pate, director of admissions and community partnerships at Providence Cristo Rey High School in Indianapolis; Dr. Lewis Ferebee, Superintendent of Indianapolis Public Schools; and Kelli Marshall, CEO of Tindley Accelerated Schools.
Launched in 2015, The 74 is a nonprofit digital news site covering education in America. The site's reporting puts an emphasis on educational approaches and innovative models that are effective at closing achievement gaps between low-income students of color and their white, more well-off peers.
Local Indiana partners for the first town hall include several groups that work on parent engagement, choice, and school improvement, among them EdFit, Enroll Indy, the Institute for Quality Education, and The Mind Trust.
National partners for the event include the American Federation for Children, EdChoice, ExcelinEd, the National Alliance for Public Charter Schools, the United Negro College Fund, and the Walton Family Foundation.
The town hall begins at 6:30 p.m. at the 40 E. St. Clair Street library. To register for the free event, please visit this link.
Disclosure: The Walton Family Foundation provides financial support to The 74.
Support The 74's year-end campaign. Make a tax-exempt donation now.