Watch: Mama Ducks & Their Ducklings Get the Red-Carpet Treatment as Students and Teachers Make Way for the Annual School Duck Parade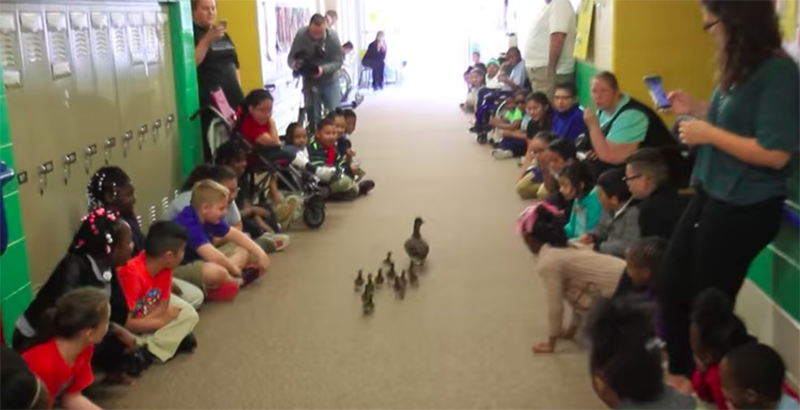 This article is one in a series at The 74 that profiles the heroes, victories, success stories, and random acts of kindness to be found at schools all across America. Read more of our recent inspiring profiles at The74million.org/series/inspiring.
Students and staff at schools across America are more than kind to their web-footed friends.
It's as if mother ducks have their own social networks: The news that elementary school courtyards are a hospitable, convenient — and, above all, safe — space for nesting has gone viral.
When mama answers the call of the wild, it's showtime. Enthralled youngsters create a corridor in school hallways and beyond as the ducks and her broods are gently ushered toward the nearest pond or stream.
It's an annual rite of spring that provides much more than just seriously adorable fodder for YouTube.
"What we try to do is drive home the point that all of this is about stewardship and caring for the world around us," said Karen McDavitt, principal of Glover Elementary School in Milton, Massachusetts, where students, parents, and staff keep track of progress in the nest via a "duckcam" connected to an app on their devices.
"Last year, we found out the babies had been hatched from one of the kids who'd been watching at home," McDavitt told The 74.
Some schools are more meticulous about their duck parade arrangements than others: When an impatient duck started pecking at the door this month at Ken-O-Sha Park Elementary in Grand Rapids, Michigan, the school first made sure kids were lined up and had camera crews from local news stations on hand to broadcast the Running of the Ducks on the evening news.
"The ducks keep coming back year after year," Principal Stephanie Villalta told WZZM. "They seem to trust us to safely help them get out of the enclosed school area and into the natural Plaster Creek area, where they belong."

Indeed, these media events have even spawned a national TV news personality, Vanessa, who for many years has paraded her brood through Village Elementary School in Hartland, Michigan.
At Brown Middle School in Hillsboro, Oregon, mama runs the show. "We're totally on call," Principal Roger Will told The 74. "When she's at that door, she's very clear: 'I'm taking my ducklings and moving out of here.' "
Duck watchers at Prairie Mountain School in Eugene, Oregon, were touched by sadness this spring after a mama duck died on the roof from an injury as she struggled to get back to her eggs, according to the school secretary. But the sorrow was tempered by happiness just a couple of weeks later, when, on April 13 and then again on April 16, two proud mothers led a total of 23 ducklings through the hallway from hidden nests previously unknown to the school.
Meanwhile, in Hillsborough Township, New Jersey, students and teachers at Woods Road Elementary School are eagerly awaiting the arrival of Mrs. Woods's ducklings, expected to hatch sometime around Mother's Day. For now, they're safe in a secluded topiary nest in the school's garden — complete with a "Duck Crossing" sign.
Computer support teacher and media specialist Margaret Rothblatt made a special video of Mrs. Woods and her little ones just after the school's Dr. Seuss Day in 2014.
"The next year, third-graders did a research project on different kinds of ducks," Rothblatt said. "They used their tablets to film and take photos as they walked by to add to their presentation."
This year, she hopes to tie the walk of fame to a writing project and a contest to guess the number of ducklings, with the winning class sitting up front for the parade.
"We can't wait for the Duck Walk — the students love it and they ooh and aah," she said.
Get stories like these delivered straight to your inbox. Sign up for The 74 Newsletter