WATCH — 5 Ways Americans Can Challenge Schools' Status Quo Amid the Pandemic: Jeb Bush, Arne Duncan, Margaret Spellings, Shavar Jeffries & Bart Epstein on a 'Historic Opportunity'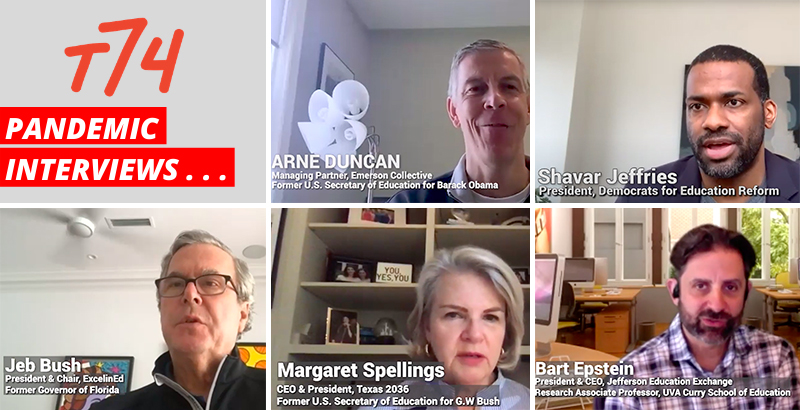 PANDEMIC: See our latest coverage from across the country of cities, schools and students in crisis amid the shutdown. Scan the latest headlines.
When America's schools went dark nearly overnight this spring, Shavar Jeffries thought, "This is our chance."
Jeffries, the president of Democrats for Education Reform, a former New Jersey assistant attorney general and a parent, was among the many education advocates who took the waning months of the 2019-20 academic year to urge the country to seize the opportunity that COVID-19 crisis offers for educational equity and innovation.
Several weeks into closures, The 74 conducted a series of interviews to gauge how school leaders — as well as their children — from across the country were being affected by the pandemic, and how they saw the future of American education changing as a result.
From a former presidential candidate to an education technology expert and ex-White House cabinet members, here are five important and memorable conversations about how America's schools can push the envelope on education through the pandemic:
'What is desperately missing is empathetic leadership'
Arne Duncan is experiencing the novel coronavirus like the rest of us: worried about his family, worried about his community and worried about our country as a whole. But he's also experiencing it as the leader of community work to reduce gang violence in Chicago, as a managing director at Emerson Collective — one of America's leading philanthropic organizations — and, of course, as a previous urban school leader and a former U.S. secretary of education.
That's why we wanted to talk with Duncan about what he's seeing as schools and the country scramble to react to this remarkable pandemic. We were interested in what he's witnessing, what is encouraging him and what he's concerned about. And as a former federal official, what does he see as Washington's role in education during this crisis?
"What is desperately missing is empathetic leadership. And what we see is, as bad as [the last recession] was, and as scary as that was, this time is worse. And will be worse for a long time," Duncan said. "I'm not talking just about the COVID health care crisis. I'm talking about the devastating loss of jobs, many of which unfortunately won't come back. And how do we help families who have been OK, who have made it, maybe made it paycheck to paycheck if they were making it, and now that is gone, and their world is literally turned upside down in the past two, three weeks. We have to think very differently about how we support kids and families."
Watch a short clip of highlights above, or read the complete transcript here.
'You've got to bring people together before you can start solving problems'
Margaret Spellings has been a senior aide at the White House, a college president, and secretary of education for President George W. Bush from 2005 to 2009. She's been in the middle of crises, from 9/11 to the mass shooting at Virginia Tech and the aftermath of Hurricane Katrina. Though not a Texan by birth, Spellings is certainly one by temperament and commitment. Now, as she is leading Texas 2036, a data-driven policy effort pegged to the state's bicentennial, her work and life have been upended by coronavirus.
We talked with Spellings about coronavirus and best- and worst-case scenarios, what businesses should do to help schools and her advice for current U.S. secretary of education Betsy DeVos.
"[The] tenets [of access, accountability and bipartisanship] were true the day before this all started, and they're more true now," Spellings said. "I think if there is a silver lining, and I know Arne [Duncan] said this the other day, it's that, by God, people have a wake-up call here, that we all have a stake in these things. That homeless person who's shedding the virus is going to be personally impacting your health. Those dislocated workers, that lack of capacity in your hospital is something that's going to affect you and does affect you. So I think it's an opportunity for Americans to visit first principles around what we owe each other as Americans, in terms of opportunity and good health.
Watch a short clip of highlights above, or read the complete transcript here.
A 'historic opportunity'
Shavar Jeffries is the president of Democrats for Education Reform, a former Newark, New Jersey, school board president, an ex-assistant attorney general for New Jersey and a parent. An influential education advocate, Jeffries is a key voice in the intra-Democratic debate about schools. While he is experiencing the impacts of the coronavirus pandemic like the rest of us, he is also watching it from a very unique perspective in Newark, the American city with the fifth-highest child poverty rate.
That's why we wanted to talk with Jeffries about the educational response to the coronavirus, what he hopes to see from Joe Biden on education, the opportunity that the current crisis offers for educational equity and what the "Jeffries School" looks like for his children learning at home amid coronavirus shutdowns.
"I think the national government has to be a leader on this," Jeffries said. "Sadly, I'm very skeptical that will come from the Trump administration. I would hope it might come from the Biden administration, but I'd be concerned about whether they're going to have the orientation to say, 'Look, this is a historic opportunity to deal with the fact that we have to really think through what education should look like now.' If we have 10, 15, 20 million students over the next year who are going to be learning from home, we have to really think differently about how we serve them in a way that not only meets the short-term challenges, but the long-term.
Watch a short clip of highlights above, or read the complete transcript here.
Time to get over our 'obsession' with Washington, D.C.
Jeb Bush was a widely regarded governor of Florida for eight years, is a successful businessman, was a 2016 presidential candidate and remains one of the most influential voices in education more than a decade after leaving office.
Bush now spends his time on advocacy efforts and the nonprofit ExcelinEd, which he founded and chairs. His experience, past and present, places him in a unique position to offer insights and speak hard truths about education in America. That's why we wanted to hear what he had to say about his observations and advice for ensuring quality learning through the coronavirus pandemic and beyond. We asked him about what governing during hurricanes teaches you about crises like this, why Miami-Dade County Public Schools is succeeding where other districts are struggling, why he wants to see more discussion of successes in education and why he's fundamentally optimistic about our chances as Americans. Bush, who spoke to us from his home in Florida, also handicaps the 2020 election and offers some quarantine reading recommendations.
"I don't think we need to over-rely on Washington," Bush said. "It's great to have the resources because only the federal government, with its massive power to print money, can deal with some of these significant financial challenges that districts across the country will have. But let's let a thousand flowers bloom. Let's try innovative approaches across the board. What might work in Miami-Dade County is not going to work in rural Virginia, for example. There will be a great repository of ideas, some of which will work and some of which won't, that will come out of that. For some reason, we're in this era where everybody is focused on D.C. They obsess about the White House. They obsess about Trump. They obsess about the president more than anything else. And I don't think that serves us well in this kind of challenge."
Watch a short clip of highlights above, or read the complete transcript here.
'A golden opportunity' for children to discover new interests
Bart Epstein has seen the education space through a previous role in which he helped build Tutor.com, the world's largest online tutoring and homework help service. He's also a parent trying to navigate homebound instruction for his two sons.
Now president and CEO of the Jefferson Education Exchange, a nonprofit dedicated to helping educators and educational leaders make better decisions about educational technology, Epstein is doing his work and being a parent through a lens that also includes experiences as an SAT teacher and tutor, the founder and CEO of the nation's first efficacy research-focused ed tech accelerator and venture fund, and serving on the board of ASCD, a nonprofit focused on teacher advocacy and professional development. He is also a research associate professor at the University of Virginia Curry School of Education. As summer approached and as families adapted to learning during the coronavirus pandemic, we talked with Epstein about ed tech products, the role of schools, what he's doing for his kids and ideas parents can use this summer. Epstein also discussed the ed tech sector more generally, what's needed to improve overall quality and what the impact of coronavirus might be.
"Kids today don't get enough exposure to controlling their own destiny. They are marched from class to class, they are told what to study, in what order and how, and I view this crisis as an interesting opportunity to let kids have a different experience," Epstein said. "My boys tell me that they learn more at home on their own in four hours a day than they learned, most days, sitting in classrooms with other kids for seven-plus hours a day. And that's largely because they pick what they do, in what order. They certainly have requirements, they need to do a certain amount of math, they need to have quiet reading for an hour, but what they read during their quiet reading hour is up to them as long as it's rigorous. I don't care what it is. They'll still do their school reading, but I want them to have a love of learning. And so everything that I do is as much as possible focused on them being responsible for their own path."
Watch a short clip of highlights above, or read the complete transcript here.
Support The 74's year-end campaign. Make a tax-exempt donation now.