Washington Charter School Students See Big Gains on State Math Tests
State's charter school alliance credits differentiated instruction for post-pandemic improvement that outpaced traditional public schools.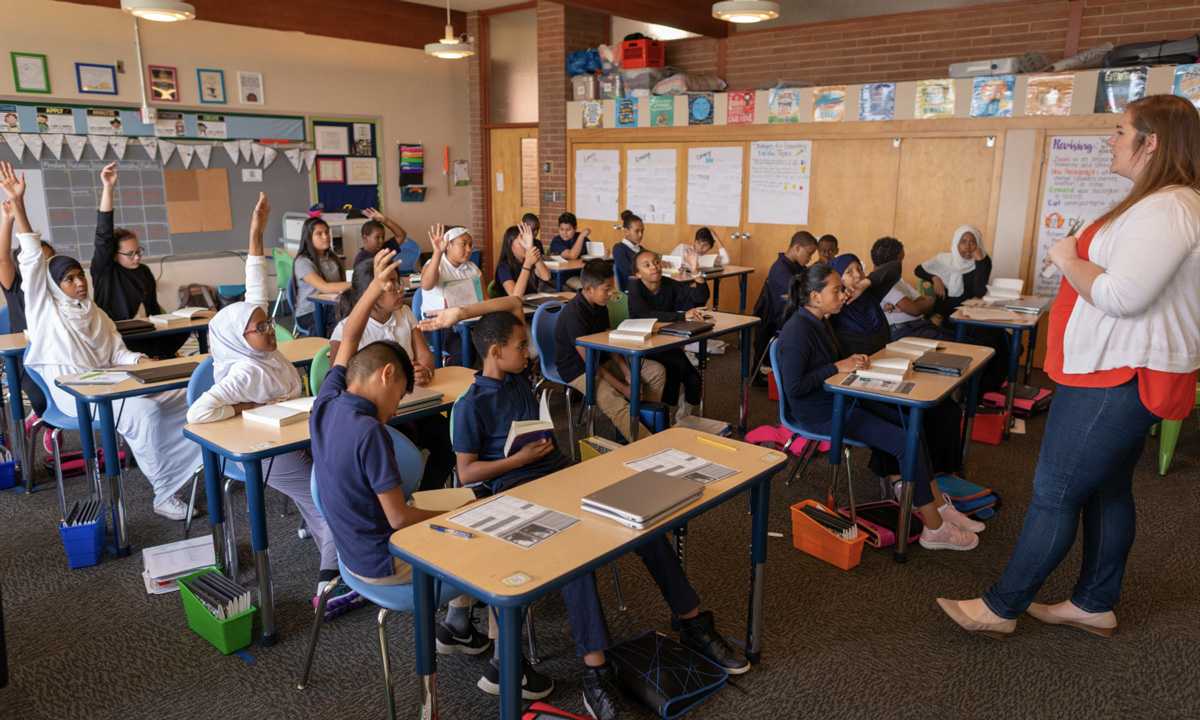 Support The 74's year-end campaign. Make a tax-exempt donation now.
Updated, Oct. 10
The percentage of charter school students in Washington state scoring proficient in math went up nearly 15 points in the latest round of state tests compared to those administered in the 2020-21 school year, a marked sign of improvement in a subject whose pandemic-era scores nosedived.
The gains were heralded by the Washington State Charter Schools Association and follows the state's September release of the latest Smarter Balanced standardized test results. The association has 18 charter school members serving some 5,000 students: A majority hail from low-income families and are children of color.
"In terms of math recovery, we saw schools really double down on practices like differentiation," said Rekha Bhatt, the association's co-president of innovative schools, referring to the practice of designing and delivering lessons to students at their ability level.
Bhatt also cited targeted intervention for those needing help and a reliance on data-driven instruction. The students themselves, association spokesperson Maggie Meyers said, take ownership of their work: They are made aware of their academic standing and encouraged to improve.
While less than half of all charter school students scored proficient in math, 39.1% reached that benchmark on the 2023 spring tests compared to the 24.2% who did in the fall of 2021. Statewide, students also showed improvement in math but not as dramatically, with the share scoring proficient going up 8.7 percentage points between 2020-21 and 2022-23, from 30.4% to 39.1.%.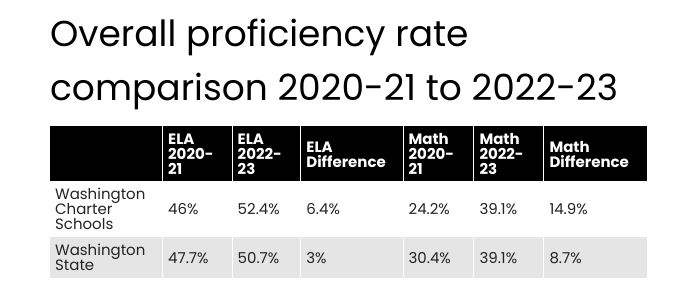 Statewide, all students were climbing out of an 18.5 percentage-point drop in math scores between 2018-19, the last year before the pandemic struck, when roughly 49% tested proficient and 2020-21, the first time the tests were given following school closures and the forced switch to remote learning, when the number fell to 30.4%.
There have been alarming and widely reported declines in math scores on the most recent National Assessment of Educational Progress test results and, at the state level, some others have not yet shown the post-pandemic improvement that Washington has.
California reported a 6.35 percentage-point drop in its 2022 Smarter Balanced math scores statewide from 2018-19 — the last year it required the test — with 33.38% of students scoring proficient or better. For Black students in California, the percentage meeting or exceeding the standards in math in 2021-22 was slightly less than 16%.
Charter schools in Washington state serve a more diverse population than the state's traditional public schools: 62% of their students are Black, Indigenous or other students of color compared to roughly 51% statewide. And 56% of charter students come from low-income households versus 50% across the state.
Charter schools in Washington state also have far more teachers of color — 42% versus vs. roughly 13% statewide — which has proven important in boosting outcomes, Meyers, the spokesperson, said.
"Even having one teacher that reflects a student's cultural and racial identity can make a big difference," she said.
Washington state administers the Smarter Balanced tests annually in grades 3 through 8 and in grade 10. The most recent results showed better-than-statewide improvements for charter school students in English as well. Just 46% reached proficiency in 2020-21 versus 52.4% in 2022-23. Some 50.7% of students statewide were labeled proficient in English in 2022-23 — a smaller, 3 percentage-point jump from the 47.7% who were in 2020-21.
"We're excited about the gains we've observed over the past two years," said the charter association's Bhatt.
Statewide, there was an 11.9 percentage-point drop between the 59.6% of students who tested proficient in English in 2018-19 and the 47.7% who did in 2020-21, less precipitous than the nearly 20-point slide in math proficiency during those years. A recently released compilation of test scores from 20 states shows the same trendline playing out across the country, with math scores bouncing back from a deeper recess in more places than English scores, which fell off less sharply but have been slower to recover.
A National Alliance for Public Charter Schools spokesperson was not able to say whether charter school students nationally outpaced their traditional public school peers in improving their most recent state test scores. But, she said, charter schools' mixture of accountability and flexibility — including expanded school days and social and emotional learning support — played a big role in mitigating the pandemic's challenges for their 3.7 million students.
Washington state voters first approved opening charter schools, which are publicly funded but privately run, in 2012. A long legal battle ensued over the constitutionality of their financing, which was resolved in favor of charter schools in 2018. With the exception of Summit and Impact public schools, most of the state's charters are not part of large networks but are operated by smaller, independent school leaders.
State law has not allowed charter schools to grow beyond the number that existed in April 2021. Charter advocates are pushing for a policy change that would permit more schools to open, Meyers said.
The Bill & Melinda Gates Foundation provides financial support to the Washington State Charter Schools Association and The 74.
Support The 74's year-end campaign. Make a tax-exempt donation now.