Virtual Solution to a Math Emergency at a Rural Wyoming School
When an unexpected resignation left Newcastle High School without an algebra teacher, tutoring service expanded into a full-time classroom provider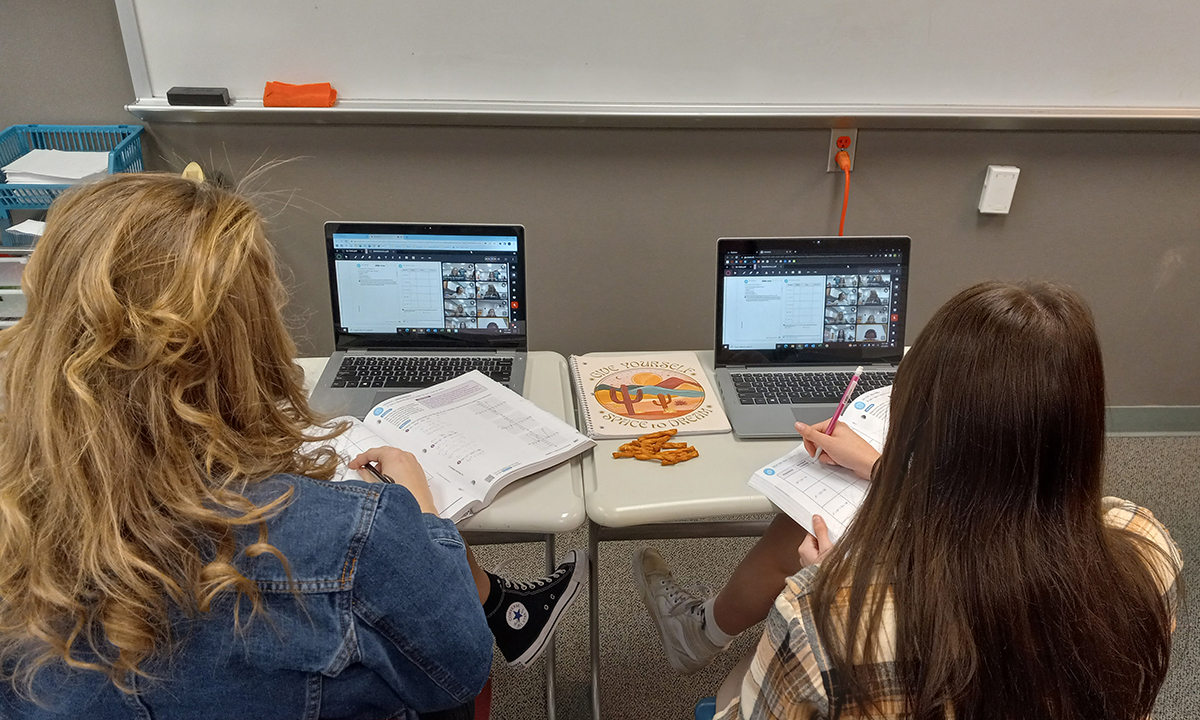 Get stories like these delivered straight to your inbox. Sign up for The 74 Newsletter
When an unexpected Sunday night resignation two weeks into the 2022-23 school year left rural Newcastle High School in eastern Wyoming without an algebra teacher, a tutoring service expanded into a full-time classroom provider.
An unexpected Sunday night resignation just two weeks into the 2022-23 school year left rural Newcastle High School, in eastern Wyoming, without a math teacher to handle three classes each of Algebra 1 and Algebra 2. District curriculum director Sonya Tysdal stepped in as a substitute, but after a couple of fruitless weeks searching for a qualified long-term substitute or replacement, Newcastle needed a sustainable option. That's how Carnegie Learning's ClearMath Classroom was born.
Newcastle already used the company's High School Math Solution curriculum, so Tysdal asked if Carnegie had a way to help. What emerged was an expansion of an established tutoring service into a full-time classroom provider that now serves students in the Weston County School District and beyond.
"We emphasize small-group instruction and small-group software whenever we can," says Barry Malkin, Carnegie Learning CEO. "The small-group instruction, together with the tutoring work we are doing, really led to the epiphany there is a needed solution in the market to address the teacher shortage problem. We brought all these elements together into ClearMath Classroom."
Newcastle's 90 or so algebra students connect with certified teachers employed by Carnegie Learning through an online portal while in class. Each class is divided between two educators, to keep the small-group mindset going. Students work in pairs to promote collaboration and spend 60 minutes with their teacher virtually, referencing textbooks, taking notes and interacting via the portal. The remaining half-hour of class time is devoted to individually paced independent work.
A full-time paraprofessional serves as manager and facilitator in the classroom, monitoring student behavior and engagement, communicating with the virtual teachers when needed and troubleshooting technology.
As with any new effort, it wasn't wrinkle-free. There were technical issues to troubleshoot — such as ensuring students stayed connected to the portal and microphones always worked — and communications snags to work out. For example, Newcastle needed to make sure the teachers provided by Carnegie Learning were in tune with each student's individualized education program and were aware of logistical changes, such as snow days. But because the school already used the company's math curriculum and students were already using computers in the classroom, the only new component was constructing an approach that mixed small-group instruction and one-on-one assistance. That was done within a few weeks.
"I'm not sure how we would have provided a quality education for our students without it," Tysdal says. "It has been very beneficial. It has been imperative to do."
Carnegie Learning, born out of Carnegie Mellon University 30 years ago, is an independent company but still relies on the university for research and data. Created with a math focus, the company launched a K-5 math program in February and has recently expanded into literacy and world languages. Malkin says the virtual solutions fit the company's goal of "producing better educational outcomes across the country." 
With its success at Newcastle, Carnegie Learning has expanded to a few additional districts around the country, providing a stopgap solution that could eventually evolve into a long-term in-classroom alternative. "I do see the current construct as solving a nationwide crisis today, but I see the product evolving to support differentiating in the classroom tomorrow," Malkin says. "There is a role for virtual support in the classroom to augment long term." 
Newcastle recently hired a new math teacher for next school year but will finish out the current year with ClearMath Classroom. "It will always be nice to know that there is an option," Tysdal says. "If we are in a tight pinch again, this would be something we would definitely look into."
She adds, "It is good to know this service is there. It has helped us immensely."
Get stories like these delivered straight to your inbox. Sign up for The 74 Newsletter