Q&A: Bridges to Science Founder Rosa Aristy on Closing Diversity Gaps in STEM Education
Inside the Houston-based nonprofit working to bolster STEM programs for homeschool students, and help train their parents in core math skills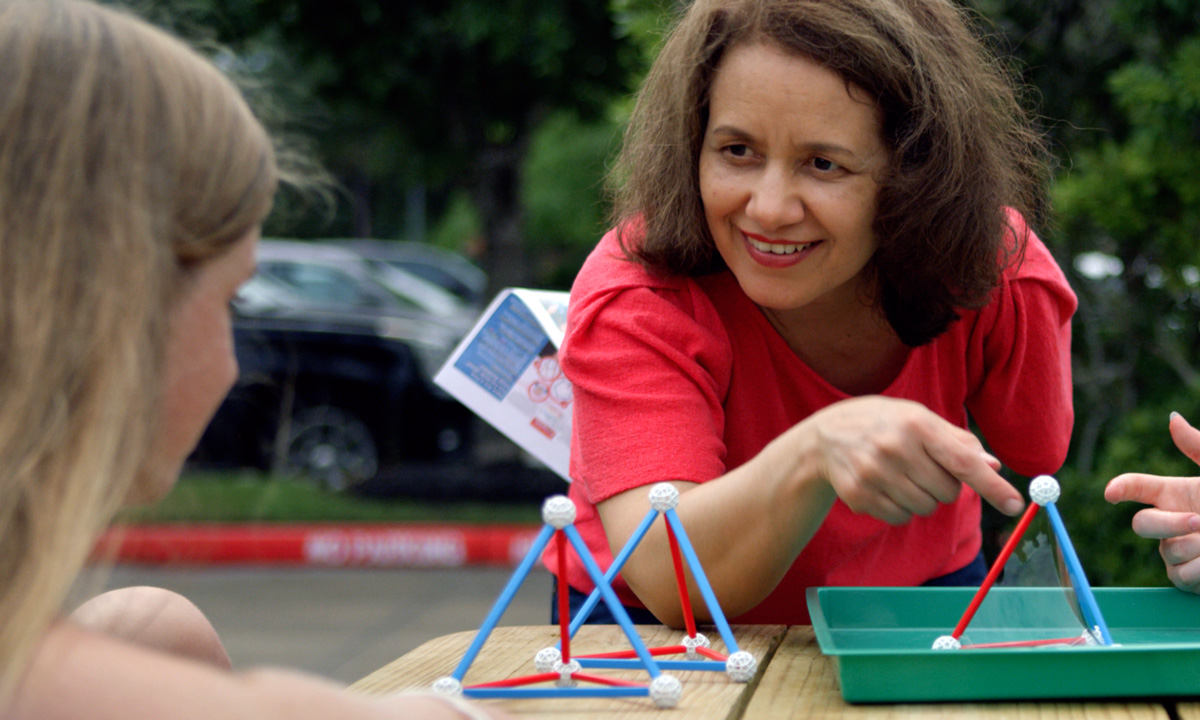 No paywall. No pop-up ads.
Updated March 23
Watching her older brother lead a math club from the front porch of her family's quaint coastal home in the Dominican Republic helped foster Rosa Aristy's love for STEM education as a child.  
Like her brother, Aristy grew up surrounded by family members who taught her the value of investing in others — a commitment she now makes to not only the students in her kids' homeschool co-op but also their parents.
"That front porch they would sit at was the very first math club I was exposed to," Aristy told The 74. "Seeing them laugh because they were having so much fun learning together became something I wanted to instill in others."
Aristy's upbringing served as the inspiration for Bridges to Science, a Houston-based nonprofit that addresses diversity gaps in STEM education through math, robotics and coding programs for homeschool students.
Through the support of the VELA Education Fund, Bridges to Science has expanded its mission to train homeschool parents on how to teach their children math.
Today, Bridges to Science serves more than 50 homeschool students across Texas with the help of local universities, organizations and volunteers.
"It's a very near and dear vision of mine…and the intent is to support our amazing students who have so much potential but don't have access," Aristy said.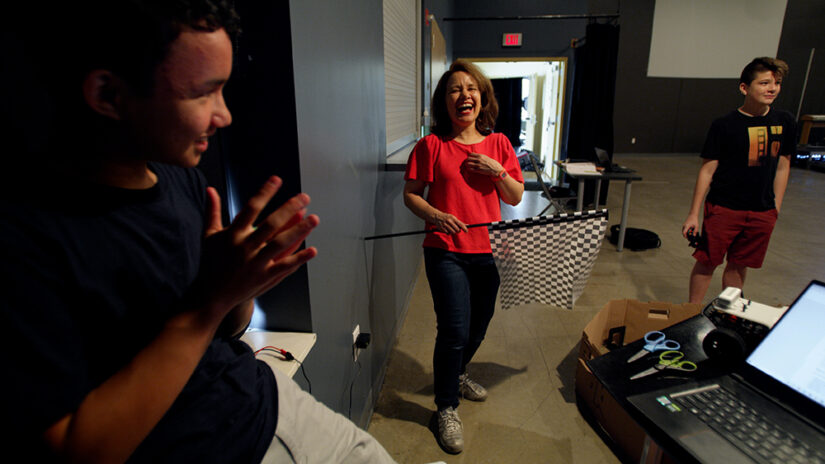 This interview has been edited for length and clarity.
The 74: How would you say your upbringing and being a homeschool mother influenced the creation of Bridges to Science?
When we first moved to Texas, I noticed the school system was really focused on annual testing. It was beginning to rob my children of the joy of learning and I didn't want that to happen. That was the one thing my parents in particular instilled in me and I want my kids to be lifelong learners.
One day the moms at my children's homeschool co-op asked the students to vote on what courses they wanted to learn. They pretty much said they wanted more coding, robotics and STEM classes. The moms and I just stared at each other wondering who would have the courage to teach these classes. No one seemed committed to doing this and I didn't want to let our students down. I had done some programming before, not the kind they wanted to learn, but I thought that I could learn something child-friendly and get up to speed.
But before I did that, I was aware that homeschoolers in my community use a curriculum and approach to math that's memory-based and very common in school systems. I knew that it wasn't giving the kids the math foundation they needed to go into the sciences. So I said, let me first start off with a math club like my brother's growing up and once the foundation is set we can do coding next. That's how Bridges to Science first started out.
How has Bridges to Science supported homeschool parents teach their children math?
We just got a grant for that and we're super excited. This summer we're going to launch a math workshop for parents similar to the ones we have for students. We want parents to have the opportunity to interact with mathematicians and see the beauty of math because it takes a village to impact our children's lives. If we get parents to bring down their fears about math, they'll feel more comfortable facilitating inquiry-based sessions with their children. 
I think the stress around math roots from parents wanting to solve the problem for their students and that's exactly what we don't want to do. We don't want to rob them of the joy of discovering the way out of those problems. So that's our intent. We're using a very solid approach that is backed by research, but we're tailoring it to the needs of homeschool moms that is culturally relevant and through methods that respond well to their educational scenario.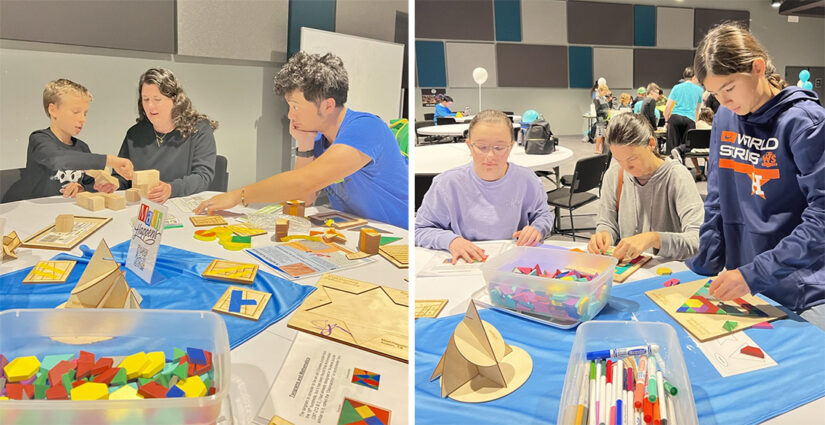 What is something important to keep in mind when it comes to educating homeschooled families?
Homeschool communities have grown in its diversity and flavors. Sometimes I sense that there's a stereotype of who we are that doesn't really reflect who my students are. For example, we're seeing more families from underprivileged neighborhoods try out homeschooling. And we're seeing many single moms stepping up to homeschool their children too. They're not doing it for any ideological reasons but really just for practicality. So I think the world needs to know that homeschooling, at least here in Houston, is a little more diverse than what you may think.
I understand that Bridges to Science is geared for underserved students — primarily Hispanic students. As a Dominican immigrant, tell me more about why it's important for you to bridge that diversity gap in STEM education.
I like to envision my organization through a spectrum. On one end, we have our amazing students who have so much potential but don't have access. On the other end, we have universities, organizations and corporations we work with that have an abundance of resources. We serve as the bridge to unite them so our students can see beyond their existing scenario.
It's a very near and dear vision of mine because, in a way, I see myself in them. I grew up in a very small town and my father passed away when I was 12. I had to grow up really fast during my middle school years and get a job to help my mom. You don't have to go through a big transition like I did, but my life was always at a crossroads. I want our children to explore all the beautiful things they can do in STEM without worry.
You speak about your work with so much love and conviction. Where would you say this energy comes from?
It must be from my mom and dad. Both of them were passionate educators and people who invested into the lives of a lot of people — especially youth. The one thing I learned, particularly from my mom, was to love my students and see them as a whole.
As a kid, I vividly remember my mom stopping me one day from watching videos because we needed to go to someone's house. I was a typical kid and complained and asked her why me? Why was it so important for us to be there? She told me that she noticed one of her students was sad and realized that her parents were thinking of getting a divorce. So my mom went there to act as a counselor and see if there was anything she could do to help the parents. That really spoke volumes to me. My mom had five kids but she made the time to do those kinds of things. It taught me how important it is to invest in others.
As Bridges to Science continues to expand its reach, what do you hope families take away from their experience?
Half of our students have some sort of adversity attached to them. It could either be due to race, socioeconomic or neurodivergence. When I started Bridges to Science, I set out to give our children the privileges they didn't have access to. As I've invested in my students, I always tell them that they need to pay it forward. And little by little, that's the vision we have moved towards.
Get stories like these delivered straight to your inbox. Sign up for The 74 Newsletter