'Very Alarming' Teen Vaping Study Shows 1 in 5 High School Seniors Reports Having Vaped Nicotine in Previous Month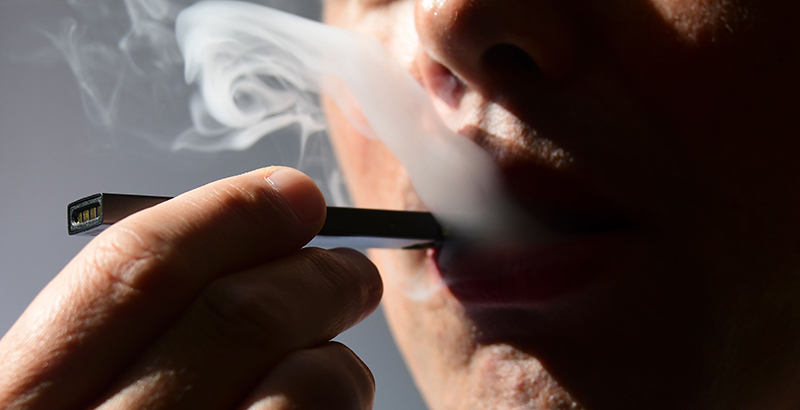 Adolescent use of most drugs has declined or held steady in recent years, but in 2018 teen vaping surged, creating an "epidemic" that advocates say is hooking kids on nicotine and may be putting them at risk for future drug use.
According to the 2018 Monitoring the Future survey released in December, 1 in 5 high school seniors reported vaping nicotine in the previous 30 days. That was nearly double the 11 percent recorded in the group's 2017 survey.
The jump for 12th-graders was the largest year-over-year increase in use of a particular substance in the history of the federally funded survey, which began in 1975. The researchers estimate that at least 1.3 million additional adolescents took up vaping nicotine over the past year, reinforcing previous research that shows adolescent vaping rose sharply in 2018.
For 10th-graders, the percentage who had vaped nicotine in the previous 30 days also doubled — from 8 percent to 16 percent. Even eighth-graders saw a dramatic increase, with 6.1 percent saying they had vaped in the past month, up from 3.4 percent in 2017.
The study found that previous 30-day use of most other substances, including cigarettes, alcohol, and prescription drugs, either decreased or held steady among adolescents in 2018.
Richard Miech, the lead Monitoring the Future investigator who also studies trends in substance use at the University of Michigan, called the teen vaping surge "very alarming." He said it indicates that parents and teachers need to take responsibility because the e-cigarette industry has a vested interest in getting kids hooked on its products.
"The vaping industry has said that they're against teen vaping and they want to try to stop it. But I would say whatever they've done hasn't been very successful," Miech told The 74.
In most states, e-cigarette sales are limited to those 18 or older, but 47.5 percent of eighth-graders in the survey and 66.6 percent of 10th-graders said vaping devices are "fairly easy" or "very easy" to get, an increase of about 7 percentage points over last year for both groups.
Some communities have taken steps to restrict sales of e-cigarettes. For example, San Francisco voters in June upheld a ban on selling flavored tobacco products within the city. The federal government is also working to prevent youth e-cigarette use through regulation.
The increase in vaping nicotine corresponds to the rise of Juul, a popular e-cigarette whose producer, Juul Labs, has come under fire for marketing its products to youth and not doing enough to prevent underage use. Juul delivers a high dose of nicotine in a device that resembles a flash drive, which can be easily hidden from parents and teachers.
Although e-cigarette makers including Juul Labs say their products are intended to help adults quit combustible cigarettes by switching to their less harmful products, previous research has shown that vaping nicotine can open the door for traditional cigarette use among young people. The Monitoring the Future researchers also warn that teen nicotine consumption may prime the brain for future addiction to other substances.
But few teens are aware of the danger, the survey found. Just 18 percent of high school seniors surveyed said there is "great risk" in regularly using e-cigarettes, and 27.7 percent said the same about regularly vaping e-liquid containing nicotine. Some teens in the survey said they vape "only flavoring," not nicotine, but most vaping products contain nicotine and experts say young people are consuming nicotine without realizing it. Juul does not even offer nicotine-free flavors.
On the day the survey was released, Surgeon General Jerome Adams issued an advisory calling youth vaping an "epidemic." The advisory urges state and local policymakers to ban indoor use of e-cigarettes, restrict underage access to e-cigarettes, and educate young people about the risks. Adams's missive also provided information for parents, educators, and health care providers about spotting e-cigarettes and talking to adolescents about vaping.
Food and Drug Administration Commissioner Scott Gottlieb in 2018 rolled out an aggressive campaign to prevent teen vaping and tried to crack down on Juul by demanding that the company reform itself. As a result, Juul has deleted much of its social media content and said it will pull some of its products from stores.
The government should do even more to deal with the teen vaping crisis, said Vince Willmore, a spokesperson for the Campaign for Tobacco-Free Kids, an organization that works to end youth tobacco use.
"To address this problem … we need a combination of both education efforts and strong regulation. Parents and educators have a role to play in preventing teen use of e-cigarettes, but they shouldn't have to bear the burden alone," he said. The FDA should stop online sales until age verification is stronger, ban flavored e-cigarette products, restrict marketing, and enforce its own rules that prevent new products from entering the market without approval, Willmore told The 74.
The day after the Monitoring the Future survey results were released, tobacco giant Altria announced its purchase of a 35 percent share of Juul Labs, which currently makes up 75 percent of the e-cigarette market. The move could make Juul even more powerful by providing the company access to consumer data, lobbying muscle, and shelf space controlled by Altria, the Wall Street Journal reported.
Advocates said the deal shows Juul is more interested in its own bottom line than public health.
Researchers at the University of Michigan have conducted the Monitoring the Future Survey annually since 1975 with funding from the National Institute on Drug Abuse, part of the National Institutes of Health. About 44,400 students participated this year.
Get stories like these delivered straight to your inbox. Sign up for The 74 Newsletter