'We're Losing a Battle': More Teens Are Vaping, Despite Surgeon General's Warning That E-Cigarettes Are a 'Major Public Health Concern'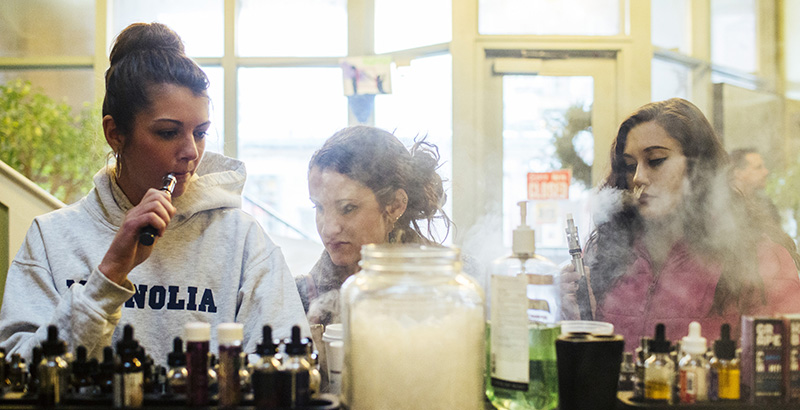 As e-cigarettes gain popularity among teens, teachers and public health advocates are trying to keep up and attempting to slow the vaping trend.
Some schools are responding by suspending and drug-testing students who vape on campus.
"We're losing a battle and to me, it's predatory," one principal told The New York Times. "There's no way you're going to suspend your way out of this."
E-cigarettes are touted as a less harmful alternative to traditional cigarettes, but the liquid used in them generally contains nicotine. Critics say the flavors, which range from fruit medley and mango to crème brûlée, appeal to kids. Despite the innocent-sounding names, the flavorings themselves may cause cancer, and some e-cigarettes have been found to contain lead and other metals. Additionally, research indicates that young people who use e-cigarettes are more likely to turn to traditional cigarettes later.
The attention comes as several public health advocacy groups, including the Truth Initiative and the Campaign for Tobacco-Free Kids, filed a lawsuit against the Food and Drug Administration last month challenging the agency's decision to delay full regulation of e-cigarettes and similar products until 2022. Leaving the products unregulated make kids vulnerable and deprives the public of information, the advocates say.
A 2016 Report of the Surgeon General revealed that teen and young adult use of electronic cigarettes was increasing at "an alarming rate," making them the most common form of tobacco use among youth in the U.S. Use of e-cigarettes increased 900 percent among high school students from 2011 to 2015. In the report, the surgeon general called e-cigarette use a "major public health concern." A 2017 University of Michigan study found that 19 percent of 12th graders had vaped in the past year.
The latest fad in vaping is Juul, an e-cigarette that looks more like a new tech toy than a cigarette.
The Juul device, which resembles a USB flash drive and can be charged in a laptop, became a problem in schools when students were using them during class and charging them on school computers. Because Juul doesn't create a large cloud of smoke like other tobacco products, students use it in class, and some say their teachers don't even realize what the Juul is.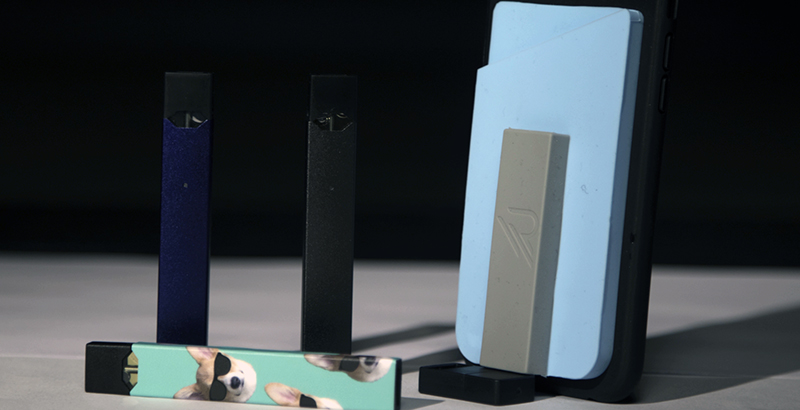 Some schools are banning flash drives and Juuls to avoid confusion, along with educating parents and staff about the devices.
Many e-cigarette companies, including Juul, say their products are designed to provide a safer alternative to smoking for older adults who want to quit. A spokesperson for Juul Labs told The 74 that the company is "investing significantly to combat teenage use."
But a study released Wednesday by the Truth Initiative, a nonprofit organization dedicated to ending tobacco use, found that about 8 percent of respondents ages 15–24 had used a Juul device in the past 30 days. The report also reveals that almost two-thirds of young people using Juul devices did not know that the liquid contains nicotine. In fact, one Juul pod contains as much nicotine as a pack of cigarettes, according to the Juul Labs' company website.
That's alarming because nicotine is highly addictive, making young people more vulnerable to later cigarette use and other addictions, Truth Initiative CEO Robin Koval told The 74.
In addition to the sleek design and candy-like flavors, Juul has become a fashion accessory of sorts, inspiring Instagram fan accounts, accessories, and even a nod in Vogue. Koval also said Juul isn't hard for students to get from websites like Ebay and even from the Juul website. The official site has an age verification tool, but kids can work around it, she said.
"This is a 100 percent 21st century marketing campaign, and it's happening in the networks young people use," Koval said.
Get stories like these delivered straight to your inbox. Sign up for The 74 Newsletter