For Maryland's New Schools Chief Choudhury, State Anti-Poverty 'Blueprint' Draws on Deep Expertise Identifying, Aiding Low-Income Students in Texas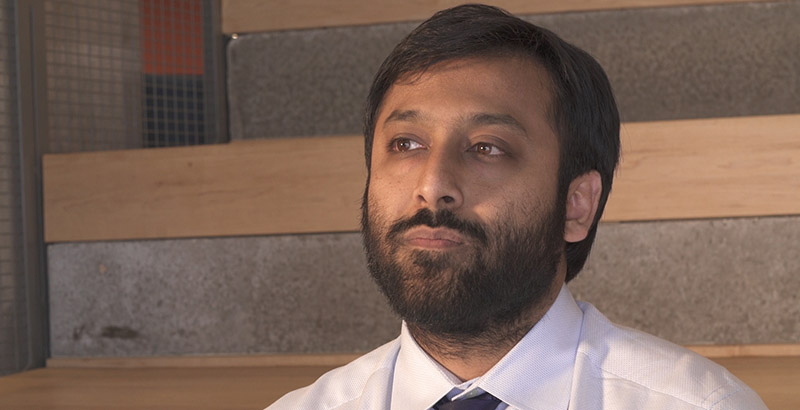 From Los Angeles to Texas and now the East Coast, Mohammed Choudhury has charted an ambitious course across the country on his way to becoming Maryland's State Superintendent.
He's a distinctive hire for the Maryland State Board of Education: a young man of color from outside the state, whose approach to changing the status quo has at times led to decisions that rankled parents, politicians, and teachers unions.
"I'm proud of disrupting the narrative around the expectations for children living in poverty, especially abject poverty," said Choudhury, currently the Associate Superintendent of Strategy, Talent, and Innovation in San Antonio ISD.
Choudhury's focus on the deepest forms of poverty has defined his work in Texas, and will follow him to Maryland as he takes the helm of implementing the Blueprint for Maryland's Future, a multi-billion dollar education finance law passed in 2021.
The ambitious new legislation carries many of the same targeted spending programs Choudhury championed in Texas, but with supercharged per-student price tags and local mandates. The Blueprint also addresses concentrated poverty explicitly, familiar territory for the new superintendent.
The Blueprint allocated increased money to schools based on the percentage of children qualifying for free and reduced lunch, the federal proxy for poverty in schools. The first grants, which include both per pupil funds and funds to hire a wraparound services coordinator, will focus on schools where the poverty rate is 80 percent or higher. In subsequent years grants will continue to extend to schools with incrementally lower poverty rates, until the point grants go to schools with 55-60 percent of students in poverty.
This kind of strategically scaled funding has shown up in much of Choudhury's policy work in Texas.
In large cities like the ones where Choudhury has lived and worked, many students meet state qualifications for free and reduced lunch. But research shows a difference in outcomes for schools that serve both middle class and working class neighborhoods where many families meet the income cut off for free and reduced lunch, and schools that primarily serve neighborhoods where 40% or more of the families live below the federal poverty line, mobility is high, and jobs are seasonal or unstable.
Without refining how poverty is measured, Choudhury has said in the past, it is too easy for funds and other resources to miss the students who need them most.
To inform any policy or program intended to address inequity, Choudhury developed the four-tiered "block system" based on income, education, household composition, and homeownership. He first used the system to make sure that students from those neighborhoods were represented in the district's schools of choice and magnet programs. Choice programs in the district soon fell under Choudhury's Diverse by Design initiative, which used socioeconomics to integrate schools through a multi-step lottery and "equity audit" process to ensure each school had a mix of students from each of the four tiers.
"Those programs—gifted and talented, Montessori, dual language—typically get overtaken by parents who have the political and social power to make sure their kids get in," Choudhury said, "We had to make sure kids coming from concentrated poverty were enrolling."
Because of the United States's long history of economic exclusion for Black, Latino, and many Asian ethnicities, socioeconomic integration will result in racial integration as well, Choudhury said.
Choudhury has plenty of research to back up his passion for integration, but it also comes from his own lived experience.
A first generation American, Choudhury grew up in Los Angeles where his parents, immigrants from Bangladesh, still own an Indian food restaurant. He grew up in racially, culturally, and economically diverse schools in the Fairfax neighborhood, which he said, "shaped me and gave me a drive to see that experience realized for many, many more students."
In 2019 Texas passed House Bill 3 which used Choudhury's tiered poverty measurement system to allocate funds for compensatory education and teacher incentive programs.
Like HB 3, the Blueprint includes funding for early education, teacher incentive pay, literacy programs, and college and career readiness. However the Blueprint also includes a massive increase to base student funding: 60% over the next 12 years.
"With the Blueprint serving as a guide, the state leaders have shown a remarkable commitment to investing in the necessary systems and structures we need to give our children, especially our most vulnerable, so that they can excel," Choudhury said.
Choudhury said he was particularly excited that the Blueprint was based on an adequacy study. Adequacy studies start with the desired outcomes, and then determine how much money is needed to reach those goals, instead of starting with budget limitations. It shows the state's commitment to doing better by kids, whatever the cost, Choudhury said.
"You do not see many states rolling up their sleeves and doing an adequacy study," Choudhury said, "There's a reason why our legacy civil rights organizations use this approach. Adequacy studies will show you what it really costs to provide a quality education each and every day."
While Choudhury may be in his element building systems to increase equity, the new job will be his most public and political position, one that will involve more stakeholder and community engagement than any of those he held previously.
Choudhury's unrelenting focus hasn't always been politically expedient. He regularly denies requests from local VIPs to skip San Antonio ISD's choice school wait lists for their own children. Even before Black Lives Matter made them common vernacular in 2020, he used words like "racism," "white supremacy," and "segregation" while sitting on panels and public forums, at times implicating the developers and donor-class audiences eager to see San Antonio ISD improve.
But rich white people aren't the only ones to bump heads with Choudhury.
When he brokered a deal to bring in charter network Democracy Prep to operate one of San Antonio ISD's longest-failing schools, he and San Antonio ISD Superintendent Pedro Martinez found themselves in a maelstrom of conflict with the local teachers union. The move, San Antonio Alliance of Teachers and Support Personnel President Alejandra Lopez said, is part of Choudhury's "pro-privatization agenda in San Antonio ISD that has seen control of our public schools given to private entities, undermining democratic control of public education."
Lopez pointed to various other agreements Choudhury brokered under the 2017 Texas Partnerships law, which delays punitive accountability measures and pushes more money into public schools if the district cedes oversight of some operations to higher education institutions, government entities, charter management organizations, or nonprofits. In San Antonio ISD, Lopez said, they were forged without meaningful engagement of staff, parents, and community members.
"Choudhury's project has been couched in the language of school integration and social justice," Lopez said, "but our schools have become more and more dominated by standardized testing and a narrow and deficit-centered view of academic achievement, and less and less responsive to and reflective of the complex humanity of our students and their families."
The district administration has been unapologetic in its effort to raise test scores, but Choudhury pointed to the overwhelming buy-in from district teachers to use ambitious performance metrics — both test-based and not — in their evaluations.
"I am inspired by how our educators have chosen to run into the fire to do everything possible to provide the highest quality educational experiences for students growing up in the most debilitating forms of poverty and segregation in our country," Choudhury said.
The Alliance has repeatedly backed school board candidates who indicated they would demand more public input on controversial policies, and for the first time in six years, succeeded in flipping one board seat this May.
For most of his tenure in San Antonio, Choudhury's initiatives had the benefit of unanimous board support, and alignment with Martinez. In an interview with The 74's Beth Hawkins, Choudhury said in 2018 that what "keeps him up at night" is designing the system in a way that it will last beyond himself, Martinez, and their supportive board.
"Working in San Antonio has been, to date, the most important work I have done in my career and I'm happy to be leaving it to an amazing team," Choudhury said.
Martinez continues at the helm of San Antonio ISD, which has climbed from a failing rating to a "B" in the last five years.
"We will always be grateful to him for bringing his passion for academic equity and opportunity to our district and for the impact his influence has had in Texas," said Martinez in a prepared statement. "Mohammed's dedication and commitment has improved the trajectory of students' lives, and we know he will continue to elevate the impact education has on the children of Maryland."
Get stories like these delivered straight to your inbox. Sign up for The 74 Newsletter