Ukrainian-Born Students in the U.S. and Those with Strong Ties to Country Struggle to Balance Studies with News of War
By Jo Napolitano | March 2, 2022
The text messages come to Marta Hulievska's phone at least four times a day, sometimes in the middle of the night:
"Again in the shelter."
"They are shooting the airport."
"Our airport."
Hulievska, 19 and a freshman at Dartmouth College in Hanover, New Hampshire, came to the United States from Ukraine last year through an organization meant to help students from low-income families attend top-tier universities around the world. She hopes to major in creative writing and chose America for its diversity, which she believes will strengthen her craft.
She's just one of more than 1,700 international students from Ukraine living in the United States. Many have struggled to balance their studies with painful images from home, including possible war crimes committed by Russian forces against civilians.
Hulievska's move across the globe meant new opportunities, but also that she would leave behind her mother, father, two younger siblings, ages 13 and 7, and maternal grandmother. They've spent the past few days climbing in and out of a community shelter meant to ensure their safety as bombs slam into their home town of Zaporizhzhia, eight and a half hours southeast of Kyiv.
The town is of particular interest to occupying forces because it contains a nuclear power station, Hulievska said: Russian troops have been encroaching for days. They've already taken over her paternal grandmother's village. The elderly woman no longer leaves her home.
The first time Hulievska's family told her they were fleeing their apartment, she crumbled.
"I honestly started crying straight away," she said, adding that her parents tried to soften the news by sending a selfie of them smiling in the shelter, telling her everything was OK.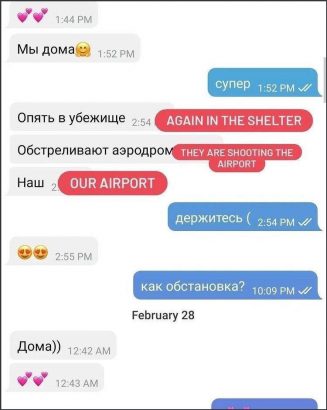 It helped, at least a little, she said. But a daughter worries.
"Your mind starts to imagine all kinds of bad things," she said.
Ukraine's incredible resolve in this David and Goliath battle has won hearts around the world, with college students across the United States, Ukrainian and Russian alike, showing their support for the beleaguered nation through protests and fundraisers.
The fighting has been brutal with bodies strewn throughout the capital city of Kyiv. Local authorities say more than 2,000 Ukrainians are already dead. Residents hiding in their basements or in area shelters, buoyed by the international support, say they hope their military and civilian army can prevent a takeover. Some 1 million people have fled the country since the fighting broke out a week ago.
Peace talks have faltered but international economic pressure on Russia could force the nation to reconsider as the ruble, Vice President Kamala Harris said, "is in free fall."
Hulievska is no expert on international politics, she said, but believes her country will stand for a few days more, adding it's heart wrenching to watch the conflict unfold from afar. She thought she'd be able to focus on her studies through the crisis but learned, in recent days, that she has limits.
"Right now, whenever I do some work, it just feels so meaningless," she said. "I stopped caring about grades. It's a totally different type of thinking."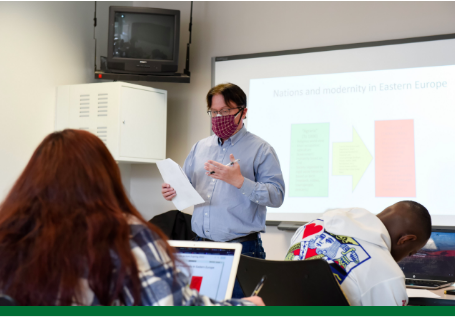 But it's not just Ukrainian-born students who are agitated to the point of distraction. William Risch, a history professor at Georgia College in Milledgeville, has many ties to the country: Not only did he live there for four years, but a Fulbright scholar who studied at Risch's school in 2017 is now head of a territorial defense battalion defending the airport at Vasylkiv, a strategic site Russian forces have been trying to take.
Risch is heartsick at the thought of the inquisitive young man in the throes of combat, unsure if he is alive or dead. He remembers the student coming to his office to talk about Ukrainian politics, expressing skepticism over the country's future.
The professor, whose areas of study include ​​Russia, the Soviet Union and central Europe, was surprised to learn he had taken up arms though many of Risch's professional contacts in Ukraine, including a lawyer and a historian with no prior military experience, have already done the same.
Risch fears for all of them.
"There is nothing else I can say," he said. "Sometimes I just feel sick."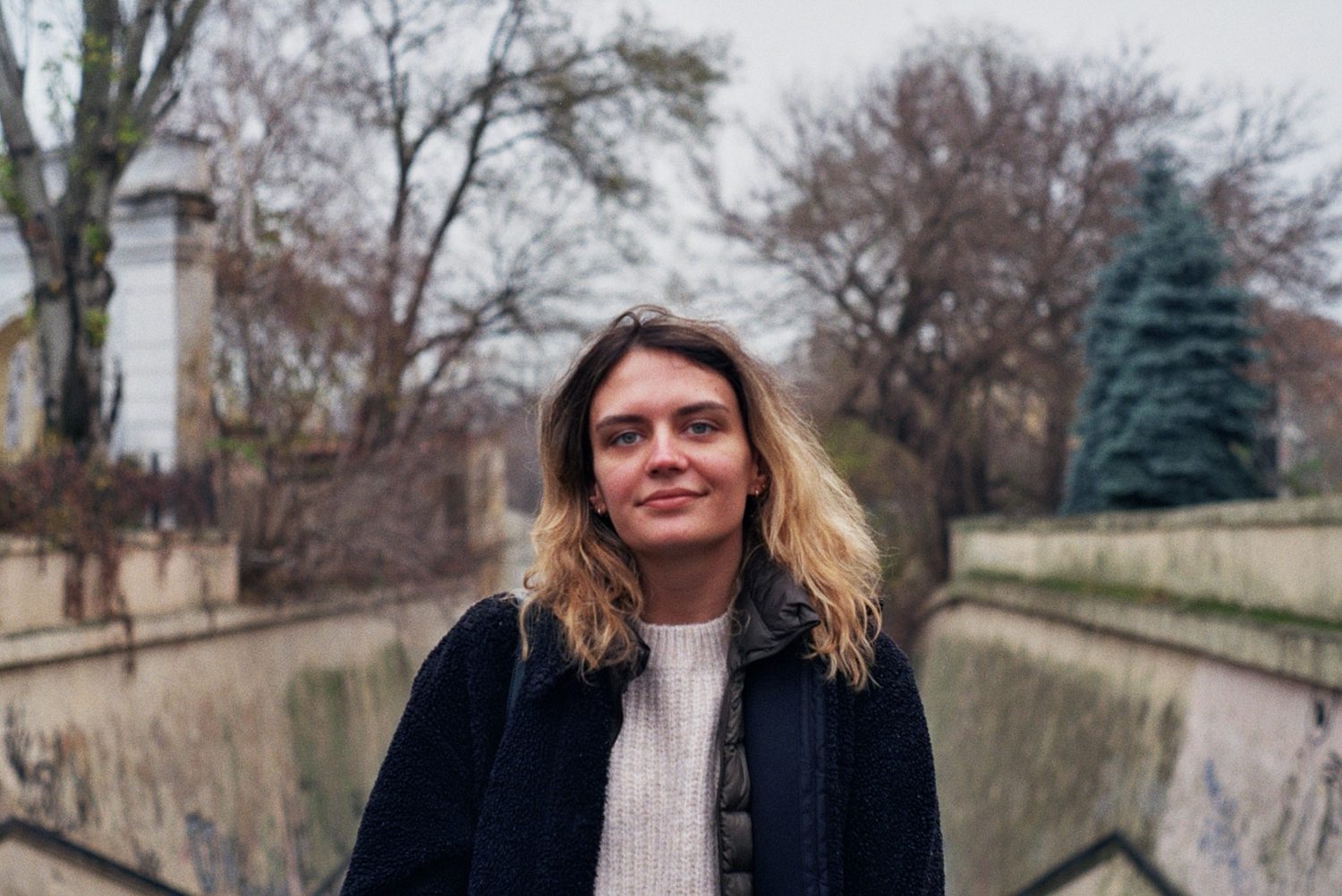 Yana Annette Lysenko, 27 and working toward a Ph.D. in comparative literature and Slavic studies at New York University, shares his concern.
Though she was born in the United States, she visited Ukraine nearly every summer in her youth and continued to travel there into her adulthood. She left the country just two months ago with plans to return: She came back to the States only to find a subletter for her Queens apartment.
Much of Lysenko's extended family remains in the country. An aunt, uncle and cousin recently fled from Kyiv.
Adding to her anguish, her Ukrainian boyfriend might soon join the fighting.
"I have loved ones at stake, their safety, well-being — everything is on the line," she said. "It's a lot of grief of sitting and having no clue what will happen."
There was, at the time she left Ukraine, some speculation that Russia could attack, but the invasion still came as a surprise. Lysenko has had a hard time focusing ever since Russian troops entered the country.
"Work has taken a back seat to this," she said. "Every time I go on to the internet, I see new updates, buildings being bombed, cities I've been to and have seen in real life. It's a really hard thing to come to terms with as someone who has never personally seen war."
Lysenko said she plans to relocate once the fighting is over.
"I still want to go back," she said. "That's my goal. I really love it there. I have a deep attachment to it: It's my heritage, my roots."
On an even more practical level, the country is the subject of her dissertation, though it, too, is on hold as she copes with news of the occupation.
Hulievska, from Dartmouth, understands the delay. She was so worried about keeping up with her own studies that she asked her professors for extensions for incomplete assignments. With the encouragement of her dean, they've accommodated her requests.
"I just cannot do any kind of work right now except for organizing rallies and fundraisers," she said.
Her efforts — and those of many other U.S-based students — have not gone unnoticed in the war zone.
Marina Shapar, 26, told The 74 she's spent the last several days living inside her basement in Kyiv with nine other people, including her parents, siblings and neighbors. She communicates with friends and relatives via cell phone to keep track of Russian advancement and to determine when it's safe to go out for food.
Shapar, who shared video clips of blood-soaked bodies lying dead in the street, is encouraged by the support she's seeing from abroad. But she's also worried about the virulent misinformation campaigns that mischaracterize Ukraine's stance on the invasion and downplay its suffering.
She asks that young people help spread the truth.
"You know," she said, "students are our future."
---
Lead Image: Marta Hulievska, 19 and a freshman at Dartmouth College in New Hampshire, pictured in Zaporizhzhia, Ukraine. Hulievska is trying to balance news of the war — her family is in and out of bomb shelters daily — with her studies. (Anna Haiuk)
Get stories like these delivered straight to your inbox. Sign up for The 74 Newsletter