Trump, DeSantis, Haley to Speak at Moms for Liberty Summit
Political observers say education will likely take a backseat in 2024, especially if Trump is the Republican nominee.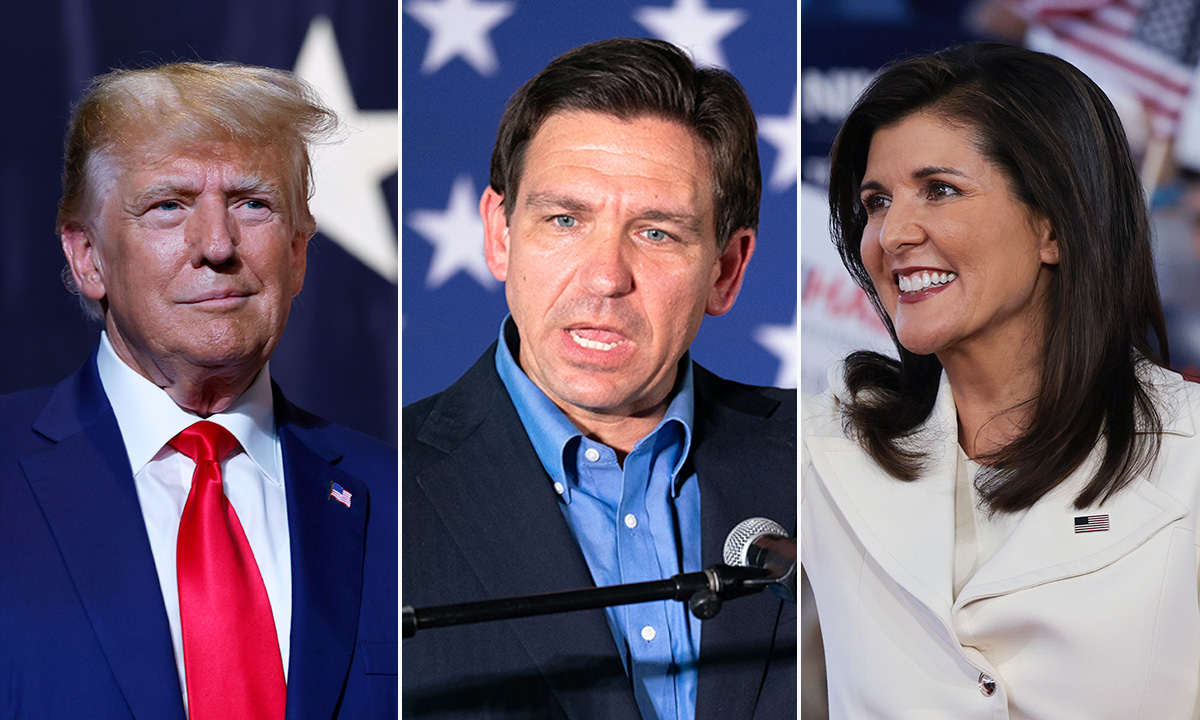 Get stories like these delivered straight to your inbox. Sign up for The 74 Newsletter
Moms for Liberty has secured former President Donald Trump as the keynote speaker for its upcoming "Joyful Warrior" summit in Philadelphia. Florida Gov. Ron DeSantis and former South Carolina Gov. Nikki Haley, both of whom have also announced presidential bids, are scheduled to speak at the event as well.
The summit will be held at a downtown Marriott from June 29 through July 2, despite protests from LGBTQ rights advocates and others who object to the group's stance on social and education issues.
The American Historical Association sent a letter to the Museum of the American Revolution on June 26, urging its president to reconsider the decision to let Moms for Liberty hold a portion of the summit there.
"Moms for Liberty is an organization that has vigorously advocated censorship and harassment of history teachers, banning history books from libraries and classrooms, and legislation that renders it impossible for historians to teach with professional integrity without risking job loss and other penalties," the letter read.
Neither Moms for Liberty nor the Museum of the American Revolution responded to a request for comment about the letter.
The summit is a must for Republican leaders, a reflection of the organization's influence. Some high-profile speakers, including DeSantis, are returning for a second round: The governor spoke at last summer's event alongside Sen. Rick Scott of Florida and former secretary of housing and urban development Ben Carson.
This year's event has proven an even bigger draw for conservative politicians and their followers. Moms for Liberty co-founder Tiffany Justice said the 650-ticket summit has already sold out.
The vocal, right-wing parent organization was formed in Florida in 2021 by school board members Tina Descovich and Justice and by Bridget Ziegler, who is married to the chairman of the Florida Republican Party.
Moms for Liberty members originally targeted COVID protocols but have since focused on critical race theory, diversity and inclusion, social-emotional learning and LGBTQ issues, among other topics. The group claims 285 chapters and 120,000 members across 44 states.
The organization gained national recognition after members disrupted school board meetings across the country, with some accused of harassing those who oppose their views. Local chapters have mounted highly successful book-banning efforts targeting materials related to racism, slavery and gender.
Moms for Liberty was recently labeled an antigovernment group by the Southern Poverty Law Center.
Justice called the characterization shocking and absurd.
"I think they've really shot themselves in the foot," she said.
Her group's mission is to empower parents and support their fundamental right to direct the upbringing of their children, she said.
"That includes their education, their medical care and their morality and their religion," she told The 74. "And it seems like we're in a tug-of-war with the federal government in our nation's schools."
President Joe Biden also was invited to the summit, but his office did not respond, Justice said. The Biden campaign did not answer emails requesting comment.
Moms for Liberty has endorsed hundreds of school board candidates across the nation, many of whom have gone on to win.
Despite its ability to attract high-profile politicians and zealous parent advocates, some experts question whether education will be a key issue in the 2024 presidential race.
Jeffrey Henig, professor of political science and education at Columbia University's Teachers College, said he thinks it will likely take a backseat.
"Education is one of those issues that is tempting politically because it gets a fervent response for a subset of voters, particularly parents," he said. "And that can be attractive because it lets you mobilize people who don't always like to turn out — or are on the fence. But … it can backfire."
School politics, he said, "can take sharp twists and turns" that leave politicians exposed.
"Today's cheers for a strong stand against so-called 'smut' in texts can morph into indignation at book banning and perceived attacks on treasured schools and teachers," he said.
Frederick M. Hess, senior fellow and director of education policy studies at the American Enterprise Institute, said politicians once used education to appeal to voters in the middle. Now, he said, they use it to court their base.
"If Trump is the nominee and you don't like him, it's not likely that his stance on Title IX or school choice will change that," he said. "And if you're concerned about Biden, wokeness or federal spending, it's tough to imagine that a proposal for universal pre-K or student loan forgiveness is going to win you over."
Michael J. Petrilli, president of the Thomas B. Fordham Institute, a research fellow at Stanford University's Hoover Institution and executive editor of Education Next, said that if Trump gets the nomination, his views on education or other issues won't really matter. Nothing will distract from the candidate himself, he said.
The embattled former president, whose divisive rhetoric has continued well beyond his time in office, is facing a host of legal troubles, including a recent indictment over alleged mishandling of classified documents.
"If Donald Trump is the Republican nominee, the election will be about Donald Trump," Petrilli said. "End of sentence. Policy issues will play an exceedingly minor role."
But if another candidate wins the party's nomination, Petrilli said, he or she might use the issue of school choice to entice working-class Hispanic and Black voters.
"And it might work," he said.
DeSantis has banned classroom instruction on sexual orientation or gender identity in all grades. His Parental Rights in Education Act — often called the Don't Say Gay Bill — has been replicated in other states.
Haley, a former U.S. ambassador to the United Nations, has referred to transgender girls participating in girls' sports as "the women's issue of our time" on the campaign trail. Placing herself to the right of DeSantis, she has said his legislation isn't stringent enough.
Henig said the Florida governor's overall stance is too extreme to succeed with a national electorate.
"Americans still have a lot of trust and allegiance to their local school communities," he said, adding that Democrats might frame DeSantis's efforts as an attack on teachers.
Get stories like these delivered straight to your inbox. Sign up for The 74 Newsletter