Too Young to Vote, Eager to Make Sure You Can: Meet the High School Students Keeping America's Polls Open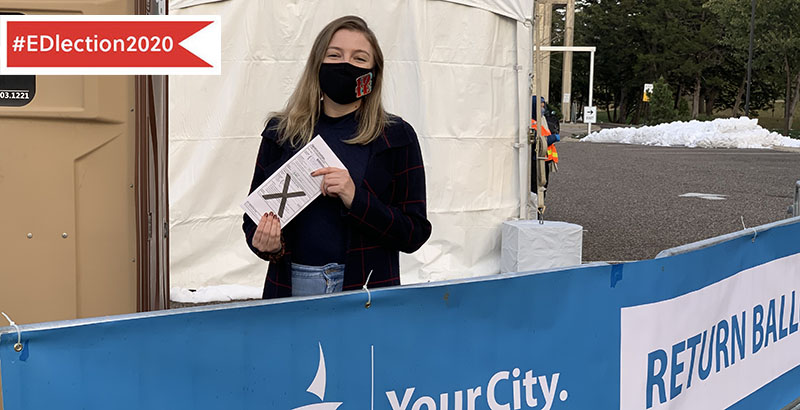 On Nov. 3, there's a good chance that Minneapolis residents who choose to vote the old-fashioned way — in person, at a rec center or gym — will receive their ballot and "I Voted" sticker from someone who isn't yet old enough to vote. High school students, in particular kids from low-income and immigrant communities, are a centerpiece of the city's voter engagement efforts.
They're not the only ones. Around the country, young people are stepping up to fill the places of older, longtime poll workers who are vulnerable to COVID-19 and need to sit out this election. Officials credit the youth organizers behind the movement with helping to keep polling places open so Americans can vote.
In a typical year, poll workers are in short supply nationwide, and the majority of those who do volunteer are 61 or older. But with those individuals being most at risk in the pandemic, the need became critical this year. Last spring, a lack of staffers contributed to the closing of hundreds of polling places in Wisconsin, Georgia and other locales, leaving voters to stand in hours-long lines at the very few sites officials were able to open.
In the months since, legal challenges to voting by mail and early voting have been mounted throughout the country. Some jurisdictions have seen calls for armed contractors or militias to "protect" polling places from supposed left-wing assaults.
Galvanized by the looming crisis, students at Denver East High School and Princeton University, among others, founded The Poll Hero Project to recruit young people to staff election sites this November. Students use social media to spread the word about the need and to let young people know that in 43 states, they don't have to be eligible to vote to staff the polls.
So far, the group has recruited some 35,000 poll workers, says Kennedy Mattes, one of Poll Hero's founders, and they are now asking volunteers to find out where there are still shortages.
"Right now, all of our energy is going to keeping people's energy up," she says.
With its student election effort in place for nearly three decades, Minneapolis is an example that officials and civic organizations could look to as they seek to harness this year's energy. The city's elections supervisors say student poll workers are more likely to be technologically adept than older staffers, to have the physical stamina for a long Election Day and to be multilingual.
Their presence at the polls is an incentive for older people in communities where turnout can be very low, as the poll workers are more likely to look like the voters they serve. It has made students' parents, grandparents and neighbors, who may be new to voting, feel welcome.
And the students, having received training that demystifies the process, are far more likely to vote themselves and to talk it up to their friends. Participants say they will be prepared to vote after their 18th birthday — far from a given in a country where fewer than half of Americans 29 or younger voted in 2016. Among the reasons: not understanding how to register, where to go to vote, how to complete a ballot, where to find information about candidates or ballot questions, even how government works. In short, a lack of basic civics education.
Minneapolis, one of the largest jurisdictions in a state that regularly leads the nation in voter turnout, began hiring students in 1991, soon after passage of a law enabling 16- and 17-year-olds to work as what Minnesota calls election judges. The effort proved popular, so a formal program was created and partnerships established with some 17 high schools.
"Different school cultures have different motivations," says Caryn Scheel, head of Minneapolis's Student Election Judge Program. "One thing students say is it's an opportunity to give back to their communities and to be that welcoming face — especially for second-language learners."
In any given election cycle, the city employs 350 to 400 students whose applications come from 40 high schools and who account for a fifth of poll workers. They are trained alongside adult volunteers and are paid the same hourly wage, $17.15 in 2020. Those younger than 18 must have parental permission and must be excused from school on Election Day.
Recruiting has typically been done by teachers, most often in government and social studies classes, but a recent effort to have teens get the word out was very successful. In 2018, an experiment with using student recruiters received 800 applications for 400 jobs. (By law, high school students can make up no more than a third of workers at an individual polling place.)
This year, 85 percent of students who worked during the primary will be back for the general election, says Scheel. Similarly, 83 percent of students who responded to a 2018 survey said they hoped to serve as poll workers again.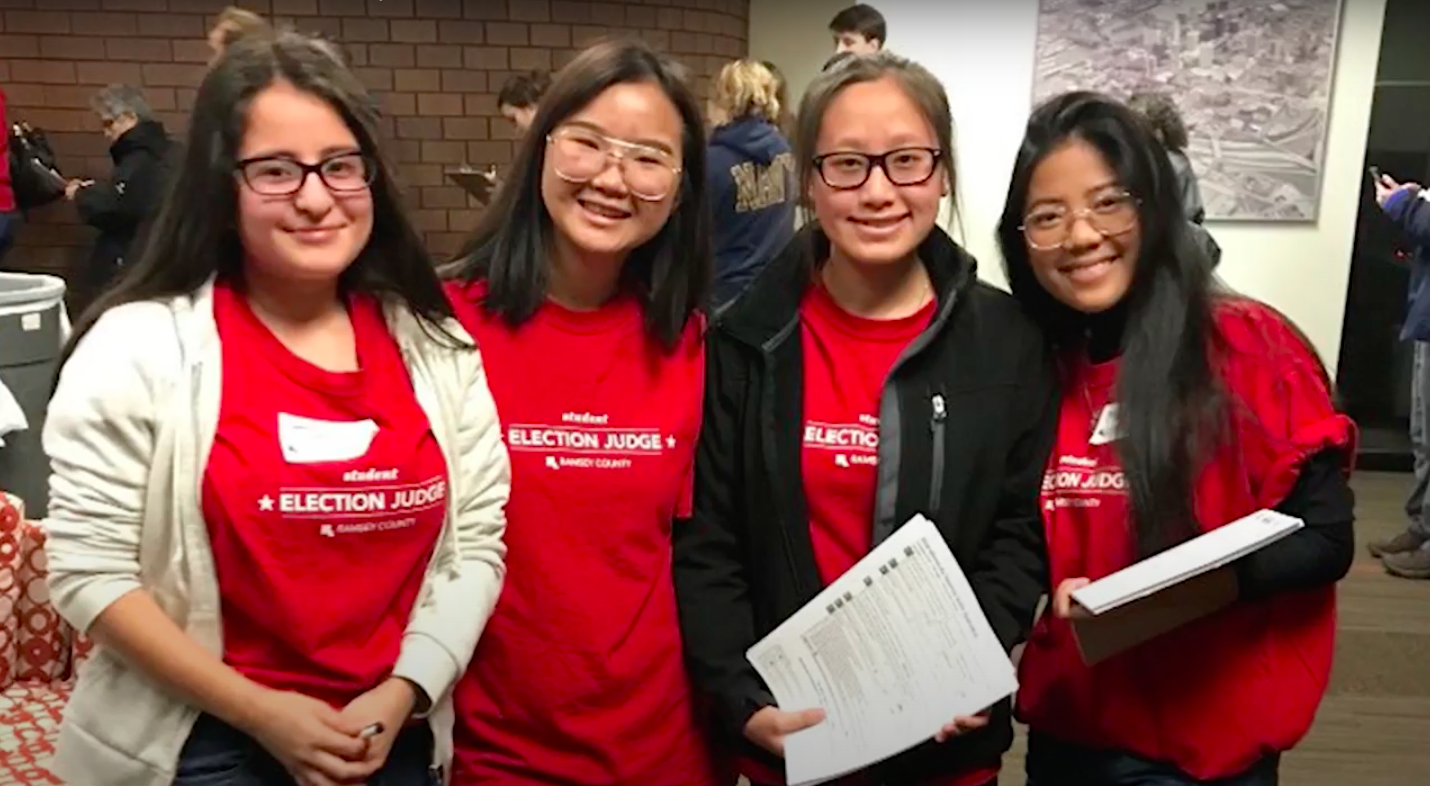 Last year, Scheel's office partnered with several local nonprofits to create a toolkit for other jurisdictions that want to tap students to staff polls, including a student-produced video with tips for adults on how to work with young people.
Many participants have gone on to careers in the civic arena, including a present-day election administrator at the Minnesota secretary of state's office. At 16, Julia Laden signed up to be an election judge in Ramsey County, where St. Paul is located. By the 2014 election, she had moved to Minneapolis, where she worked her way up the ranks of first the city's and then the state's elections offices.
"All other jobs seemed boring," she says. "This year, it's so different every week with COVID. No one's job has been what it's supposed to be. Every couple of weeks something horrible, true or untrue, comes out in the news, and we have to react."
Nathaniel Genene was a poll worker in August and will be again Nov. 3. The non-voting student representative on the Minneapolis Board of Education, Genene is a junior at Washburn High School and an executive at large with the district's Citywide Student Leadership Board. He has been recruiting other students to be poll workers this year, with a special emphasis on outreach to teens who speak Somali and Hmong.
"I think it's especially important for young people to get involved this time," he says. "You don't want a lot of old people spending all that time in the buildings." The responses so far suggest students are motivated both by the opportunity to serve and by what is, to teenagers, a lot of money, he adds.
Virtually all the students at Ubah Medical Academy, located just west of Minneapolis, are East African, economically disadvantaged and frequently called on to serve as translators for their parents. They often have little exposure to other cultures.
Scheel reached out to social studies teacher Joel Coleman several years ago to see if he could help spread the word about the opportunity to be a poll worker. The first year, 12 Ubah students participated. After that, half the 11th and 12th graders did.
"There is such a great respect for the elders in the community," says Coleman. "The students are so excited to be in a position to help them, to greet them when they come [to the polls] and to make sure they have everything they need."
This year, 30 Ubah students are expected to staff polling places — about half as many as in other years. The densely populated neighborhoods where most students live in crowded, multi-generational households have been especially hard hit by COVID-19 and were devastated by the protests that followed the police killing of George Floyd in May.
Once the students are reassured their grandparents are safe, though, Coleman expects participation to rebound. Among other incentives, he notes, students are still seeking ways to deal with the angst provoked by President Donald Trump's election, Muslim travel ban and other policies that adversely affect Somalis.
The school, he says, has been changed for the better by students' real-world exposure to the electoral process: "I just love once they come back with these stories, we work those into the classes we teach."
Get stories like these delivered straight to your inbox. Sign up for The 74 Newsletter