Toilet Paper, Glow Sticks, and Multiplication: Study Shows How One Free After-School Club Can Help Reduce Math Anxiety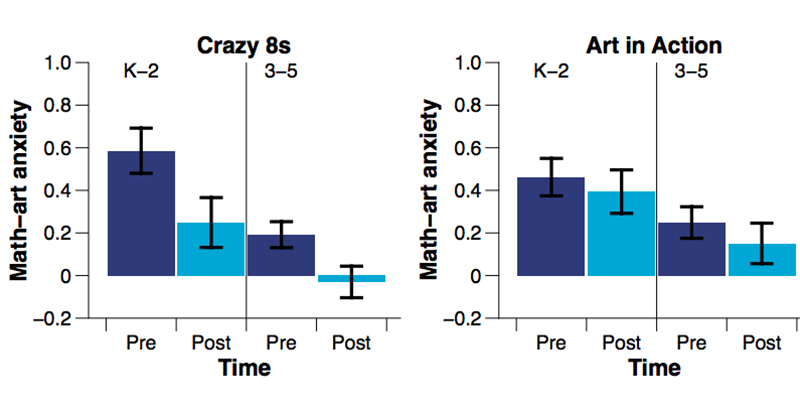 A wait list for math club is not something you often hear about.
But that's not true for Laura Overdeck. She created an after-school math club called Crazy 8s, a free program that has been used in 5,000 schools and libraries to help elementary school students overcome their anxiety around math and gain confidence. The kits have students building bar charts out of crayons or geometric structures out of glow sticks.
Now, a new study from Johns Hopkins University shows that young students who participate in Crazy 8s experience less anxiety about math after the eight-week program than they did before.
"We've seen more and more that children's emotional stance toward math affects their ability to perform in math," said Lisa Feigenson, a Johns Hopkins professor of psychological and brain sciences, who co-authored the study. "If (students) are engaging in (math) just for fun, that has a real potential to change how children approach math."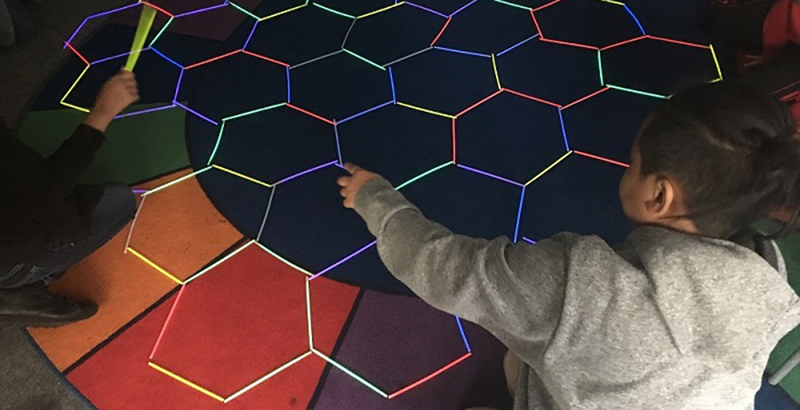 The two-part study first surveyed 755 students already participating in the program, where they met for one hour every week for eight weeks. Distributed at the beginning and end of the program, the survey asked students how they felt doing math in front of other people. It also asked non-math questions like how students felt about spelling words, in order to control for varying levels of anxiety.
The results found that the anxiety levels of children in kindergarten through second grade dropped significantly, but the anxiety levels of third- through fifth-graders didn't change.
But researchers also wanted to figure out how math anxiety might change for students who wouldn't necessarily have chosen to participate in an after-school math club. So they also conducted a randomized control trial, assigning two groups of students from New Jersey and Maryland into an after-school math club (Crazy 8s) and an art club. They gathered the 652 students' self-reported anxiety levels before they started their programs and after, and found that both the younger and older students' anxiety significantly decreased — a trend that held for both boys and girls.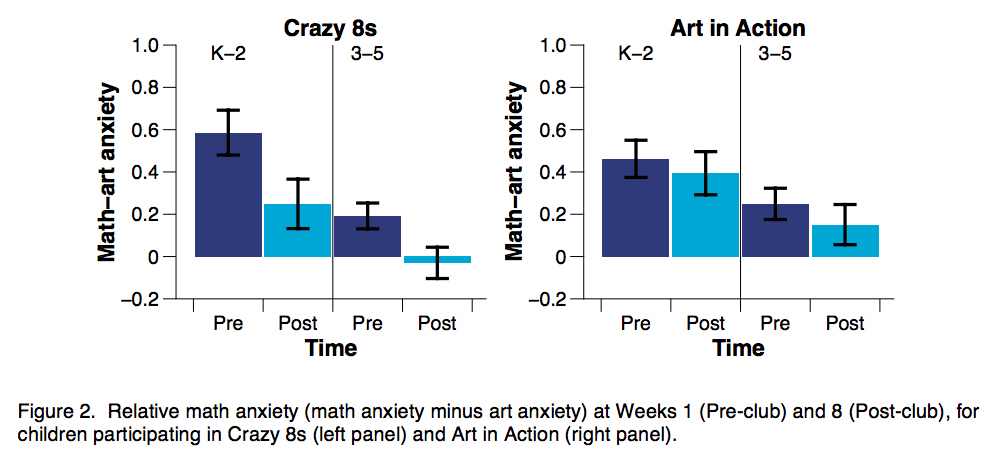 While the program is not meant to teach students math, Feigenson said its power lies in helping students view math as fun. "Incorporating those lessons in the classroom may be potent," she said.
Crazy 8s is a four-year-old program run by Bedtime Math, a nonprofit foundation based in Summit, New Jersey. Overdeck, the president and founder, created Bedtime Math in 2012 after parents started asking her to share some of the math problems she would give her children before bedtime to help increase their confidence in the subject. But when the same parents demanding an after-school math program, she started developing materials for Crazy 8s.
The program is free, funded by private donations to Bedtime Math and proceeds from Overdeck's books on math. She estimates that 10,000 schools and libraries have participated since it began four years ago. Overdeck ships these clubs kits filled with materials for 12 to 16 students. The most popular game: the toilet paper Olympics, in which students calculate the length of a strip of toilet paper and then use it as a measuring tool for games like the shot put or long jump. They chart their team's performance by counting the number of 4-inch toilet paper squares and converting into feet.
It's telling about the pervasiveness of math anxiety, Overdeck said, that she fields calls from all types of schools, from prestigious private schools like The Dalton School in New York City to rural public schools in Ohio, all asking for Crazy 8s kits. She said she thinks the culture around math anxiety arises from schools' fast pace through the curriculum, which can leave students behind.
"It's really heartbreaking," Overdeck said. "We force everybody through math whether they're getting it or not."
Researchers have been looking at math anxiety for at least 60 years, according to a report published in Frontiers in Psychology. It defines the anxiety as a negative reaction toward math that has cascading effects, from tension to disruption of working memory to avoidance of math and math-related careers altogether.
Math anxiety can be passed on to children from teachers and parents who also have a negative attitude toward math, Feigenson said. That's why Overdeck is hoping Crazy 8s can disrupt this vicious cycle.
"We're trying to help parents who hate math raise kids who love math," she said.
The study doesn't show how the program affects math anxiety long-term, nor was it replicated to see if the effects were consistent, Feigenson said. She added that future analysis should examine how the program serves students across socioeconomic backgrounds.
Overdeck is currently piloting a program in New Jersey elementary schools called Up the Ladder, which take some of the fun components from Crazy 8s and matches them to state standards, so schools can incorporate them into lesson plans.
The study was funded by a grant from the Overdeck Family Foundation, where Overdeck is the chair and her husband, John, is the president. Overdeck also sits on the board of the Johns Hopkins Center for Talented Youth.
Correction: The number of schools and libraries that operate Crazy 8s math clubs is 5,000.
Get stories like these delivered straight to your inbox. Sign up for The 74 Newsletter