To Reconnect Black Kids and Teens to the Great Outdoors, San Antonio's Alex Bailey Is Teaching Skills — and Confronting Structural Racism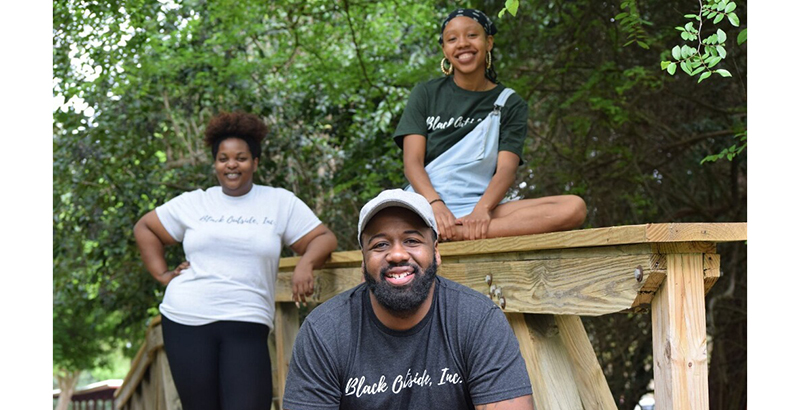 San Antonio
Like any good camper, Alex Bailey knows that preparation is the key to outdoor safety.
So when he takes a group of black kids camping in a Texas State Park or private campground, he always calls ahead. He asks to speak to the supervisor who will be on location while the group is there, not just a reservations agent in an Austin office.
Only 1 percent of Texas State Parks visitors identify as black, he points out, so for many park employees, this will be one of the only groups of black campers they have encountered.
"We want to make sure the staff are prepped," said Bailey, founder of Black Outside, a San Antonio-based organization he created in 2019 to encourage African-American children and teens to participate in more outdoor sports.
The past two weeks of historic protests around the nation have underscored the broken relationship between law enforcement and the black community, and Bailey knows that applies to park police and rangers as well.
In San Antonio, like other U.S. cities, the benefits of time outside remain less accessible to children in predominantly black neighborhoods, which are often built and policed in ways that have led to a retreat from the outdoors. Such public planning has serious consequences for public health. Data show that COVID-19 is two and a half times as often fatal for black Americans as for white Americans, largely due to many underlying conditions — obesity, asthma, hypertension and diabetes — that could be lessened by immersive time in nature.
"There are all these underlying systemic issues around health inequalities, around access to fresh air, access to parks, access to nature," Bailey said, as well as healthy food and clean air. "COVID-19 was like gasoline on the fire. It just blew up."
Turning that vicious cycle into a virtuous one is the goal of Black Outside. Bailey wants his campers to feel both safe and welcome, because he's hoping that they will develop a lifelong love of hiking, paddling, camping and climbing — and reap the social, emotional and physical benefits.
"We really want to plant that seed," Bailey said. "We firmly believe it starts with youth."
It's not going to happen on its own, though. Of San Antonio's seven designated natural areas, only one, Medina River Natural Area, is south of downtown, and none are near the city's black neighborhoods. Even with the expansion of the city's greenways, most parks in those neighborhoods are social spaces and pavilions with basketball courts and playgrounds. They rarely offer an introductory taste of the kind of outdoor immersion Black Outside wants to provide.
"How the parks are built and look in the black community in urban areas do not look the same as they look for predominantly white areas," Bailey said.
So he's not surprised that there's a lot of work to be done. The Outdoor Foundation's 2019 national survey found that black children have the lowest participation rate in outdoor activity of any ethnic group. Fewer than 40 percent of black youth ages 6-17 reported participating in outdoor activity once per month, while white youth in that age group participate at around 60 percent. Only 4 percent of youth who attend summer camps are black, Bailey said: "There's just a huge gap in outdoor participation."
Safety first
When Bailey talks about outdoor safety, he's talking as much about structural racism as he is about poison ivy. While many park staff have been eagerly hospitable, he said, he has also backed away from trips. If he sensed an ambivalence toward the kids, or an overemphasis on rule enforcement during the conversation, he chose a different park. Undoing generations of exclusion takes more than an open door, he explained: "I want [staff] to be excited for the opportunity."
The kids will not be wearing hiking boots and bucket hats, he explains. Most will probably be wearing basketball shorts and Nikes. Though they will stand out, he doesn't want his group to feel intimidated, which largely depends upon the demeanor of rangers and other park staff.
His organization is intimately familiar with outcries of protesters, who are now marching in all 50 states and around the world to protest police brutality. It partners with the CR Bloom Project, in which youth affected by incarceration experience nature in ways that are both therapeutic and culturally relevant. The initiative is named after Charles "Chop" Roundtree, an unarmed black man who was fatally shot by San Antonio police officer Steve Casanova in 2018.
Even if encounters don't end in physical harm, Bailey doesn't want black kids and teens to feel policed in nature. That's why he calls ahead. He hopes one day he won't have to.
As more young black people become hiking and camping enthusiasts through Black Outside and other black-led organizations like it — Outdoor Afro, Greening Youth and Soul Trak — he hopes it will lead to more black hikers on trails and in outdoor recreation marketing. The message needs to be reinforced, he says, to families, park rangers and camp directors alike: Black kids have a place in the great outdoors.
Reconnecting and disconnecting
Private land ownership, public disinvestment and corporate culture all play a role, he explained, but there is nothing intrinsic to black people that keeps them indoors. When describing the mission of Black Outside, Bailey intentionally uses the word "reconnect" to reference black Americans' historical and often overlooked connection to the outdoors, particularly during Westward Expansion.
Once kids have a meaningful outdoor experience, Bailey said, they are often hooked. After taking a group of high school seniors camping for their first-ever camping trip, Bailey said, he could see them falling in love with nature. It became an emotional experience, he recalled: "We literally cried with them on one part of the trail."
Black Outside rents facilities, often with cabins, to host their summer camp, Camp Founder Girls. One 9-year-old, "Baby D," attended the camp and had, in Bailey's assessment, a pretty typical experience. She had fun, overcame her homesickness and made friends. It wasn't until the group's fall retreat, which included gear demonstrations at local outdoor retailer REI, that he realized the impact Camp Founder Girls had made. "She was just on fire about setting up tents," Bailey recalled, laughing.
In Texas, 95 percent of land is privately owned, mostly by white families and organizations. Although many do host summer camps on their vast acreage, Bailey explained that they are usually disconnected from black youth, and scholarships aren't the fix. Plenty of black families can pay the fee, he explained, but they still may not be comfortable sending their kids to a camp where the majority-white campers typically come from majority-white schools, and many have generational connections to the camp or the property where it's located. Activities, stories and traditions are often steeped in white and privileged culture, Bailey said.
"As beautiful as some summer camps and other youth programs are," Bailey said, "they are not thinking about black kids at the center of their programing."
Going public
While camps aren't thinking about serving black kids, he explained, institutions that do serve black kids aren't thinking about camping.
"It's really rare to find schools that serve … a large percentage of black youth that are thinking comprehensively about outdoor time in nature," he said. "The focus gets so quickly shifted on testing and academic achievement."
Researchers have raised flags about the loss of recess time, especially in high-poverty schools, saying that the lack of activity and movement hurts academics as well as physical, social and emotional health.
"Kids aren't even getting fresh air in their school day," Bailey said. He takes this a step further, believing that the confidence and personal development students experience during more immersive outdoor adventures, as well as the neurological benefits of time in nature, will pay off academically for schools.
When resources make it possible, some San Antonio schools have already embraced the benefits.
In San Antonio, North East Independent School District used a $2.3 million federal Carol M. White Physical Education Program grant to expand its existing outdoor education programming. The CAST Schools network, which operates five public high schools in three districts, has sought private partnerships with organizations that can facilitate overnight camping trips to round out the skills offered in its tech-intensive program.
For local schools with the deepest need, however, campouts are rarely, if ever, on the agenda, Bailey explained.
That's where he sees Black Outside moving in the future, he said, into more partnerships with schools that serve predominantly black, brown and low-income students. He would be helping adults understand the value of time in nature and going after the kids who don't see themselves as "outdoorsy."
Not every school will have millions or even thousands of dollars to spend on outdoor adventure programming, he acknowledged, but a little could go a long way, and he wants to help nudge schools along that path.
"Even just day programing or a small hiking club," Bailey suggested. "Anything like that is a great start to a school system thinking critically about how much time kids have in nature."
Get stories like these delivered straight to your inbox. Sign up for The 74 Newsletter