Week in ESSA: Feds Pick Up the Approval Pace, Michigan Tries Again, New America Studies ELLs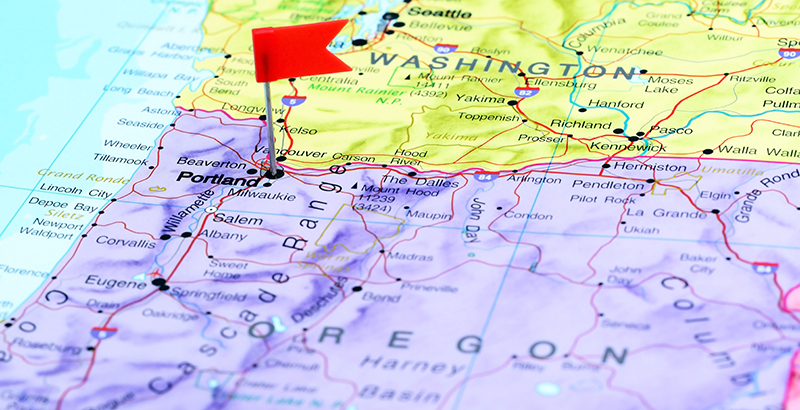 This update on the Every Student Succeeds Act and the education plans now being refined by state legislatures is produced in partnership with ESSA Essentials, a new series from the Collaborative for Student Success. It's an offshoot of their ESSA Advance newsletter, which you can sign up for here! (See our recent ESSA updates from previous weeks right here.)
After facing significant criticism for, as Education Week's Alyson Klein writes, "being too heavy-handed, confusing, or inconsistent in responding to states' plans for the Every Student Succeeds Act," the Department of Education is picking up the pace of approvals.
A total of six states – including Connecticut, Delaware, Louisiana, Nevada, New Jersey, and New Mexico –  have received the "all-clear" on their plans as of the middle of this month. The other 11 states that have submitted plans to date have "received some sort of formal critique."
But even though they're speeding up their process, it's not clear just how much of a role the federal feedback is having in shaping states' final products. Thus far, of the six states that have seen their plans approved, some have done so without taking much meaningful action in response to the Education Department's assessments and recommendations.
Lots more ESSA activity this week — especially as the Sept. 18 deadline approaches for 34 states to submit their final plans to federal officials.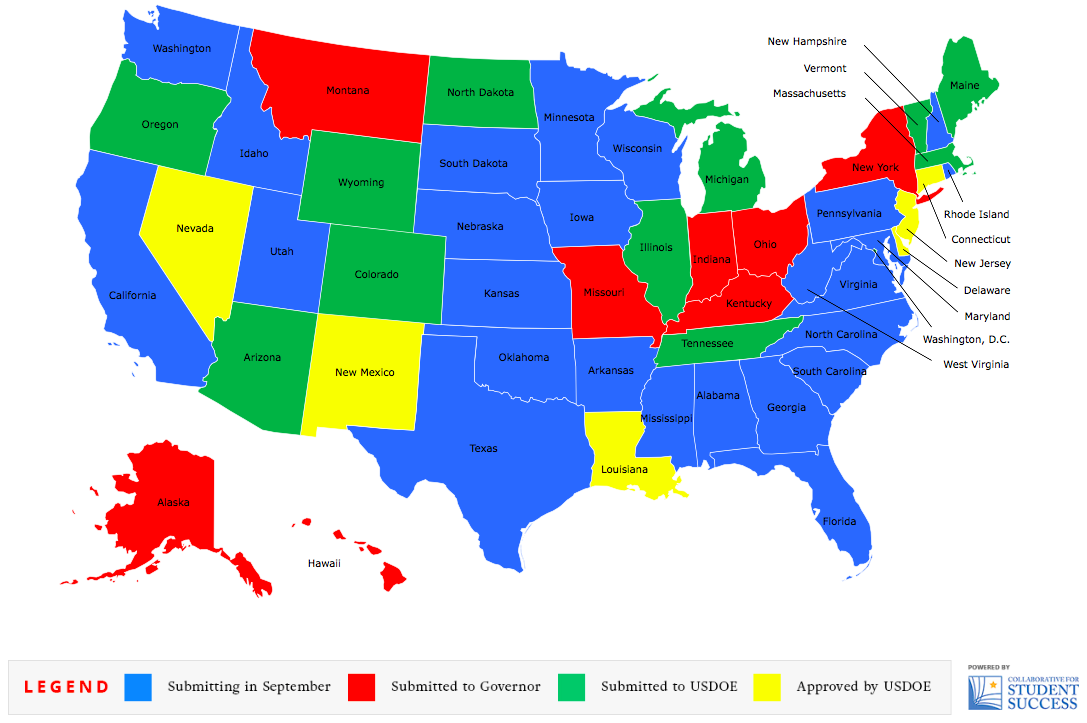 Here are the week's other top ESSA developments:
How do draft plans from California and New York measure up?

Bellwether Education Partners, in partnership with the Collaborative for Student Success, convened a small group of peer reviewers to study draft plans from California and New York. These interim reviews, which mirror the first round of reviews conducted by more than 30 education experts in June, encourage California and New York, as well as other states submitting in September, to put forth accountability plans that go beyond mere compliance with federal law.

California: The reviewers found the state's plan is rooted in strong academic standards and a solid way to measure success against those goals in the aligned, California Assessment of Student Performance and Progress (CAASPP) system. While the California State Board of Education is considering adopting an individual growth model in the future, it currently does not have in place a plan to actually measure and track student-level progress over time. The state proposes to weight each of its indicators equally, which they argue will emphasize the academic indicators since there are more of them, but the state does not clearly articulate how it will combine all of a school's various scores across multiple indicators. Additionally, California does not appear to include subgroup performance in its school grading system. The only way that a school will be identified for low subgroup performance is if a subgroup performs as poorly as the bottom 5 percent of schools in the state.

New York: Reviewers felt the state's academic performance index created a strong incentive for helping students meet their grade level standards each year, and the state earned high marks for measuring student achievement and growth in a relatively simple way. The state also put in place a solid process to ensure schools and districts are equipped to take on school improvement efforts, by requiring that all schools identified for support complete a comprehensive, diagnostic needs assessment. Unfortunately, the plan lacks clarity on how all students and subgroup populations will be included in the accountability system. Moreover, its minimum group size of 30 students for measuring performance is likely to omit many students. Since the accountability system, and many of the indicators that will go into it are normative in nature — comparing schools to one another as opposed to overall goals — schools labeled as needing support, won't know what they would need to accomplish year to year to show sufficient progress.

---

Michigan resubmits its plan to the feds

As we reported earlier this month, the Department of Education told Michigan officials that it couldn't provide feedback on the state's ESSA plan because it lacked adequate information, especially regarding accountability, for the federal agency to review. Michigan is Education Secretary Betsy DeVos's homestate.

In the past week, the state resubmitted its ESSA plan, which, according to UPMatters.com, "includes requested technical detail and clarifications to the first submitted plan, as well as better defined information on a school accountability system."

"When the plan first was submitted, it contained three options for school accountability," said state Superintendent Brian Whiston. "After the legislature adjourned for the summer, it became clear that we would be going forward with a Transparency Dashboard." Whiston says his staff has been working hard to "fully develop" this dashboard, as well as "an index from which to identify the state's most struggling schools."

---

Wyoming files its plan early

The Wyoming Department of Education has released the state's ESSA plan ahead of the Sept. 18 deadline. State Superintendent of Public Instruction Jillian Balow signed off on the plan before submitting it to the federal agency. "The law, the ESSA law, states over and over again that our state plan must be stakeholder driven," said Balow. "And it must include meaningful and continuous consultation with a diverse set of stakeholders."

The state's education department held 14 public meetings and received more than 500 survey responses and public comments on the plan as part of its ESSA development process. Balow also stated the "plan moves away from the more standardized approach, which characterized No Child Left Behind, and is rooted in what's best for Wyoming — like including more opportunities for career and technical training."

---

Five governors gets plans for review

Over the last week, five states have moved forward with their ESSA plan development by submitting finalized plans to their governors for review and approval prior to submission to the U.S. Department of Education.

Alaska: The Alaska Department of Education submitted its final draft of the state's ESSA plan to Gov. Bill Walker, who has 30 days to review and approve it. The plan keeps the state's Performance Evaluation for Alaska's Schools (PEAKS) exams for 3rd- through 10th-graders in place, cuts in half the rate of students who lack proficiency in both math and English by the 2026-27 academic year, and tracks "chronic absenteeism, and other factors, when determining a school's success."

Kentucky: Kentucky's plan, which evaluates schools and districts on six indicators — "proficiency in reading/writing and mathematics; proficiency in science and social studies, growth for only elementary and middle schools; transition readiness; graduation rate for only high schools; achievement gap closure; and opportunity and access" – went to Gov. Matt Bevin for review. And in order to close achievement gaps, "Schools and districts with a significant achievement gap will receive a three-star rating at the most."

Maryland: The Maryland State Board of Education has approved its plan, which now goes to Gov. Larry Hogan for approval before submission to federal education officials. Maryland's plan sets a goal to cut the number of non-proficient students in half by 2030, and implements a five-star rating system for school accountability (though the board "still has not determined the criteria for the star rating, as it was not obligated to do so before submitting the plan").

Missouri: The Missouri Board of Education has unanimously approved the final draft of the state's ESSA plan. The plan has been sent to Gov. Eric Greitens for his signature. The Missouri plan includes a goal of 82 percent student proficiency in English and 74 percent proficiency in math by 2026, seeks to reduce the rate of students not graduating by 50 percent over a decade, and identifies low-performing schools based on four factors: academic proficiency, academic growth, English language learning for non-English speakers, and attendance.

Montana: In Montana's plan, which Office of Public Instruction staff will discuss with Gov. Steve Bullock before Sept. 5, "schools are required to decrease the number of students who are not proficient as determined by state exams by 4 percent a year through the 2022-2023 school year."

---

Iowa, Pennsylvania plans open for public comment

Last week, Iowa Department of Education Director Ryan Wise announced that the third draft of Iowa's ESSA plan is available for public review and comment. This is the final chance Iowans will have to weigh in on the state's proposed education plan. Take a look at this excellent overview of the proposal for more information.Pennsylvania also released its draft plan, and Pennsylvanians have until the end of the month to provide comments. The public can access the plan on the Pennsylvania Department of Education website and provide comments via an online survey or by email.

---

New America Foundation Releases English Learners Policy Papers

The New America Foundation released two policy papers that explore the use of data on English Learners (EL) "in light of new flexibilities for setting EL outcomes, goals, and accountability metrics under" ESSA. "Seeing Clearly: Five Lenses to Bring English Learner Data into Focus" presents "corrective lenses that are critical for seeing this population accurately," and "Pioneering Change: Leveraging Data to Reform English Learner Education in Oregon" uses Oregon's signing of House Bill 3499 into law in 2015 as an "illustration of what it can look like to apply key principles related to EL data to concrete policy reforms."  
The law provides $12.5 million every two years to English Language Learner programs and advisers, in the hopes of improving graduation rates, particularly for Latino students, according to the Statesman Journal.

(The 74: Williams — How a Tougher Test and Chaos in D.C. Just Made Things a Whole Lot Harder for Kids Learning English)
Want to stay up to date? Click here to sign up for the ESSA Advance newsletter to receive all the information in your inbox every Wednesday.
Andy Rotherham co-founded Bellwether Education Partners. He sits on The 74's board of directors and serves as one of the site's senior editors.
Get stories like these delivered straight to your inbox. Sign up for The 74 Newsletter