This Week's ESSA News: Alabama's Waiver Request Intentions, Measuring School Success, SAT or ACT for Accountability?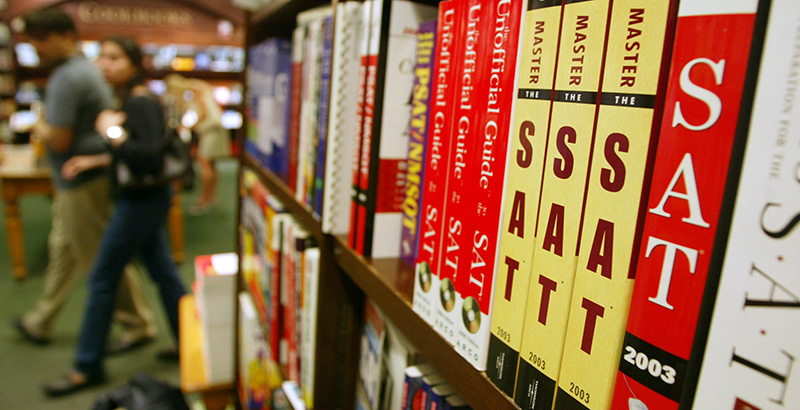 This update on the Every Student Succeeds Act and the education plans now being refined by state legislatures is produced in partnership with ESSA Essentials, a new series from the Collaborative for Student Success. It's an offshoot of their ESSA Advance newsletter, which you can sign up for here! (See our recent ESSA updates from previous weeks right here.)
Alabama Today reports that the Alabama State Department of Education plans to seek an ESSA waiver from U.S. Secretary of Education Betsy DeVos that would allow the state to administer the Alabama Alternate Assessment instead of the state's standard evaluation to students with cognitive disabilities. The Alabama Alternate Assessment is a paper-based, multiple-choice exam that tests students with "significant cognitive disabilities working on the Alabama Extended Standards." It assesses reading and mathematics for those in grades three through eight, as well as grade 10, and science for those in grades five, seven, and 10.
.@AlabamaDeptofEd plans to seek #ESSA waivers to allow students with cognitive disabilities to take the Alabama Alternate Assessment: https://t.co/POiROCUpNd via @AlabamaToday

— ESSA Updates (@ESSA_Update) May 30, 2018
In other state news, Niki Kelly reports for the Fort Wayne Journal Gazette that Indiana schools are set to get two grades starting this coming school year. One report card will be under the state's existing accountability statutes, while the other will be under the state's ESSA plan. The formulas upon which both of these report cards are based are different, so it is possible that the same schools could get two differing grades.
In Massachusetts, the Boston Globe's editorial board writes that this year's proposed budget in the state Senate "underfunds the MCAS, the exam that tests Bay State students' subject matter mastery." A cut as large as proposed in the Senate "would have serious effects on the MCAS program," they conclude, noting that while some may "object to the level of testing in the schools," the state "can't substantially reduce its testing program without running afoul" of ESSA.
From @GlobeOpinion: The state Senate must fully fund the MCAS. https://t.co/dbKqmvOw0h

— The Boston Globe (@BostonGlobe) May 24, 2018
More ESSA news:
1 Can districts choose SAT or ACT for accountability?
As part of Education Week's ongoing series answering reader questions about ESSA, Alyson Klein responds to the following query from an anonymous reader: "Do districts need state permission to take advantage of new ESSA flexibility to substitute a nationally recognized, college-entrance exam (like the SAT or ACT) instead of the state test for high school accountability purposes?" The short answer is: "Yup." More specifically, ESSA "does indeed allow districts to use a college-entrance test instead of the state test for high school accountability." However, the state in question has to approve of such a move — districts "can't just do this on their own, without the state's approval."
Does #ESSA require districts to get state permission to use a college-entrance test (like SAT or ACT) instead of the state test for high school accountability?

The short answer is… https://t.co/skuT828cXC, via @PoliticsK12 #suptchat

— AASA (@AASAHQ) May 29, 2018
2 How to measure school success
In this episode of the Brookings Institution's "Intersections" podcast, Lauren Bauer, a postdoctoral fellow in economic studies at Brookings, and Anne Wicks, director of education reform for the George W. Bush Institute, "explain how states are developing new measures of school quality and student success" as required under ESSA. Bauer and Wicks also "detail how using two specific measures — chronic absenteeism and college and career readiness — help teachers and administrators understand and improve students' education."
How should schools measure student success? @annewicks and @laurenlbauer share how measuring absenteeism and college and career readiness can help teachers and administrators understand and improve students' education: https://t.co/diZnrwRoSi #ESSA

— for Student Success (@StudentSuccess) May 24, 2018
3 ESSAntial resources
With ESSA starting to roll out "in districts and schools across the country" in a matter of months, New Classrooms notes that "thankfully, a host of news outlets and education organizations have amassed a trove of resources to help stakeholders better understand the many opportunities or challenges that could arise from education's new law of the land." To help keep track of ESSA developments, the organization has curated a list of links and summaries for ESSA toolkits, white papers, policy briefings, special reports, and more that have been produced by a range of leading think tanks, advocacy groups, and policy organizations. Check them out here.
With #ESSA rolling out this fall, here are some resources to help with you navigate the challenges of ESSA implementation: https://t.co/500EU55GpM #Edpolicy #Edleadership #Edresources #EssentialESSA pic.twitter.com/5Ub6JIxvnF

— New Classrooms (@NewClassrooms) May 28, 2018
Want to stay up to date? Click here to sign up for the ESSA Advance newsletter to receive all the information in your inbox every Wednesday.
Get stories like these delivered straight to your inbox. Sign up for The 74 Newsletter