This Week in Pandemic Education Policy: Vaccines for Young Children Could Land Next Month, Why 'Hold Harmless' Hurts Budgets of Growing Districts & More Updates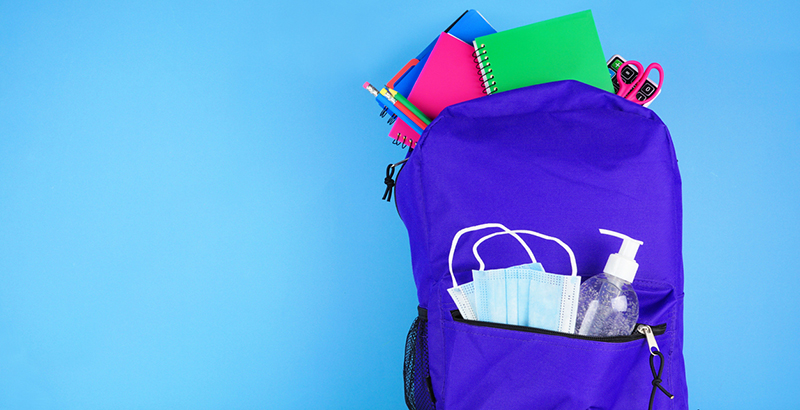 This is our weekly briefing on how the pandemic is shaping schools and education policy, vetted, as always, by AEI Visiting Fellow John Bailey. Click here to see the full archive. Get this weekly roundup, as well as rolling daily updates, delivered straight to your inbox — sign up for The 74 Newsletter.
Food and Drug Administration Sets June for Potential Decision on Vaccines for Children Under 5: FDA announces tentative schedule for vaccine advisory meetings: June 8, 21, 22: Moderna and Pfizer/BioNTech in younger populations.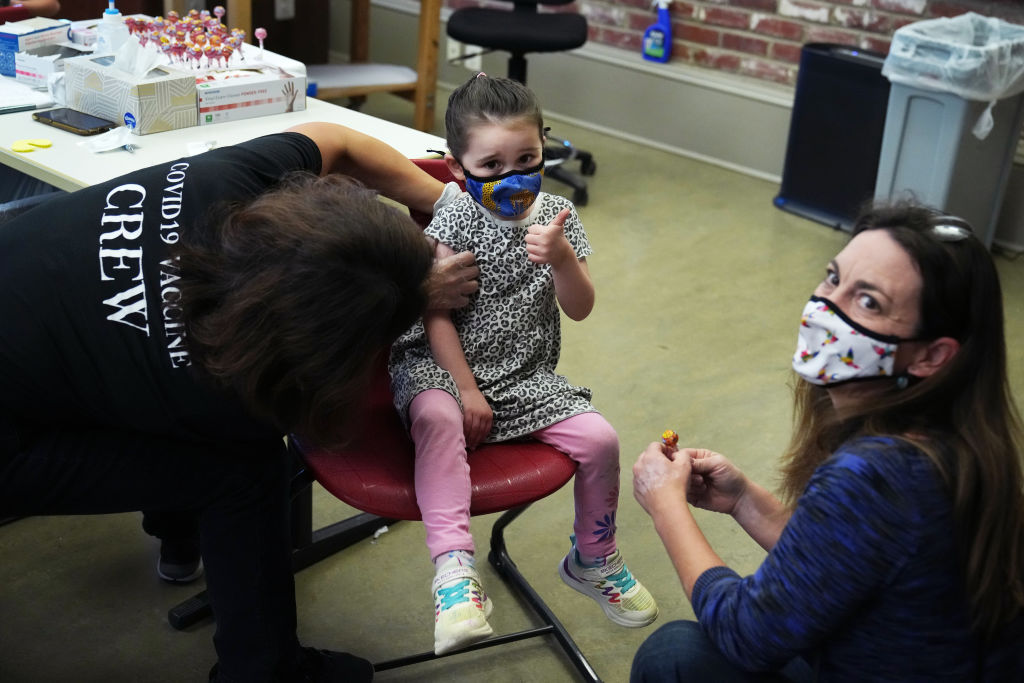 ---
The Big Three — May 6, 2022
California: Some school districts that grew during the pandemic feel shortchanged.
"The decision to hold districts harmless for declining enrollment came from a well-intended solution," said Peter Birdsall, president of lobbying firm Education Advocates. "Even at the time, the concern was raised that some districts were growing. 'Hold harmless' actually hurt them."
"Education Advocates and the Small School Districts' Association, an advocacy group … estimate that 169 school districts, mostly small and rural, weren't funded for all their students last school year."
"According to a CalMatters analysis, 189 of the state's 940 school districts grew between the 2019-20 and the 2020-21 school years. The combined enrollment at those districts is about 10% of California's total public school enrollment."
For example: "San Benito High School District in Hollister, about 30 miles east of Monterey Bay, gained 160 students between the 2019-20 and 2020-21 school years. It grew by an additional 142 students this year. Since the start of the pandemic, enrollment has increased by nearly 10%. Superintendent Shawn Tennenbaum estimates the district should have received about $1.2 million more in funding for the 2020-21 school year."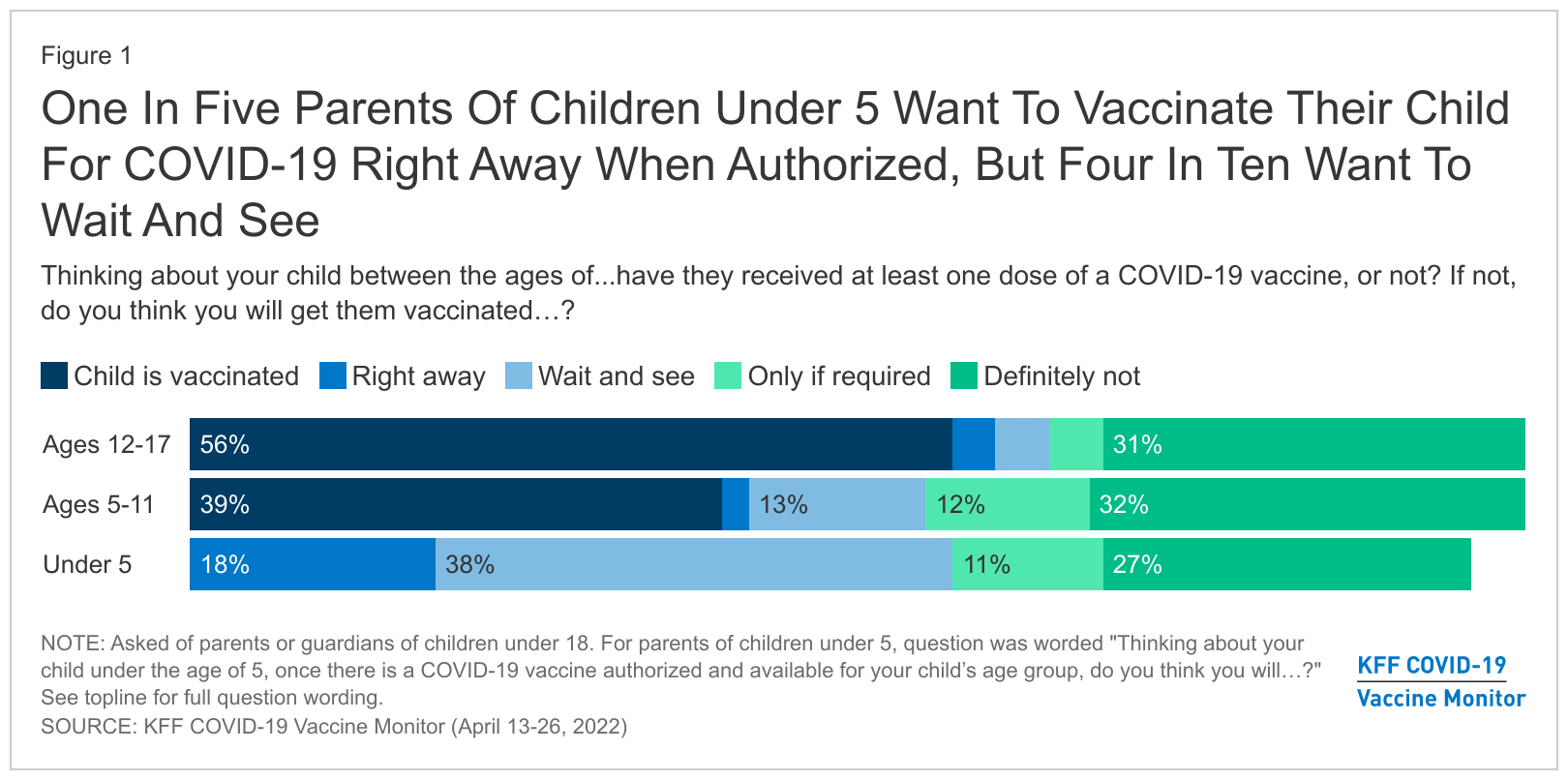 Most Parents with Children Under 5 Years Old Will Wait and See on COVID Shots: Via KFF COVID Vaccine Monitor
Only 18% of parents are eager to get their child vaccinated right away
38% say they plan to wait a while to see how the vaccine is working for others.
4 in 10 are more reluctant to get their child vaccinated, with 27% saying they will "definitely not" and 11% saying they will only do so if they are required.
Among parents of 5- to 11-year-olds, who have been eligible for vaccination since October, about 4 in 10 (39%) say their child has gotten vaccinated, while a large share say they will do so only if vaccines are required for school (12%) or say their child will definitely not get the COVID-19 vaccine (32%).
Education Department: Announced $220 million in investments from government, private and public sectors to support student recovery. 
The American Camp Association and the National Summer Learning Association will create 10 new summer learning programs, in collaboration with 10 public school districts, for low-income students as they prepare for the next school year. 
The National League of Cities is partnering with the Afterschool Alliance to produce an interactive map, highlighting how districts and municipalities are investing in afterschool and summer programming using various American Rescue Plan funding streams,
$17 million investment from the Bill and Melinda Gates Foundation for high-impact tutoring.
$14.4 million in grants from the Charles Stewart Mott Foundation throughout 2022 to support afterschool across the country. 
$10 million investment from the Raikes Foundation to support organizations aimed at accelerating learning and expanding access to mental health supports. 
---
City & State News
Connecticut: The legislature gave final passage Tuesday to three wide-ranging measures that would expand access to and boost resources for children's mental health, with some lawmakers calling it the defining issue of Connecticut's 2022 legislative session. 
The Senate approved House Bill 5001, a proposal that focuses on services in the medical sector and in the community. 
The House passed Senate Bill 1, "which features resources for schools."
The House also passed Senate Bill 2, "which concentrates on early childhood interventions. All three now head to the governor's desk for his signature."
Kansas: A Kansas City school adopts year-round learning to help combat COVID learning loss.
Massachusetts: New poll from MassINC Polling Group
22% of parents believe their children are still behind grade level. That's unchanged since October 2021
74% of parents who see their children as behind grade level also reported mental health concerns, far more than parents of kids with fewer academic challenges (41%).
Black parents are most concerned about infection at school, with 69% somewhat or very concerned, compared with 45% of white parents.
80% of Black parents support a mask mandate, compared with 50% of white parents. Asian American parents support the full range of mitigation measures, with at least 70% support for each. Two thirds or more of Latino parents are on board with each measure other than a student vaccine mandate.

Michigan: Without state leadership, Michigan's patchwork tutoring programs struggle to address learning loss.
Mississippi: Imagine Learning, Gale, Discovery Ed top list of new statewide Ed Tech expenditures by Mississippi ED.
Rhode Island: Students will need 3 to 5 years of accelerated learning to recover from COVID.
Texas: New Texas 2036 report on broadband.
Washington: "Pasco School District is partnering with Hazel Health to provide mental health services for students in grades K-12."
---
Federal Updates
Treasury: Released updated FAQs for Coronavirus State and Local Fiscal Recovery Funds. 
Fiscal recovery funds can pay for the "full salary and benefits of many school and child care staff," as well as to train potential workers to fill in-demand roles in child care and education, including as school bus drivers, school nutrition staff, paraprofessionals and other staff.
Projects to improve school energy efficiency and air ventilation can also be financed with the funds. 
"Recipients may use [the] funds to invest in broadband infrastructure that, where practicable, is designed to deliver service that reliably meets or exceeds symmetrical upload and download speeds of 100 Mbps to households or businesses with an identified need for additional broadband investment. 'Businesses' in this context refers broadly to include non-residential users of broadband, including private businesses and institutions that serve the public, such as schools, libraries, health care facilities and public safety organizations."
Recipients must obligate all funds by Dec. 31, 2024 and spend down the money by Dec. 31, 2026.
Federal Communications Commission: Opens third and likely final round of funding to address homework gap.
---
COVID-19 Research
1,000,000 Deaths: U.S. coronavirus death toll surpasses 1 million.
Study Finds COVID Vaccine Materials Written at Too-high Reading Level: Mayo study.
COVID-19 vaccine informational material is written at more than a 10th-grade reading level and thus is far too difficult for the average American to understand.
At least 25% of the U.S. population has very low-level reading skills and is unable to comprehend a bus schedule or medication and cleaning-product labels, the authors said.
" 'Our study demonstrates that a significant portion of the U.S. general public is unable to comprehend the available vaccine information in the documents we studied,' the authors concluded. 'Given the importance of these documents to inform and build trust within the community regarding COVID-19 vaccines, greater effort must be applied to improve the readability of these information documents.' "
COVID-19 Precautions in Schools: Via EdNext:
BA.4, BA.5 and BA.2.12.1 May Escape Antibodies Generated by BA.1 Infection: New study.
COVID Hospitalization May Affect Thinking Similar to 20 Years of Aging: Study / Press release. More via The Guardian and Bloomberg.
COVID-19 Tied to Adverse Maternal Outcomes, Preterm Birth: A study of more than 6,000 women who gave birth in Canada during the pandemic suggests that those infected with COVID-19 were at higher risk for hospitalization and intensive care unit admission than those of nonpregnant women of childbearing age. More via CIDRAP.
"Infection, even if mild, was tied to a significantly higher risk of preterm birth (less than 37 weeks' gestation) than no infection. Of 175 preterm births with detailed delivery data, 46% were spontaneous and 54% were induced."

Why is U.S. National Data So Terrible?: Katelyn Jetelina interviews the CDC's Caitlin Rivers.
How Coronavirus is Getting Closer to the Flu: Via Stat 
Sensitivity of Home COVID Rapid Antigen Tests Peaks 4 Days After Illness Onset: "The sensitivity of home rapid antigen COVID-19 tests peaks 4 days after symptom onset, suggesting that a negative antigen test should be followed by a second test in 1 or 2 days, according to a prospective study published in JAMA Internal Medicine."
Paxlovid: "Paxlovid's failure as a preventative measure raises questions, but doctors still back it as a therapeutic," Stat reports.
Why Are Vaccines Still Important If So Many Kids Have Already Had COVID-19? Via Fox 7 Austin
"The CDC and other public health experts overwhelmingly say that ongoing safety monitoring shows that COVID-19 vaccination continues to be safe for children and that the benefits of vaccination outweigh the known and potential risks. It also helps to reduce the virus' chance of mutating into new, more worrisome variants."
"Vaccines have absolutely changed childhood survival in this country and around the world, and the COVID vaccine is no exception. There is, in my mind, no reason not to get a potentially life-saving, preventative vaccine," said Melissa Marx, an assistant professor and epidemiologist at the Johns Hopkins Bloomberg School of Public Health.

---
Viewpoints
Society for Human Resource Management Backs Alternative Credentials: In new report and article. 
"Training certificates, course completion certificates, industry or professional certifications and other types of 'alternative credentials' can help employers further their hiring diversity, equity and inclusion goals as well as bolster career development."
"Alternative credentials can be defined as any microcredential, industry or professional certification, acknowledgment of apprenticeship (registered or nonregistered) or badging that indicates one's competencies and skills within a particular field. Alternative credentials do not include traditional academic degrees or required occupational licensures."
School Districts' Post-COVID Strategies for Summer Learning: "Nearly 60% of the nation's school districts and charter organizations expect to spend a portion of their federal American Rescue Plan funding on summer learning or on a combination of summer and afterschool programs, according to a FutureEd analysis of spending plans for more than 4,100 local education agencies compiled by the Burbio data services firm."
A Third of U.S. College Students Consider Withdrawing: Via Gallup.
Mental Health Problems Among Children and Adolescents During COVID-19 Pandemic: A systematic review. Coverage from Kaiser Health News.
The study "found unusually high rates of anxiety, depression, sleep disorders, suicidal behavior, stress-related disorders, attention deficit/hyperactivity disorder and other mental health problems during the pandemic. Individual behaviors such as hobbies, praying and listening to music were associated with positive mental health, the studies also found."
Parent Perception Barometer: Via Bellwether.
A majority of parents want to see schools change to address the impacts of the COVID-19 pandemic.
Parents' concern for their children's academic progress remains high in 2022.
Two years after the pandemic began, a majority of parents remain worried about their children's mental health.
Worry about sending kids to in-person schooling is down, but some parents remain concerned.
In most states, public school enrollment has yet to recover to pre-pandemic levels.
How Social and Emotional Learning Became a New Front in the Culture Wars: Via Rick Hess
The Education Culture War is Raging. But for Most Parents, It's Background Noise: Via NPR 
---
… And on a Reflective Note
It's May!: 
---
ICYMI @The74
Weekend Reads: In case you missed them, our top five stories of the week:
For even more COVID policy and education news, subscribe to John Bailey's daily briefing via Substack.
Disclosure: John Bailey is an adviser to the Walton Family Foundation, which provides financial support to The 74.
Get stories like these delivered straight to your inbox. Sign up for The 74 Newsletter