Journey From War: Ukrainian Students Start New Lives In New York City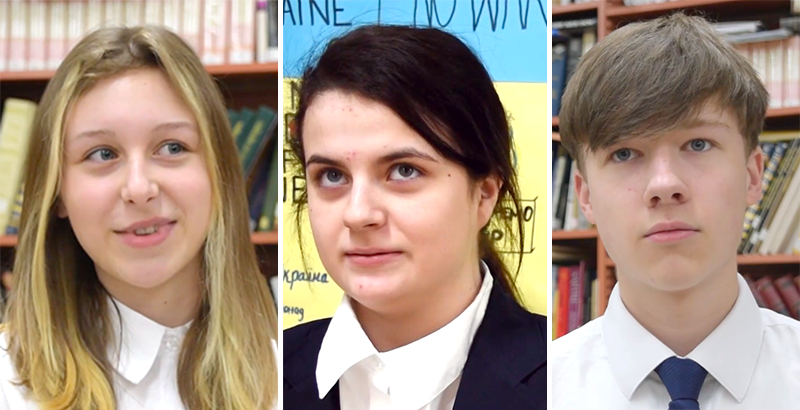 Support The 74's year-end campaign. Make a tax-exempt donation now.
The teens were told to quickly pack their bags for their escape to America, uprooted from everything they knew in their beloved homeland of Ukraine.
Soon they were traveling alone, leaving behind family, friends, homes and schools, fleeing Russia's deadly invasion of cities like Kyiv, Ivano-Frankivsk and Lviv.
One sat for hours at the border with his father stalling his departure for as long as they could. The parents of another took just 30 minutes to decide to send her to America. She called home once she had landed in New York, to be reassured family was all right, only to hear bombing in the background.
They are all safe now, all students at St. George Academy in New York City's Little Ukraine neighborhood in the East Village. They feel comforted to hear a language they know, customs they cherish, grateful to have a future.
Still they yearn for home.
"My whole life is left in Ukraine," said Victoria Luchkevych, 16. "Oh my God my heart is crashing because of Ukraine."
But their lives move forward and even as they sort through their fears and try to focus on their studies, they must adjust to a new, faster paced life.
"There is nothing like New York City in Ukraine," said St. George Academy's principal Andrew Stasiw, "other than Kyiv, and Kyiv is like a quarter of what New York City is."
The 74 asked three of St. George Academy's newest students to talk about their experiences of living through war and leaving their lives in Ukraine earlier this year:
Maksym Kosar
Maksym Kosar considers himself "lucky."
Because he had family in the U.S., money and papers, the 17-year-old could escape his war-ravaged town, Ivano-Frankivsk, in Western Ukraine.
But coming to "the safe place," America, wasn't without heartbreak.
On the last day of February, Maksym reunited with his mother in New York, but days before he said goodbye to his home and his father, who drove him to the border of Poland.
There, they parked and stalled his departure for hours — talking and rearranging Maksym's small suitcase, editing which essentials would be coming with him.
"I just packed winter clothes for about three days and my electronics and chargers," Maksym said.
With reassurance from his father, Maksym boarded a small bus driven by a Ukrainian firefighter and began his journey.
"[My father] just told me 'you're going to be good, safe. Call me whenever you can,' and that's it," Maksym said quietly, carefully reciting the facts of their farewell, uncertain if he will ever have a return to Ukraine, to his father.
"I was more worried, not about myself," Maksym said, "but the people who stayed behind me."
He calls his dad when he can, although the time difference makes it hard. He's also been able to keep up with friends, some of whom have been juggling constant chaos with online school and volunteering for the army.
"Their minds get crazy because of the sirens," he said. "They don't get enough sleep. The conditions are pretty harsh."
Victoria Luchkevych
Just a few weeks ago, Victoria Luchkevych was anxiously bracing for the relentless barrage of sirens in Ternopil, a small village-like city in Western Ukraine when her parents deliberated, in just 30 minutes, to send her to America.
She packed just two backpacks with clothes, books, her phone and headphones, and said goodbye to her parents, sister and brothers who didn't have the documents to leave. Now, she's in a country she doesn't know and left as an infant, 4,500 miles from everything that matters to her.
"My whole life [is] left in Ukraine," said Victoria. "My heart is left in Ukraine. Oh my God my heart is crashing because of Ukraine."
Now, Victoria lives her life moving between her uncle's apartment in Brooklyn and her cousin's in Queens.
In Ukraine, her mom made her breakfast and drove her down the road to school each morning. Now she fends for herself each morning.
"It's really hard because my uncle is busy, and so is my cousin, so I'm trying to cook for myself." Victoria said. "And then it takes like an hour to get to school."
Between her new schedule, immersing herself in her studies and the different time zones, there's little time to talk to her family. But when she does, they paint a picture that all is fine — something Stasiw, the school principal, has noticed many Ukrainian family members doing.
"When my wife calls her family in Ukraine they're all very cheerful. They're all very light because they don't want her to worry," Stasiw said.
"Dad usually just wants to know how my grades are," Victoria said.
But often, it's impossible for families to shield their kids from the truth.
"It's really hard not to be stressed because two days ago I talked to my dad and while I was talking to him they bombed my city." said Victoria. "I heard the explosions in the background."
Marta Slaba
Marta Slaba, the youngest of the group at just 13, has lived through war and escaped to a new country — alone.
"It all happened so fast," said the teenager from Western Ukraine's largest city, Lviv. "I never traveled on my own and I never thought I'd do it so soon. It was very nerve wracking for me."
Her dad stayed in Ukraine, even though, because he is over 60, he could have left. "Because he has two companies he doesn't want to leave," Marta said.
The two have a typically rocky relationship for a young teen and her father, but the circumstances of her departure, the war, not knowing when she will see him again, makes things even harder.
"I hope I can see him soon," she said. "He's still my dad and I've had very good times with him."
Her mother is staying in Germany, because it "would be too much money" to come with her to America.
Living now in her grandmother's Little Ukraine apartment, Marta said her life is "pretty OK" and she's "trying to keep it together." But she longs for her family and friends who are now scattered across the world.
When she does evade tricky time zone conflicts and gets her friends on the phone, they mostly talk about "normal things" like "what we've been watching."
"We don't really talk about the war," Marta said. "It brings on negative energy and we don't like that."
She mused about home and what so many are wondering.
"I do wonder if somehow," said Marta, "someday everything will stop in Ukraine and I can return."
Someday, perhaps, their hearts will stop crashing because of Ukraine.
Videos edited by The 74's Jim Fields
Support The 74's year-end campaign. Make a tax-exempt donation now.