This Week in Pandemic Education Policy: Federal Plan to Improve School Air Quality, Most Parents Want Multiple School Options Next Year and More Key Updates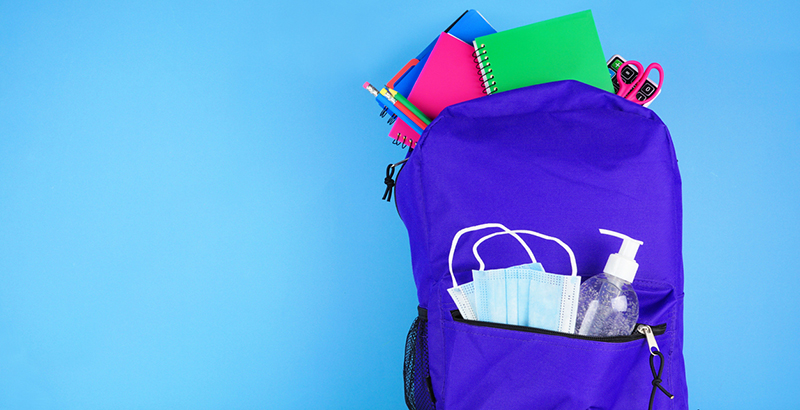 This is our weekly briefing on how the pandemic is shaping schools and education policy, vetted, as always, by AEI Visiting Fellow John Bailey. Click here to see the full archive. Get this weekly roundup, as well as rolling daily updates, delivered straight to your inbox — sign up for The 74 Newsletter.
Biden Administration Launches Effort to Improve School Air Quality:
$500 million grant announcement (and request for information) that aims to "lower energy costs, improve air quality and prioritize schools most in need, enabling schools to focus more resources on student learning."
Efficient and Healthy Schools Campaign announced first eight awards:

Adams 12 Five Star Schools, Colorado
Boulder Valley School District, Colorado
Charleston County School District, South Carolina
Columbia Public Schools, Missouri
Davis School District, Utah
Greenville County Schools, South Carolina
Mariposa County Unified School District, California
Newark Board of Education, New Jersey

More via K12 Dive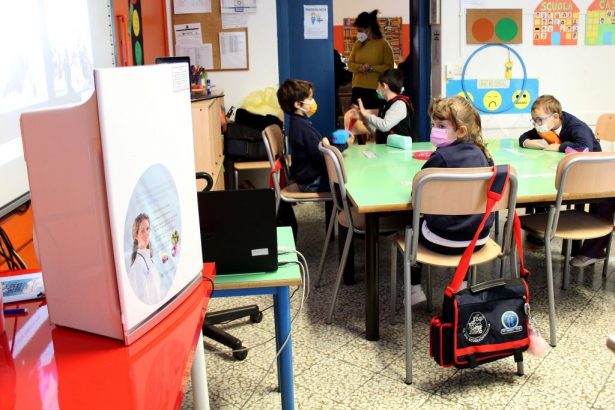 ---
The Big Three — April 14, 2022
Online Learning, Education Technology Top Trends Affecting Government and Society: New GAO report identifies a dozen areas of greatest national concern where "GAO can better be prepared to respond." Among the issues:
Science, Technology and the Innovation Economy

In the U.S., the percentage of public investment in research and development is declining and private investment is growing — but the overall U.S. share of global R&D spending is declining.
Policymakers may need to enhance public-private partnerships, such as those between industry and federal labs, which may help industry better access publicly funded innovations.
To maintain global leadership and competitiveness, the U.S. must invest in and grow a strong, talented and diverse STEM workforce.

Online Learning and Technology in Education

It is difficult to predict the effects of online learning on post-pandemic K-12 education or how it will further transform higher education.
Questions remain as to how many students who left K-12 schools or did not enroll in college during the pandemic will return.
The quality and effectiveness of online models — from videotaped lectures to artificial intelligence systems that customize student assignments — vary significantly and are not well understood.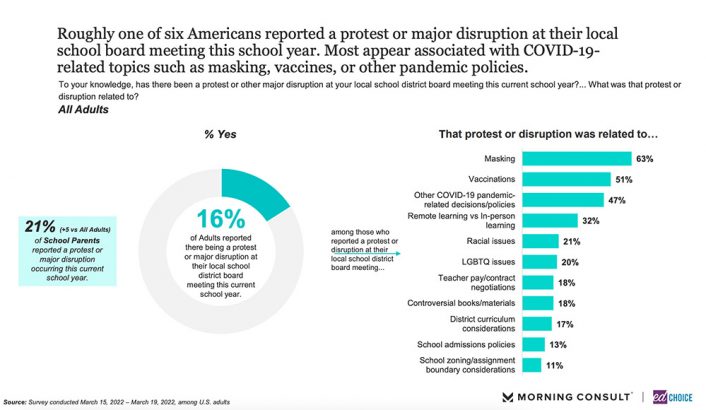 Parent Polling: New poll from EdChoice/Morning Consult: Topline / K-12 Parents Crosstabs / Adults 18+ Crosstabs
Roughly 1 in 6 Americans — and 1 in 5 parents — reported a protest or major disruption at their local school board meeting this school year. Most appear associated with COVID-19-related topics such as masking, vaccines or other pandemic policies.
Four out of five school parents believed schools should provide multiple learning options for students this school year.
Roughly 1 in 4 parents reported at least one child had to quarantine in late winter due to COVID-19.
Justice Ketanji Brown Jackson: Marked her historic confirmation to the Supreme Court with a moving speech from the South Lawn of the White House (Text / Video)
"They also tell me that I'm a role model, which I take both as an opportunity and as a huge responsibility. I am feeling up to the task, primarily because I know that I am not alone. I am standing on the shoulders of my own role models, generations of Americans who never had anything close to this kind of opportunity but who got up every day and went to work believing in the promise of America, showing others through their determination and, yes, their perseverance that good — good things can be done in this great country — from my grandparents on both sides who had only a grade-school education but instilled in my parents the importance of learning, to my parents who went to racially segregated schools growing up and were the first in their families to have the chance to go to college."
"To be sure, I have worked hard to get to this point in my career, and I have now achieved something far beyond anything my grandparents could've possibly ever imagined. But no one does this on their own. The path was cleared for me so that I might rise to this occasion."
"In my family, it took just one generation to go from segregation to the Supreme Court of the United States."
---
Federal Updates
Dr. Ashish K. Jha: Introduces himself as he takes over as White House COVID-19 response coordinator.
Charter Schools: Backers blast Education Department proposal that could curb sector's growth.
---
City & State News
California: K-12 enrollment fell by an additional 110,300 students, pushing total public school enrollment below 6 million for the first time since 1999-2000.
Colorado: Greeley-Evans School District 6 is being recognized by Colorado Succeeds for efforts to help every student learn in the way that is best for them through personalized learning.
Illinois: Chicago Public Schools is cutting about 40% of its school budgets, citing steep enrollment declines. Some advocates question the timing.
New Mexico: "New data from the state's Public Education Department shows that 40% of all schools in the Albuquerque Public School district consider a majority of their student population chronically absent."
Ohio: "Kids in southwest Ohio are struggling with their mental health, and area experts say the novel coronavirus pandemic spurred the problem."
"Prevention First survey of 26,260 seventh- through 12th-grade students in Hamilton, Butler, Warren and Clermont counties shows that more than half of them (53.3%) report having high levels of stress. One in 10 said they have suicide ideation. And 60% struggle to pull themselves out of a bad mood."
"In addition: 38.8% responded that they felt nervous or anxious all or most of the time. Just over 24% responded feeling depressed, sad or hopeless most of the time and 29.2% said they desired to be alone all the time. There's also an indication that kids surveyed need more adults they trust, outside of their parents, to help them with their moods."
---
COVID-19 Research
COVID-19 Vaccines Carry Low Risk of Heart Conditions:The Wall Street Journal reports:
"The risk of developing inflammatory heart conditions after COVID-19 vaccination is relatively low, two large studies found, especially when compared with the heart-related risks from COVID-19 disease itself and from vaccines against other diseases."
"One study, an analysis of 22 previous studies, found that the risk of the conditions including myocarditis in people who received a COVID-19 vaccine wasn't significantly different from that for non-COVID-19 vaccines such as those against flu, polio and measles. And the heart risk associated with COVID-19 shots was lower than the risk after smallpox vaccination."
"Another analysis published April 1 by the Centers for Disease Control and Prevention found that the risk of cardiac complications including myocarditis, an inflammation of heart muscle, was higher in people after COVID-19 infections than after receiving a COVID-19 vaccine."
Related: "SARS-CoV-2 Infection and Associated Cardiovascular Manifestations and Complications in Children and Young Adults": A Scientific Statement from the American Heart Association.
Using Donald Trump's COVID-19 Vaccine Endorsement to Give Public Health a Shot in the Arm: A Large-Scale Ad Experiment: NBER paper
"Our study involved presenting a 27-second advertisement to millions of U.S. YouTube users in October 2021."
"Results indicate that the campaign increased the number of vaccines in the average treated county by 103. Spread across 1,014 treated counties, the total effect of the campaign was an estimated increase of 104,036 vaccines."
"The campaign was cost-effective: With an overall budget of about $100,000, the cost to obtain an additional vaccine was about $1 or less."
Use of Face Masks Did Not Impact COVID-19 Incidence Among 10- to 12-year-olds in Finland: Study
"We compared the differences in trends of 14-day incidences between Helsinki and Turku among 10- to 12-year-olds, and for comparison, also among ages 7-9 and 30-49 by using joinpoint regression. According to our analysis, no additional effect seemed to be gained from this, based on comparisons between the cities and between the age groups of the unvaccinated children (10-12 years versus 7-9 years)."
New Drug Slashed Deaths Among Patients With Severe COVID, Maker Claims: Via NYT and Veru press release.
CDC's Data Modernization Initiative: 2021 report
---
Viewpoints
Equitable Pandemic Learning Pods: New reports from CRPE:
Leaning In: The New Power of Parents in Public Education: FutureEd report and legislative tracker.
The Mystifying Rise of Child Suicides: Long and difficult piece via the New Yorker.
"The sooner depressed or suicidal children receive treatment, the more likely they are to recover, but children remain radically undertreated. There are too few child psychologists and psychiatrists, and most pediatricians are insufficiently informed about depression. Research suggests that only one out of five American adolescents who end up in a hospital after attempting suicide is transferred to a mental health facility, and access is predictably worse among the poor and in communities of color."
"Perhaps the most unsettling aspect of child suicide is its unpredictability. A recent study published in the Journal of Affective Disorders found that about a third of child suicides occur seemingly without warning and without any predictive signs, such as a mental health diagnosis, though sometimes a retrospective analysis points to signs that were simply missed."
"Children are often secretive about suicidal impulses; parents are often in denial. Some years ago, the 11-year-old son of a friend of mine required a psychiatric hospitalization because of uncontrollable outbursts of anger. I rode with my friend and his son in the ambulance from his house to the hospital. The boy at first could express only rage, then lapsed into despair at his lack of self-control. He said, 'I think of suicide a lot. I was thinking about it earlier today, in fact. I don't plan to do it, probably.' When we arrived at the hospital, the admitting physician asked my friend whether his son had ever been suicidal, and he said, 'I don't think so.' I pointed out that the boy had expressed strong suicidal ideation not 20 minutes earlier in the ambulance. Suicide is so unimaginable to parents in general that a child's mentioning it can wash over them."
Report Card on State Responses to COVID: NBER paper
"It examines three variables: health outcomes, economic performance throughout the pandemic and impact on education"
WSJ editorial: "The study ranks Florida 28th in mortality, in the middle of the pack and about the same as California, which ranks 27th despite its far more stringent lockdowns and school closures. But Florida ranks third for the least education loss and 13th in economic performance. California ranks 47th overall because its shutdowns crushed the economy (40th) and in-person school (50th). In other words, Florida did about average on mortality as other states, but it did far better in protecting its citizens from severe economic harm and its children from lost schooling."
Why American Teens Are So Sad: Via Derek Thompson in The Atlantic, with four forces propelling that increase:
Social-media use
Sociality is down
The world is stressful — and there is more news about the world's stressors
Modern parenting strategies
School Reopening Mess Drives Parents Toward GOP: Via WSJ.
Why Aren't States Innovating in Student Assessments? Asks Michelle Croft
Addressing Learning Loss in Disadvantaged Kids: Via US News & World Report on a new NWEA report.
Building a Pipeline to Address the Children's Mental Health Provider Workforce Shortage: Via National Governors Association. State tools include:
Tool 1: Align curriculum between two-year community colleges and four-year colleges to guarantee seamless credit transfer for mental health-related degrees, such as social work and psychology;
Tool 2: Offer creative incentives to offset the higher cost of programs requiring certifications and/or higher education and to attract workers into high-demand fields, such as social work;
Tool 3: Adapt apprenticeship models to support the social services and mental health workforce to create mental health provider pathways that provide valuable experience for students, lessen the financial burden of education and provide support to full-time social workers.
Accelerate's Call to Effective Action for High-Impact Tutoring:Apply here or attend a webinar here or learn more here.
Analysis of Local School Districts' Ambitious Post-COVID Tutoring Plans: Great analysis by FutureEd including this state-by-state table.
CCSSO Highlights Use of Federal Funds for High-Quality Materials: The High-Quality Instructional Materials and Professional Development Network supports 12 member states in their efforts of encouraging their districts to adopt high-quality instructional materials and professional development that is grounded in using those materials effectively. New resource designed to assist states in identifying ways to use federal funds to support teaching and learning.
---
…And on a Reflective Note
They Were Facing Jail Time: Instead, they're training shelter dogs.
" 'We'd both gone through some tough things in life,' Kelvin Simmons said about the dog he is training as part of a diversion program."
"Inmates who were recommended for this diversion program, Beyond the Bars, would be released from jail if they agreed to stay with the project for one year. And if they successfully trained a dog and finished the required self-help classes — including conflict resolution, parenting skills and time management — the charges against them would be dropped."
" 'Saying goodbye was really hard; I was in tears,' [Simmons] said. 'Blazer is a sweet dog who loves to be held and snuggled. I told him that he was going to a good home and that he was a lucky dog, and he seemed good with that.' "
Related: April is Second Chance Month (White House Proclamation)
Kelvin Simmons was sitting in the Fulton County Jail in Atlanta when a surprising offer came in: Would he be interested in training shelter dogs and taking life-skills classes instead of being in jail? https://t.co/aND7f4U6sd

— The Washington Post (@washingtonpost) April 3, 2022

Something Different: Crazy drone video flying through the new Tesla Gigafactory in Germany.
---
ICYMI @The74
Weekend Reads: In case you missed them, our top five stories of the week:
For even more COVID policy and education news, subscribe to John Bailey's daily briefing via Substack.
Disclosure: John Bailey is an adviser to the Walton Family Foundation, which provides financial support to The 74.
Get stories like these delivered straight to your inbox. Sign up for The 74 Newsletter