ThinkCERCA: Inside the Computer Program Being Used by Hundreds of School Districts to Teach Critical Thinking Skills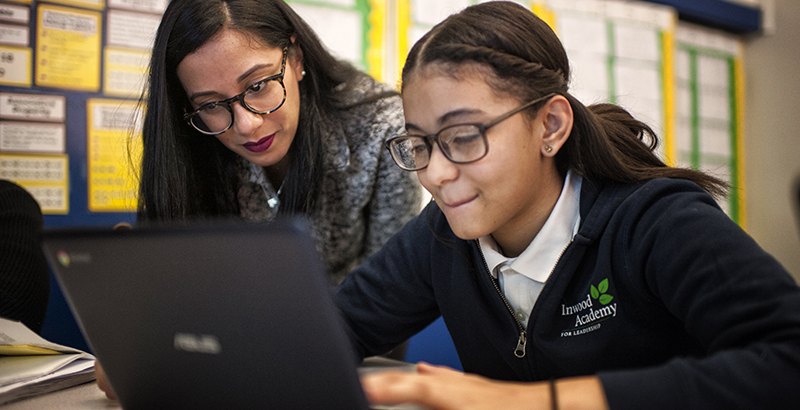 For Eileen Murphy, writing offers a strategy for students to improve their learning, not just prove that they have learned. That philosophy goes for language arts, for sure, but it also pushes into math, science — any subject, really.
So the former high school English teacher turned curriculum director for 115 Chicago schools created ThinkCERCA, a digital program that forces students to think critically, work collaboratively, and remain constantly engaged with the content in order to produce argumentative writing. No matter the subject.
"Thinking critically and expressing a point of view effectively is hard work," Murphy says. "But in the information age, the age of robots, that is what is going to have currency in the marketplace."
Take math. ThinkCERCA starts by asking a question, such as: "How can the government stop diseases from becoming pandemics?" Students select one of 10 reading levels, each with its own examples — the third-grade level might look at how the common cold spreads, while students doing eighth-grade work might learn about Ebola in West Africa. All readings are filled with instructions in mathematical modeling and data to back up the students' arguments.
Next, students move through the research phase by reading and gathering data, and then they draft their CERCA: Claim, Evidence, Reasoning, Counterargument, Audience. The program offers tips and sentence stems to help get the ideas flowing. By the end, after a process that also includes collaboration with peers, students submit their written argument online, allowing teachers to provide feedback and keep all lessons in a centralized location.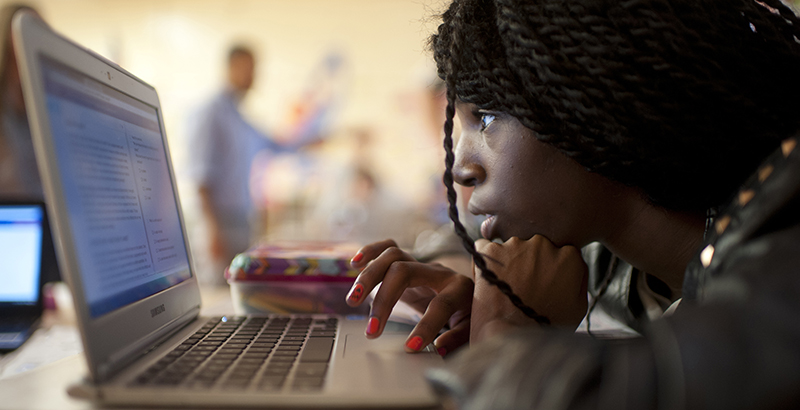 "The scores are blowing people away," Murphy says of the growth seen in student performance — more than 350 percent improvements on assessments year to year. She recommends that teachers do at least 10 of these lessons each year, with each stretching over three to five class periods. "The more you do, the more growth you see," she says.
Middle schools have been the earliest adopters of ThinkCERCA, which has been used in over 220 districts nationwide since its 2012 launch, but the program stretches down to elementary school and up into high school.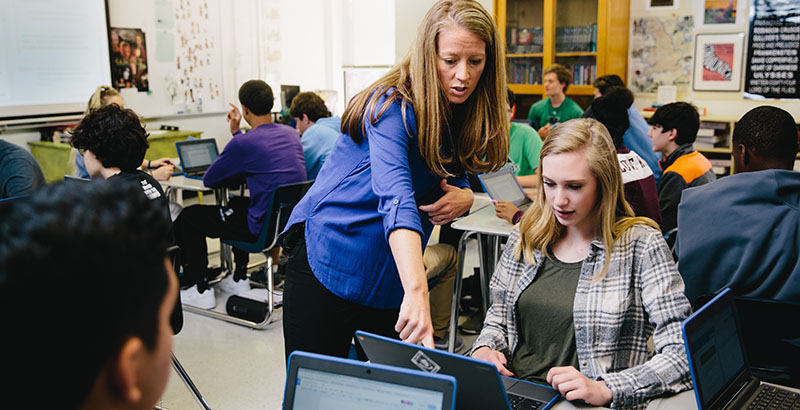 Barton Dassinger, principal of Cesar E. Chávez Multicultural Academic Center in Chicago, says his fifth- through eighth-graders use ThinkCERCA, mostly in language arts but also in other subjects. "When looking at alternatives out there, it is the best we have seen for developing students' writing skills and analyzing text critically so they can translate it to argumentative writing," he says. "One of the things that makes it effective is because it is so cross-curricular."
No matter the subject, Dassinger says, his teachers have seen ThinkCERCA change the way students talk. "They are trying to back up what they are saying with evidence from the text," he says. "It is starting to change and influence the way kids are thinking and writing in other subject areas."
With writing such a traditionally tough subject to teach, the ThinkCERCA program makes it more interesting and engaging for students, he says. But it's not about having fun.
"It is hard," Dassinger says. "It is a rigorous curriculum. If you look at the texts that they are saying are on grade-level curriculum, it challenges them to read it and understand it to write an essay."
Get stories like these delivered straight to your inbox. Sign up for The 74 Newsletter