'They've Been Through the Worst': Grads at NYC Ukrainian School Celebrate & Ache
War in their homeland and multiple pandemic school years affected the St. George Academy's 13 grads, creeping into a day meant for celebration
By Meghan Gallagher | June 24, 2022
High school graduation is about celebrating and making it through four tough years of tests, homework, sports, relationships and planning for the future.
But for one graduating class at St. George Academy, a tiny Ukrainian school in New York City's East Village, students and teachers celebrated making it through all of that earlier this month — and a war in their homeland of Ukraine, along with living through several years of a pandemic.
Between proms and college visits, St. George Academy's graduating class of 13 made harrowing phone calls to loved ones in Ukraine, attended assemblies about the war and welcomed students who recently escaped the country — all while adjusting to spells of disrupted learning from COVID.
Although it wasn't the graduation they expected, there was relief it was OK to celebrate such an important milestone. There were hugs and taking pictures by the balloons, meeting each other's families and saying goodbye to teachers and the classmates who went through so much together.
In dire need of a joyous celebration, St. George's principal Andrew Stasiw hoped for a commencement day focused on the students' accomplishments, rather than the conflicts that plagued their school years.
"We want our event to be as celebratory as possible, and the war has fatigued our school in many ways," Principal Stasiw told The 74 days before the graduation. "In some ways, there is a sense that the school was robbed yet again of a 'normal' school year. With two years of pandemic and now this conflict, it really has not been a normal school year."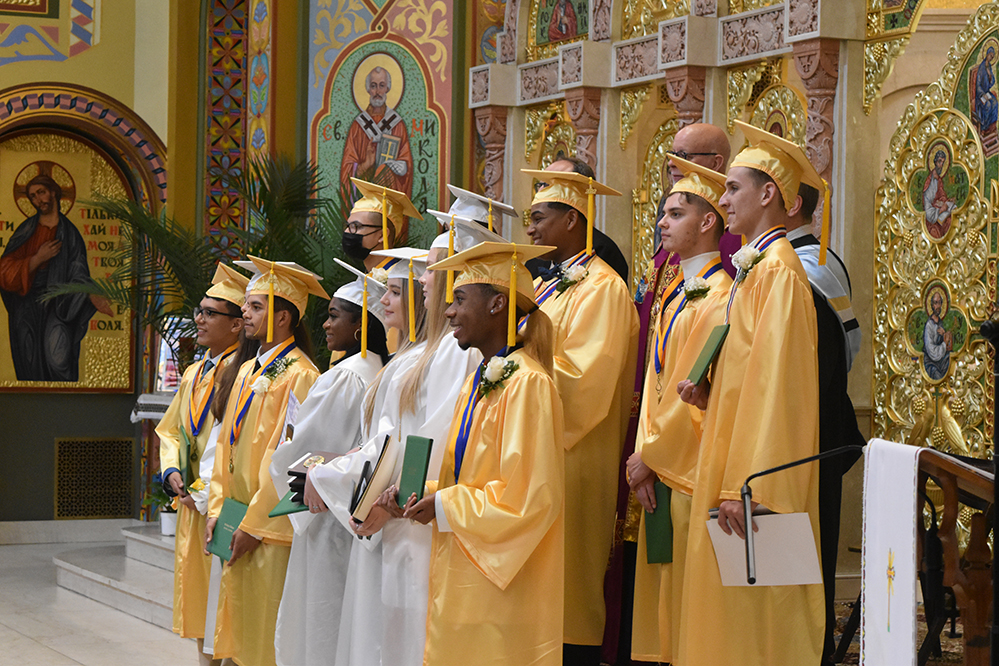 But at the ceremony on a sunny June Saturday, the tears and pleading for Ukraine crept in.
It was impossible for the students, and even Stasiw, to ignore such topics.
Salutatorian Vitalina Voitenko who arrived from Ukraine in 2018, focused on what she has overcome as an immigrant in her speech, becoming emotional as she spoke about a difficult year in front of family and friends.
Many of her relatives had arrived just days before through the Uniting for Ukraine program.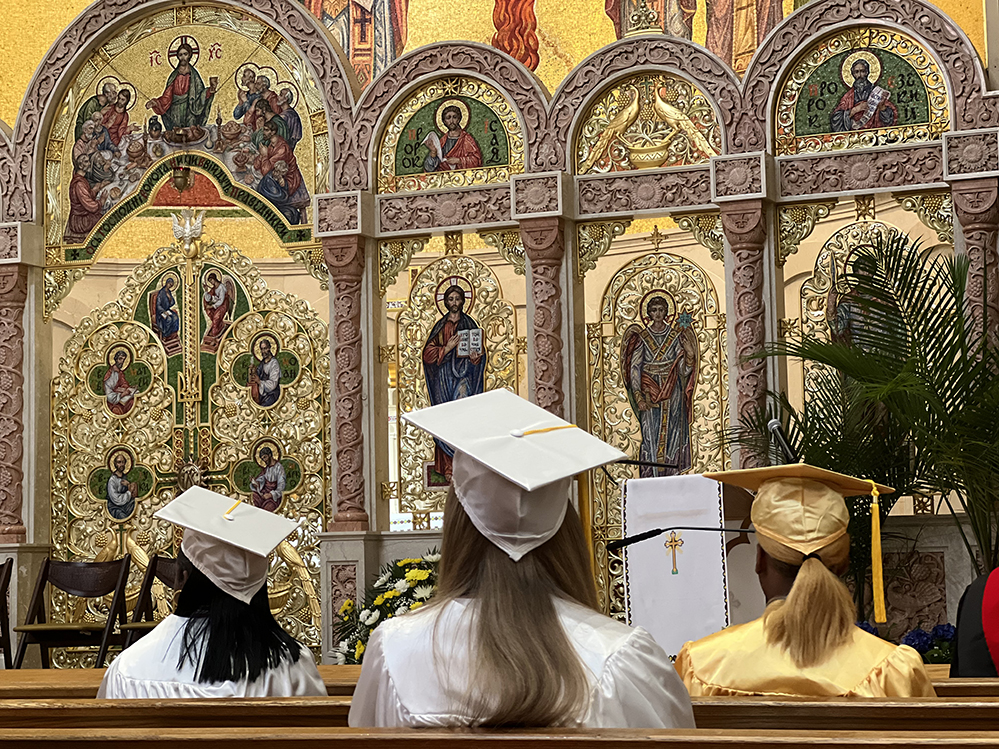 "Our senior class witnessed history," Voitenko said, surrounded by blue and yellow flags and gilded, Byzantine-style murals at the Saint George Catholic Church, behind the school, where the ceremony was held.
"We survived COVID, political unrest," she continued. "Now we are praying and hoping Ukraine will survive war with Russia. That's a lot in four years of high school."
Many of her relatives had arrived just days before through the Uniting for Ukraine program.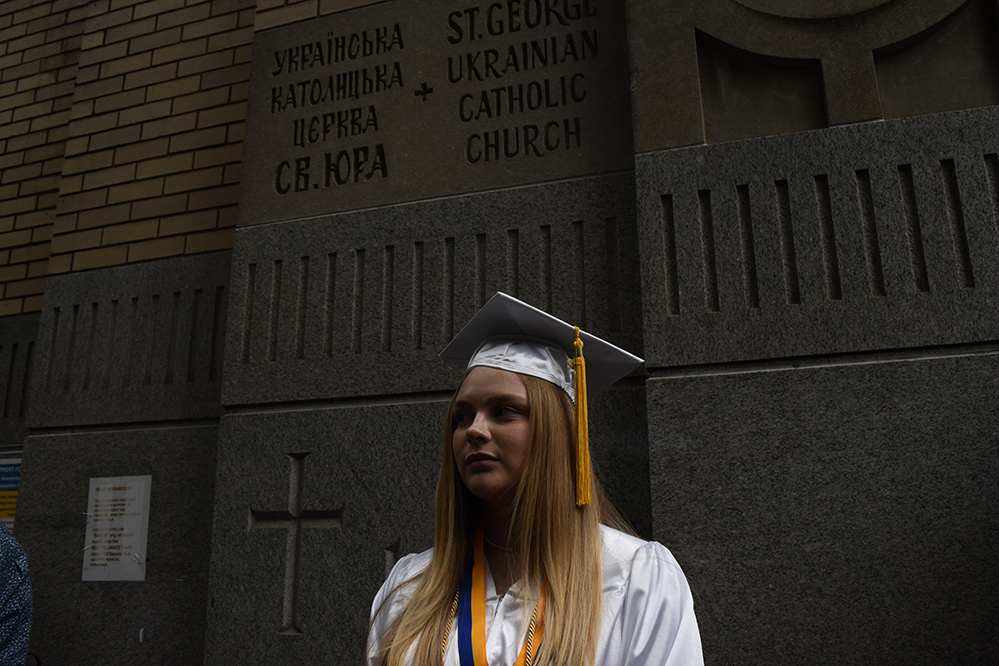 Class valedictorian, Fernando Mack, shared how grateful he was to graduate in person. Because of the pandemic, he thought a virtual graduation was likely.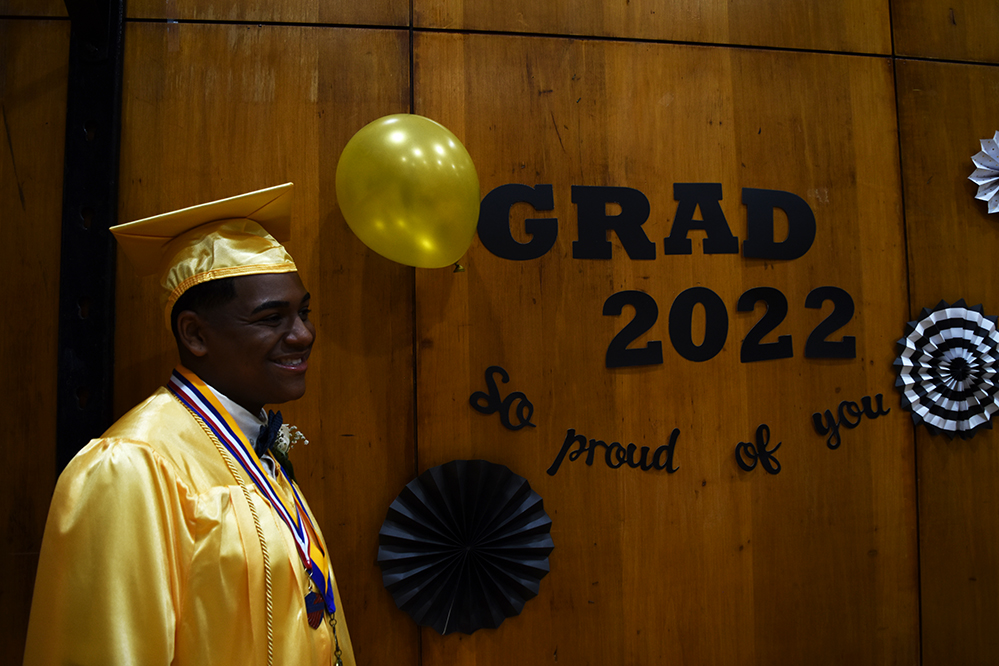 Although Mack is not Ukrainian and knew little about the country before attending St. George, he has loved learning the language and feels a deep connection to the homeland of some of his closest friends.
"To be here with my classmates just feels so good," said Mack. "When everything was happening it kind of broke my heart, because that's my classmates. We are all like family."
Mack recalled waking up one morning at the beginning of the invasion to a spiral of texts and videos from panicked classmates worried about friends and family still in Ukraine.
"Oh my gosh, it broke my heart … that's their family," He said.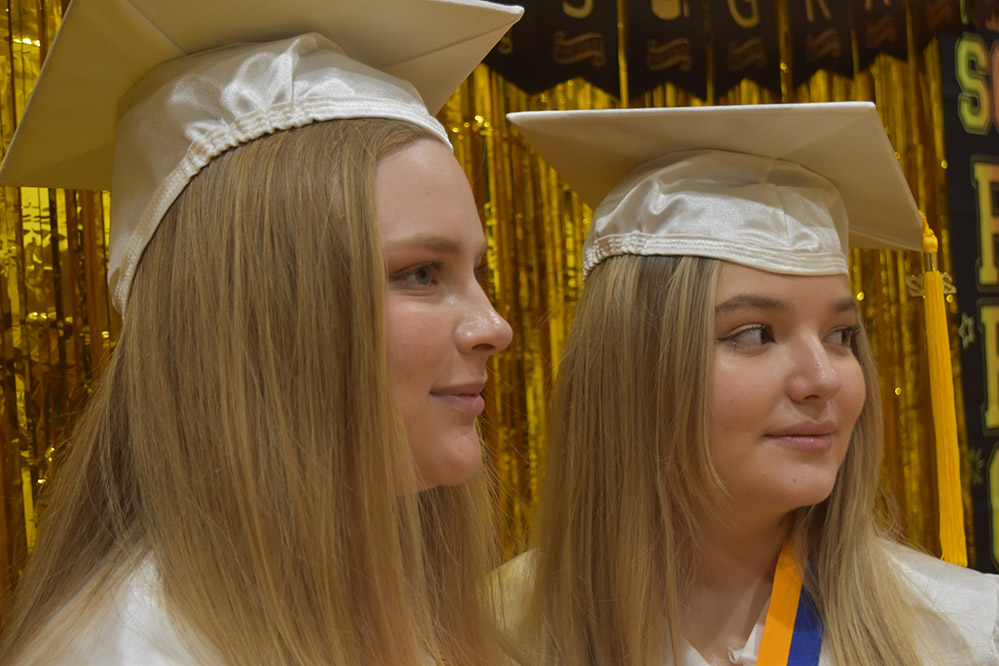 Closing out a ceremony mixed with moments of joy and somber reflection, two Ukrainian born graduates, Voitenko and Sophia Klyuba, were surprised with scholarships from the Helena Poliszczuk-Diaz Memorial Scholarship Fund, a memorial scholarship for needy Ukrainian students at the St. George Academy.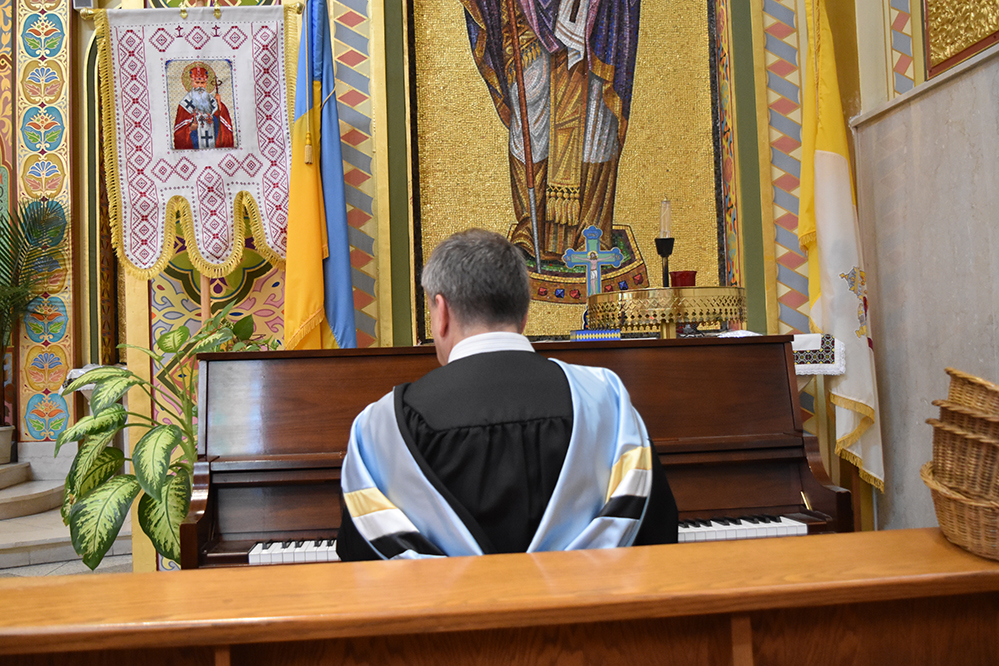 Stasiw asked the crowd to keep Ukraine in their hearts, quickly jumping back on the piano playing uplifting tunes as the 13 students flipped their tassels to the other side, exiting the church as graduates, ready to take pictures and document the monumental moment.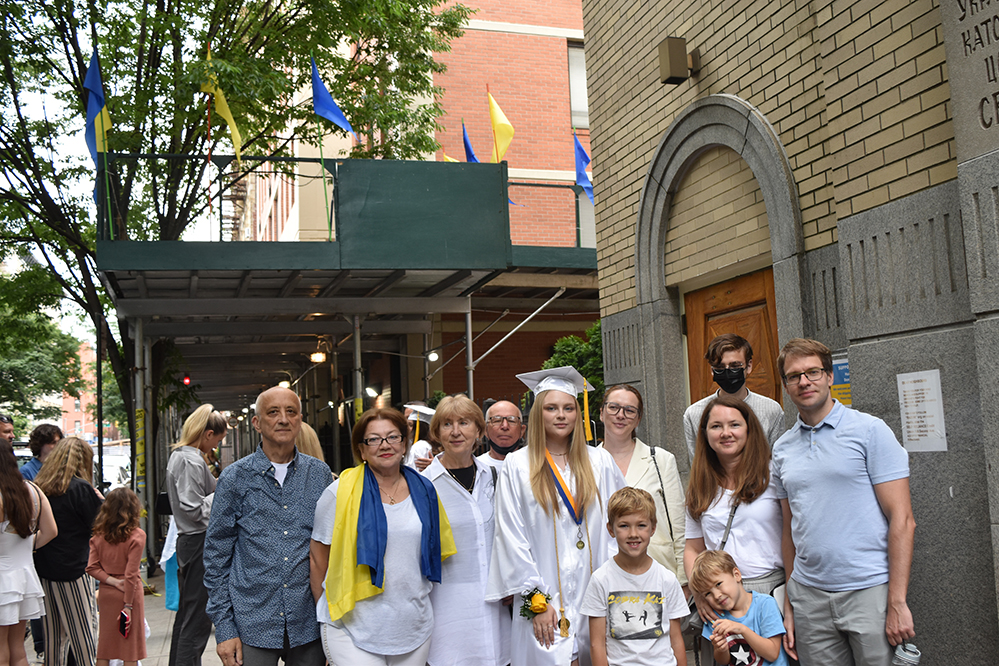 In the backgrounds of their precious photos are reminders of the difficult time: blue and yellow flags waving in the warm June breeze, posters sharing how to support Ukraine.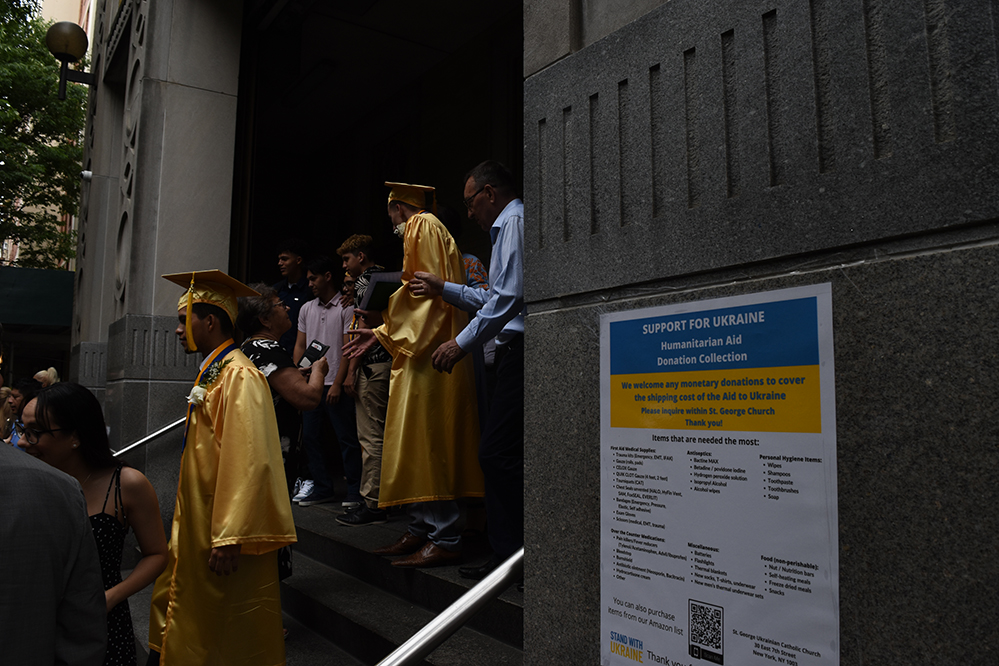 Dozens of camera flashes later, students and their families filed into the school's gym decorated with glistening "Congrats class of 2022" decorations, cake and Ukrainian "Kanapky" — open-faced ham sandwiches — from the neighborhood's favorite butcher, Andrew Ilnicki.
Stasiw met many of his students' family members for the first time. Many thanked Stasiw for their child's education.
One parent he didn't meet was Klyuba's mom, who couldn't make it out of Ukraine on time. Her sister arrived two days before the ceremony.
"I'm very happy that [my sister] came in to share my excitement today and celebrate with me, but obviously I wish that my mom and grandma from Ukraine were also here." Klyuba said.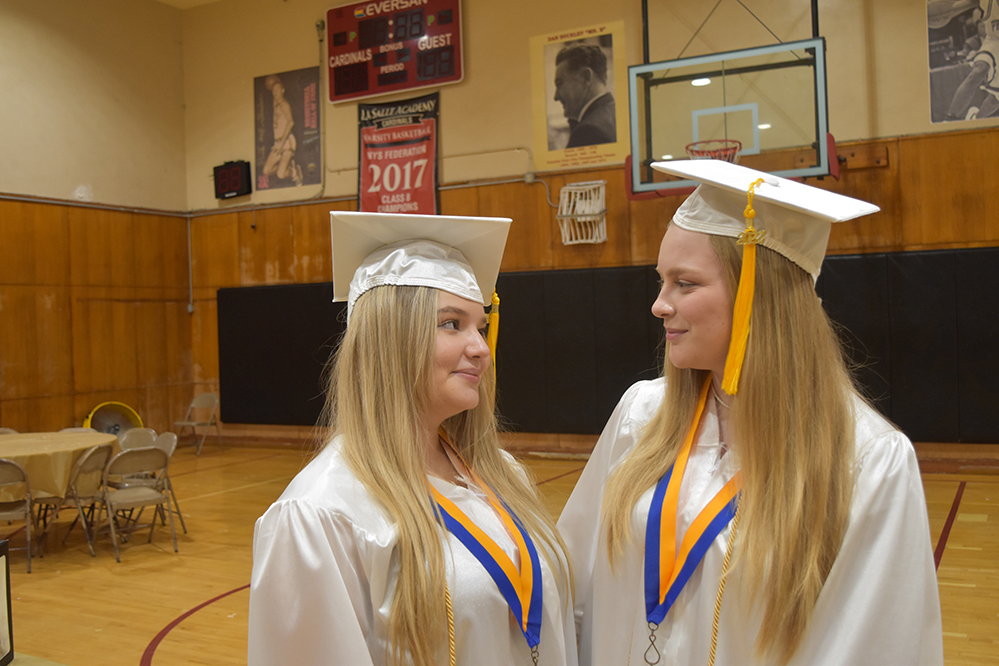 The 13 St. George graduates had persevered through heartbreak and hardship — and triumphed.
"They are superstars," said art teacher Irene Saviano. "They've been through the worst, but now they can achieve anything they want."
All images by Meghan Gallagher for The 74.
Get stories like these delivered straight to your inbox. Sign up for The 74 Newsletter