'The Movement's Been Hijacked': A Black Lives Matter Leader Quits Over Public School Platform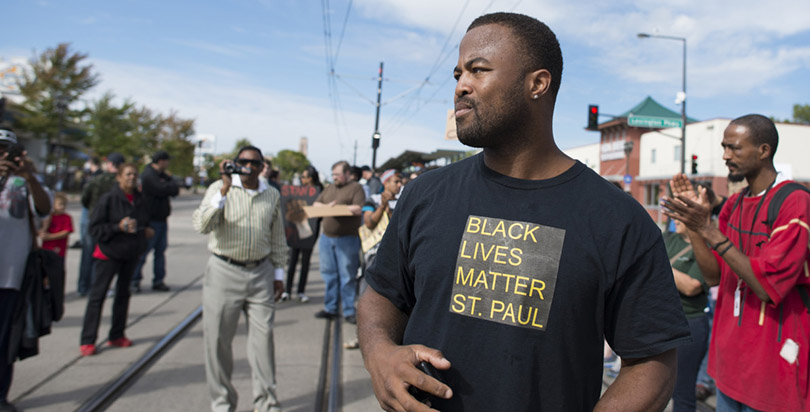 St. Paul, Minnesota
A Black Lives Matter leader in the city of St. Paul who has been deeply involved in both school equity fights and protests over police shootings has announced that he is stepping down because of the national group's recent call for a moratorium on charter schools.
Rashad Anthony Turner, a prominent voice in the debate over racial disparities in outcomes in Minnesota schools, said his desire to continue to push for equity in education put him at odds with BLM's leadership.
"For me, it was a question of integrity," Turner explained, saying Black Lives Matter had been "hijacked." "Being that I am all for charter schools and ed reform, and as someone who is seeking educational justice for students and families, I could no longer be under that banner of Black Lives Matter.
"Stepping outside of that banner personally meant that I needed to step down from a leadership role and any affiliation with Black Lives Matter if I'm going to do a great job in education and fighting for educational justice."
Turner's announcement drew immediate attention to tensions that have been simmering among racial justice activists since late July, when news broke that first the NAACP and then the Movement for Black Lives, an umbrella group that includes Black Lives Matter, had issued anti-charter statements. The Movement for Black Lives went a step further than the NAACP in asserting that charter schools perpetuate funding inequities and racial disparities.
"I just think this is a very responsible and courageous thing he's doing in stepping down," says Bill Wilson, the African-American founder of Higher Ground Academy. "Because this to me makes clear his commitment to black lives and to black minds. Black children can learn."
Higher Ground Academy, a St. Paul charter school, regularly appears on U.S. News & World Report's high school rankings and other "best of" lists. It's an example of the kind of program Turner and other Twin Cities equity advocates say they want to want to protect, one in which impoverished students and students of color are achieving at high levels.
"Black Lives Matter has been co-opted," Turner added. "The movement's been hijacked."
The question of who leads or controls Black Lives Matter is a complicated one. The organization, which eschews formal hierarchy, was founded in 2013 by three women, Patrisse Cullors, Opal Tometi and Alicia Garza, in the wake of George Zimmerman's acquittal in the death of Trayvon Martin.
The movement rose to public prominence a year later when protesters in Ferguson, Missouri, began using the hashtag #BlackLivesMatter in the wake of the killing of 18-year-old Mike Brown by a white police officer.
The movement's three most visible leaders — DeRay Mckesson, Johnetta Elzie and Brittany Packnett — met in Ferguson. They aren't actually members of any of the organization's recognized chapters. Nor is BLM St. Paul, or for that matter BLM St. Louis.
"That contentious distinction between the organization and the movement is part of the debate about what Black Lives Matter is and where it will go next," The New Yorker's Jelani Cobb wrote in March.
Mckesson and Packnett both have ties to Teach for America, a cornerstone of the education reform movement. To date, both have been silent on the question of the charter moratorium.
(The 74 Interview: DeRay Mckesson, Baltimore Mayoral Candidate and Black Lives Matter Leader)
Educational inequities have been an especially prominent focus of the debate in Minnesota, which has long prided itself on the quality of its public schools.
As the state's population has diversified, however, that historic reputation has masked some of the worst outcomes in the nation for children of color and Native American students. In 2015, Minnesota ranked 47th in the country for African-American high school graduation rates and 49th for Latino graduation rates, for example. Two thirds of white Minnesota students read at grade level in third grade, versus one third of black students. The gap is even larger in eighth-grade math, another important benchmark.
Turner's voice has been especially prominent during the past 18 months in St. Paul, where long-simmering tensions over the focus of the city's public schools on addressing racial inequities came to a head a year ago. Last year, the district's teachers union organized and financed a campaign to elect a new school board majority critical of that emphasis. The new board recently paid the superintendent leading the work, Valeria Silva, $1 million to step down.
Flare-ups involving student violence and the controversial responses of police officers assigned to schools, as well as an episode in which a white special-education teacher was revealed to have written offensive blog posts about his students, fueled the tensions. At least one school board meeting in March was gaveled to a halt after racial disputes erupted between white and black parents. The state legislature appointed a panel to consider discipline reforms.
On July 6, police in a St. Paul suburb shot Philando Castile, a much-loved St. Paul schools cafeteria worker whose fiancée broadcast the aftermath on Facebook. Protests closed the thoroughfare in front of the governor's mansion for weeks. As one of the main organizers of the protests, Turner was the subject of numerous headlines.
In an interview Tuesday, Turner said he was surprised that national African-American leaders did not call out the issues at the root of the ongoing education controversy.
"I was very surprised the NAACP and BLM would call for a moratorium on independent charter schools but not call for an end to the suspensions and expulsions of children of color," he said. "Our St. Paul Federation of Teachers spent the whole year demonizing and criminalizing black students in our schools."
In their statement, BLM leaders decried a "systematic attack" coordinated by billionaire philanthropists and government officials whose "aims are to undermine Black democracy and self-determination, destroy organized labor, and de-color education curriculum, while they simultaneously overemphasize Standardized Testing and use school closures to disproportionately disrupt access to education in Black communities."
Some 28 percent of charter school students nationwide are African-American, nearly twice the rate of their presence in traditional public schools. And while quality varies hugely throughout the sector, a 2015 study by Stanford's Center for Research on Education Outcomes found black students in 41 urban areas gained the equivalent of 36 extra days of math learning per year and 26 extra days in reading. Black students in poverty gained 59 more days in math.
Turner isn't the first black activist to publicly oppose the two national groups' anti-charter stances. In early August, the Black Alliance for Educational Options (BAEO) called on the NAACP's national board to reject the proposed resolution at its fall meeting.
"The fact that the NAACP wants a national moratorium on charter schools, many of which offer a high-quality education to low-income and working-class Black children, is inexplicable," BAEO President Jacqueline Cooper said in a statement. "The resolution is ill-conceived and based on lies and distortions about the work of charter schools."
Shavar Jeffries, president of Democrats for Education Reform, also decried the statements. "We'd be happy to partner with the NAACP to sanction or shut down low-performing charter schools," he said in a statement. "We'd oppose with the same resolve as the NAACP any charter that seems designed more by a desire to segregate than to innovate."
(The 74: NAACP May Double Down on Charter School Opposition as Civil Rights Allies Strongly Disagree)
Shortly thereafter, Minneapolis BLM leader Nekima Levy-Pounds, a civil rights attorney and president of the city's NAACP chapter, publicly defended charter schools as an important alternative. In a mid-August interview with Chris Stewart, host of the podcast Rock the Schools (and full disclosure: the author's colleague at Education Post), Levy-Pounds said that when she moved to Minnesota in 2003, she put two of her children in traditional public schools only to see them tracked as low-achieving. When she enrolled them in a charter school that celebrates black achievement, that changed.
"What we need to understand is that often African-American parents are in search of enclaves for their families," Levy-Pounds said. "For example, if an African-American family is in an environment in which other African Americans are thriving — economically, academically, socially — that to me is going to be a wonderful opportunity to uplift one's family. But if you're in an environment that is extremely impoverished and under-resourced, of course you are going to face challenges associated with that."
As public schools, charters under Minnesota law must conduct race-neutral admissions lotteries. Culturally specific programming and a reputation within a particular community often draw applicants of a particular race or ethnicity. In Minnesota, debate has raged in recent months over whether families of color choosing a charter school they feel is a safe harbor is segregation.
"Parents can't always choose where they live, but they really should have a choice where their kids go to school," says Wilson, the St. Paul school leader. "I hope that at some point the national NAACP will recognize this is all about choice, parental choice."
Turner recently completed a master's degree in educational leadership at St. Mary's University of Minnesota. The son of a teenage mother and a father who was killed when he was very young, Turner has worked in schools as a cultural liaison and in higher education as an advocate for students who were the first in their families to attend college. He is in favor of eliminating standardized assessments, unlike many education reform proponents who feel the tests reveal achievement gaps and hold educators accountable.
Turner said he now plans to refocus his efforts on equity in education. He sees enormous opportunities for helping Twin Cities families be heard in the ongoing debates, and he sees the charter moratorium discussion as "another distraction."
"Getting our students and families engaged in the process and informed on the issues is going to go a long way on really reforming a [school] system that's been broken for years," he said. "I'm looking to engage the community still, but in a different way and on a different subject…. If we all can be receiving a high-quality education, that's going to do a lot for our society."
Get stories like these delivered straight to your inbox. Sign up for The 74 Newsletter