Trump Picks His Education Secretary: The First 6 Things to Know About Betsy DeVos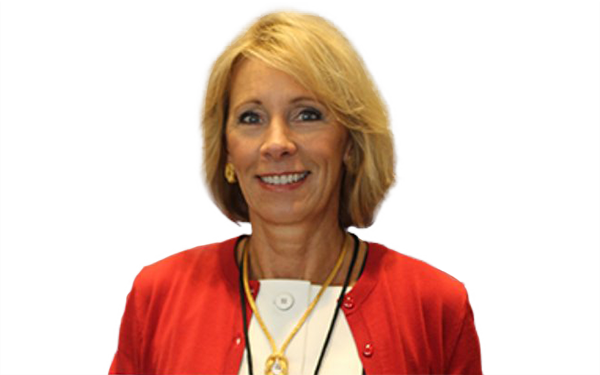 Breaking coverage of Betsy DeVos today at The 74:
Get more news on the Trump transition and analysis of the DeVos nomination;
sign up for The 74 newsletter
.
---
Shortly after 1 p.m. Wednesday, the transition team for President-elect Donald Trump announced he will nominate billionaire Michigan philanthropist and school-choice advocate Betsy DeVos to serve as his secretary of education.
"Betsy DeVos is a brilliant and passionate education advocate," Trump said in a statement. "Under her leadership we will reform the U.S. education system and break the bureaucracy that is holding our children back so that we can deliver world-class education and school choice to all families."
DeVos has never worked in the public school system but has long been active in education and GOP causes. The selection appears to reflect Trump's promise to give billions in federal funding to school-choice programs and to scale back the Education Department.
"I am honored to work with the President-elect on his vision to make American education great again. The status quo in ed is not acceptable," DeVos tweeted.
---
I am honored to work with the President-elect on his vision to make American education great again. The status quo in ed is not acceptable.

— Betsy DeVos (@BetsyDeVos) November 23, 2016
---
Together, we can work to make transformational change to ensure every student has the opportunity to fulfill his or her highest potential.

— Betsy DeVos (@BetsyDeVos) November 23, 2016
---
Here are six important things to know about DeVos's views and history.
She's a passionate school-choice advocate — DeVos helps fund or lead several organizations and initiatives that work to expand school choice through charter schools, vouchers and other forms of choice. She founded and leads the American Federation for Children, which lobbies in states around the country for voucher programs that allow lower-income students to use public funds to attend private schools.
She also sits on the board of the Jeb Bush–led reform group Foundation for Excellence in Education (ExcelInEd). In her home state, after a failed attempt to change the constitution to allow the use of school vouchers, she created the Great Lakes Education Project to promote expansion of charter schools.
DeVos's record implies support for what so far appears to be the centerpiece of Trump's education agenda: $20 billion promised to states that support charter and voucher options — as well as a president who will be the "nation's biggest cheerleader for school choice," as Trump has described his prospective presidential role. In 1993, she and her husband, Dick, were instrumental in passing Michigan's first charter school bill.
(Read More: Matt Barnum's report on what an unprecedented school-voucher expansion under Trump means)
She founded and runs the American Federation for Children — DeVos is chairwoman of the AFC, which she helped create in 2010 to lobby for state choice programs. She cites Florida's school-voucher program as the AFC's biggest success, according to an interview with Philanthropy Roundtable. In Florida, more than 92,000 low-income students use vouchers to attend private school.

She's devoted to Michigan — DeVos was the daughter of a successful industrialist and married Richard DeVos, an heir to the Amway direct-sales fortune; they are worth more than $5 billion, according to Inside Philanthropy. Their four children and spouses also have foundations, for a total of five family foundations, according to MLive.com.

She is a Republican Party stalwart — The DeVos family are strong backers of the Republican conservative platform and have donated $44 million to support Michigan's Republican Party since 1997, according to Mother Jones. DeVos served as chairwoman of the state party for six years; her husband is a former Republican National Committee finance chairman and was the state's GOP nominee for governor in 2006.
Initially, she supported Ohio Gov. John Kasich for president, casting her vote as an at-large Kasich delegate at the Republican National Convention, according to MLive.com.
She supports lifting standards, but not via Common Core — In a statement Wednesday, DeVos declared that she is not a supporter of Common Core, which she said has become a "federalized boondoggle," but rather a supporter of "high standards, strong accountability and local control." Organizations she has previously supported have advocated for the Common Core State Standards; ExcelInEd promotes the Common Core. Wednesday, DeVos also pointed to Pence's leadership in advocating for "voluntary high standards driven by local voices." When the vice president–elect was Indiana governor, his state was the first to back away from the Common Core, replacing it with newly named academic standards that are very similar in rigor. Since the start of the 2016 campaign, Trump has been vocal about his opposition to Common Core.

She and Mike Pence go way back — Though DeVos was not immediately sold on Trump, she and her American Federation for Children have long supported Pence and his work on school choice. As Indiana's governor, Pence expanded the state's school-voucher program into one of the largest in the country, extending vouchers to include middle-income students. His use of tax dollars to finance private-school tuition was challenged in court, but the Indiana Supreme Court ruled in his favor in 2013. Charter schools in Indiana grew as well under Pence. DeVos has said she counts the state as one of AFC's successes.
---
The Dick & Betsy DeVos Family Foundation provides funding to The 74, and the site's Editor-in-Chief, Campbell Brown, sits on the American Federation for Children's board of directors, which was formerly chaired by Betsy DeVos. Brown played no part in the reporting or editing of this article. The American Federation for Children also sponsored The 74's 2015 New Hampshire education summit.
The 74 is supported by donations from foundations, corporate sponsors and individuals. Our reporters play no role in cultivating financial relationships with any of our contributors. Donors do not dictate editorial content and understand that The 74 may publish content that does not reflect their views or preferences.
Get stories like these delivered straight to your inbox. Sign up for The 74 Newsletter