Tennessee Students Rebound to Pre-Pandemic Reading Proficiency
Intensive tutoring, a mandatory switch to evidence-based reading instruction and teacher training are paying off for students, commissioner says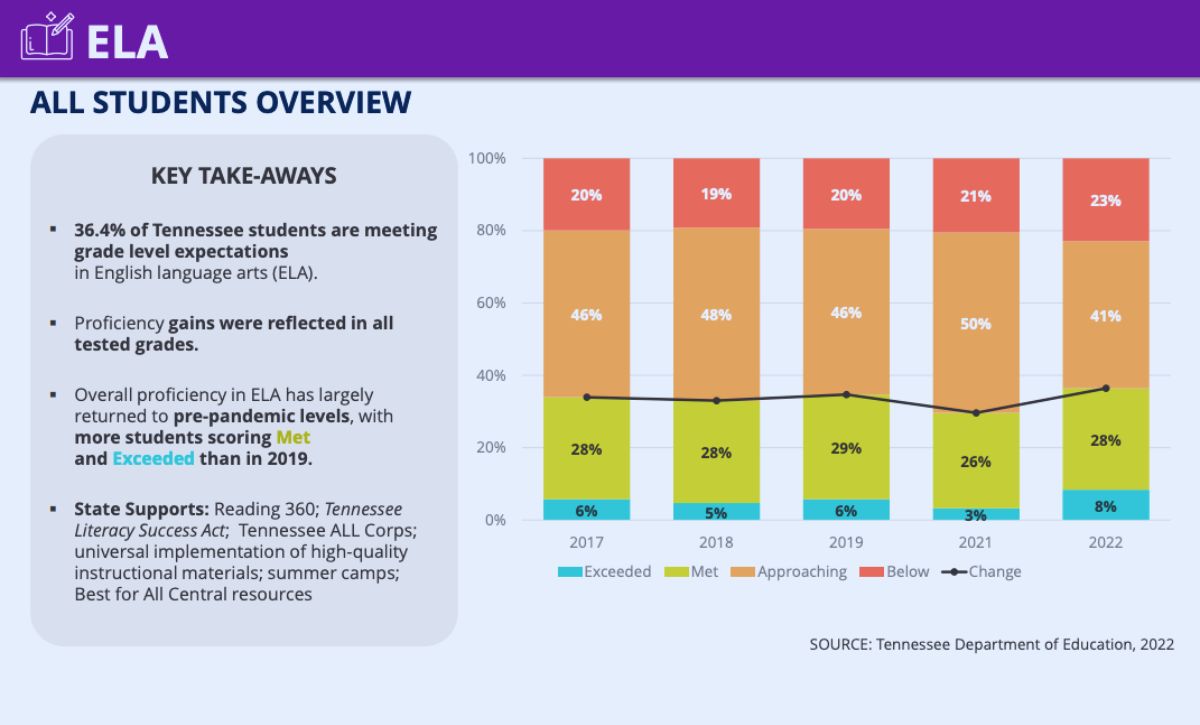 Get stories like these delivered straight to your inbox. Sign up for The 74 Newsletter
Students in Tennessee have rebounded from the pandemic's setbacks in reading, according to recently released results of 2021-22 statewide assessments. With gains in every tested grade, the number of children meeting or exceeding English language arts standards rose from 29% in 2020-21 to 36.4%.
Overall, that number is far from satisfactory, but Tennessee Education Commissioner Penny Schwinn said the new results suggest a handful of strategies implemented over the last two years to accelerate learning are working. These include a $200 million statewide program to deliver intensive, high-quality tutoring to struggling students and $100 million in grants to help schools to pay for literacy materials aligned with the science of reading, training for thousands of teachers on their use and frequent student screenings, she says. 
According to a new analysis, 77% of Tennessee districts posted reading scores that exceeded their pre-pandemic levels, and several saw double-digit increases. Math scores, while not as high as before the pandemic, rose in virtually every district from a statewide average 25% in 2020-21 to 30%.
In 2019, 36% of elementary students passed the state reading test, a figure that dipped to 32% in 2021 and then rose to 38% last year. Among middle schoolers, 32% passed the reading test in 2019, 26% in 2021 and 32% this year. High school reading proficiency was 37% in 2019, 33% in 2021 and 40% in 2022.
In 2019, 37% of all students passed state math tests, a number that dipped to 25% in 2021 and rebounded to 30% in 2022. With 98% of pupils in tested grades participating in the assessments, state education officials said they were confident that the results were a meaningful reflection of student growth.
"We are seeing this broadly across the state, and across district types — urban, rural and suburban," says Schwinn. "We are really, really proud of what our districts have done."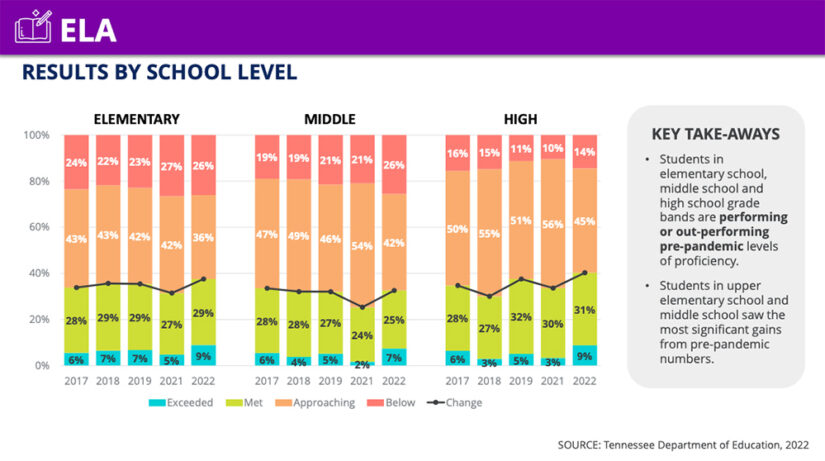 In January 2021, the Tennessee General Assembly passed several bills aimed at addressing pandemic learning losses, teacher pay and literacy. The new laws require all districts to teach phonics skills and to screen students' reading levels frequently, and mandates the teaching of evidence-based literacy instruction in educator training programs. State officials used $60 million in pandemic relief funds and an additional $40 million in federal grants to pay for local reading programs.
Some 12,000 educators participated in a first, paid round of literacy training last year, and an additional 10,000 are being trained now, says Schwinn. In addition, some 22% of the state's elementary students and 10% of middle schoolers attended four to six weeks of summer school last year.
Schwinn also credits the new Tennessee Accelerating Literacy and Learning Corps (TN ALL Corps), which matches groups of no more than three elementary pupils or four middle schoolers with the same tutor for two or three 30- or 45-minute sessions a week. The tutoring takes place during the school day and ideally is conducted by experienced educators. 
"The quality of the tutor is massive," says Schwinn. "The students who are receiving this high-dosage tutoring, they tend to be students who are not yet on grade level. And that does require a different level of skill and ability to move them from where they are to where they need to be."
A number of districts that were among the first to offer intensive tutoring saw double-digit gains in reading. Trousdale County Schools' 1,400 students posted a 15-point jump in proficiency, for example. Metro Nashville Public Schools and Memphis-Shelby County Schools each had an 8% increase.
The state splits the $700-per-pupil cost of the tutoring with participating districts, with a goal of providing up to 500 extra hours of instruction to some 150,000 students over three years.
The idea, says Schwinn, is to spend a significant amount of money on a few very targeted efforts. "Do the things that work and do them really well," she says. "Figure out what your strategy is, commit to it and just go really deep in implementation."
Get stories like these delivered straight to your inbox. Sign up for The 74 Newsletter