Tennessee Goes All in on Tutoring with $200M Statewide Program for 150,000 Kids Who Are Just Below Grade Level in English, Math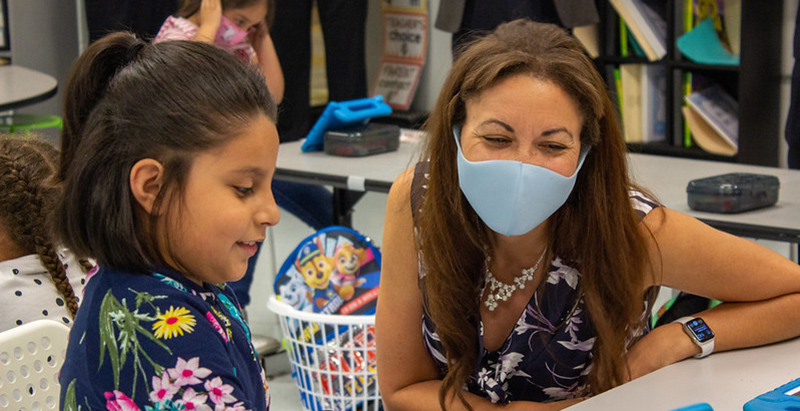 Get stories like these delivered straight to your inbox. Sign up for The 74 Newsletter
For years, education researchers have praised a specific type of tutoring as one of the best methods of educating children. So with student achievement lagging after COVID-19 restrictions and nearly $2.5 billion in federal relief funding coming this year, Tennessee is making a big bet that a statewide program offering frequent, in-person, small-group tutoring will help push a swath of students to proficiency. 
The state will spend $200 million to initiate a three-year tutoring project called Tennessee Accelerating Literacy and Learning Corps (TN ALL Corps), serving 150,000 students in either math or English language arts in 79 districts.
High-dosage/low ratio tutoring has "consistently proven to accelerate achievement as quickly as possible" for all students regardless of their demographics, age, or whether they are from rural, suburban or urban areas, said Penny Schwinn, the state's education commissioner. 
Indeed, research shows that tutoring programs that serve children in small groups with regular, frequent sessions can increase learning by up to 10 months, according to a synthesis of research by Brown University's Annenberg Institute for School Reform.
While most districts already have academic supports that cater to their lowest-achieving children, TN ALL Corps will target elementary students who are just below proficiency in reading or math. Time is of the essence: Starting with the 2022-23 school year, third-graders who aren't proficient in reading can be held back or forced to go to summer school.
One of the program's biggest rollouts will occur in Shelby County Schools, Memphis' 110,000-student district. Shelby County is seeking to hire 600 tutors to serve 7,000 students in its 160 elementary schools, said Shawn Page, chief of academic operations and school support.
The district will target math in its first semester, then switch to English. While Shelby County already has small tutoring programs that meet before and after school, its version of TN ALL Corps will take place during the school day. Though that means hiring tutors beyond the regular teaching corps, Page said this approach has two major benefits. Students who need the extra help won't have to be available outside regular school hours, and the district won't have to provide transportation outside the normal bus schedule. 
For Memphis and other districts, the state will pick up nearly half of the cost, chipping in $700 a year per student. Shelby County will pay $800 per student, making its bill for TN ALL Corps $5.5 million. Early parent reaction has been positive, Page said: "This could be a game changer for our students and district."
In all, 79 Tennessee districts will begin tutoring programs under the state's plan, Education Commissioner Penny Schwinn said. This is more than half of the districts in a state that has just shy of 1 million K-12 students. 
Schwinn said the program was designed to be flexible, so it would work across a state with both urban and rural districts. Districts can choose one subject for all their students or let individual schools decide. But there are several principles that each district will need to follow. Programs must eventually serve 15 percent of students from first to fifth grades, meet between 30 and 45 minutes two to three times a week and maintain a 3:1 student-tutor ratio. Students must stay with one subject, whether reading or math, for the entire semester. Tutors should stay with the same groups of students for the entire semester.
Districts can set up tutoring during or outside the school day, and they can use teachers, other paid employees or volunteers.
Rural Trousdale County will tutor students during school hours, mostly because "some of the kids who need it won't come before school or stay after," said Clint Satterfield, director of schools. Trousdale has 1,400 students and just one elementary school.
In Rutherford County Schools, a growing district about 35 miles south of Nashville, all tutoring will take place after school, so teachers can provide the tutoring. The state money will allow Rutherford to pay up to 600 teachers $50 an hour, the same fee they earned during summer school, said James Sullivan, assistant superintendent for curriculum and instruction.
Trousdale, which was already experimenting with tutoring before the statewide program, will look to begin immediately. "If it's good for kids, we want to do it right now," Satterfield said. 
The district has hired three extra teachers to help with the program, and the state reimbursement will allow the program to expand to three years. Satterfield said he expects that using certified teachers will offer students a seamless connection to their lessons and avoid high turnover that could happen with volunteers. 
Rutherford will begin in January, giving administrators time to hire teachers and create a transportation plan. Because the district has gained 2,000 students since the pandemic began, there has been a constant shuffling of children between its 26 elementary schools. 
While the district's lowest-performing students are already receiving skills-based intervention, this new program will slot in well for students who are just below proficiency, Sullivan said. 
Satterfield said Trousdale's tutoring aims to give students just enough help that they are ready to tackle the next day's instruction. "There's a difference between remediation and acceleration," he said. "We want to get them ready for on-grade-level material." 
In the district's early pilot, "Kids felt comfortable making mistakes and discussing them" with tutors, said Satterfield. The benefit showed up in the classroom quickly, he added, with students more willing to raise their hands and participate in class. Later assessments proved the children's performance was improving. 
"I don't know what it's going to mean at the end of the school year," he said, "but my prediction is kids will show a lot of progress."
In Shelby County, the small group size will allow tutors to create individualized learning plans for each student, Page said.
"We always say there's no silver bullets, but we're always in the market for a silver bullet," said Dale Chu, a senior visiting fellow at the Fordham Institute. Chu praised Tennessee's post-COVID plans in a recent report, but added there's no guarantee the state's grand experiment will work. While a meta-analysis of this type of tutoring finds this method effective, there's never been a statewide implementation. Key factors can range from who's doing the tutoring to how they are trained and how schools will assess student progress, Chu said. 
About one-third of the districts will start their programs this fall, with the rest beginning in January or next summer, said Lisa Coons, the state's chief academic officer. Tutoring plans vary even among similar-sized districts, she added. "I'm proud of districts using data to target their programming." She predicted the program would continue to evolve as it heads into its second and third years, giving districts more data to consider.
Schwinn added one more prediction: "Going into the next school year, we are going to get a lot of districts [who didn't begin tutoring programs] with buyer's remorse. We're thinking through strategies to allow them to find a way to participate." 
Get stories like these delivered straight to your inbox. Sign up for The 74 Newsletter