Tales from the Hallway: What My Search for a Good Wi-Fi Signal Taught Me About Learning and the Value of Listening to My Neighbors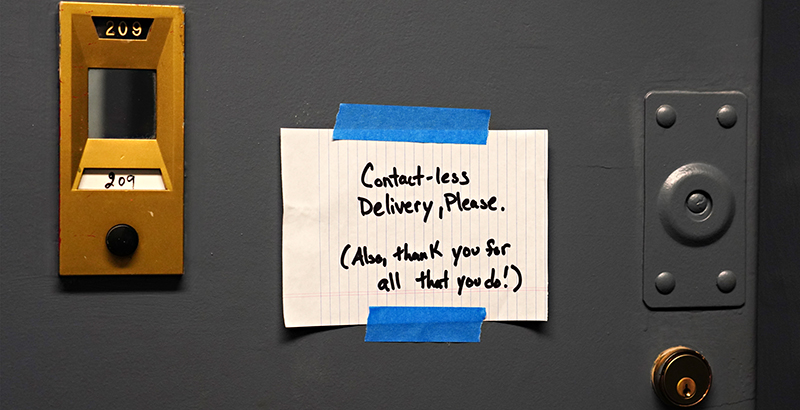 Before the pandemic, getting to school each morning felt like a neverending slog. I'd trudge my heavy backpack from the 1 Train at the City College subway station and up the hill on 138th Street to the High School for Math, Science, and Engineering — a specialized public high school based at The City College of New York. I have a learning disability. Because my visual-spatial skills are extremely weak, my education has felt like The Amazing Race: I sail through some legs, but those involving three dimensional tasks plunge me into the anxiety-inducing backroads of my disability.
Before the shutdowns, I had a fixed routine. I'd arrive at 7:15 a.m., in search of a math or science teacher holding morning office hours. Class sizes are large, and I'm sometimes hesitant to ask questions during the regular school day because some of my classmates see it as a sign of weakness. So the morning was pretty much my only opportunity to get answers. I took a total of nine classes. When school ended, I stayed until 4:15 to see if any of my afternoon teachers were available. Then the second shift of my day began with a mad dash down the hill to the subway in order to be on time for extracurricular activities located all over Manhattan and, sometimes, a different borough. When I got home at 7:30, the third shift began. I went downstairs to my apartment building's common room to access the free Wi-Fi and I spread the contents of my backpack onto the large rectangular table next to the window.
Wash, rinse, repeat.
When COVID-19 swept over New York City and the schools shut down, I was prepared to sit at my usual spot in the common room — until it closed. On that day, ominous looking yellow "caution" tape obstructed the front door. After noticing that other common rooms, as well as the local library and coffee shop in my neighborhood, closed due to the pandemic, I knew I was stuck.
About my building: You could say I'm well-off compared to many students in the New York City public school system. Nearly seventy percent of the students in the city are at or below poverty level. I know many of those students struggle more than me due to poor Wi-Fi and a lack of devices. But even in my relative affluence, I am not immune from internet headaches. Because my bedroom lacked reliable Wi-Fi, I needed a quiet place with a stable signal to log on to my classes. I was unable to focus in the living room, where my father's booming voice resonated throughout our small apartment during his frequent conference calls. Knowing that the strongest signal came from our front closet, I set up base camp outside in the common hallway, diagonally across from the elevator. For the rest of the school year, and much of the summer, I'd bring my portable desk and office chair into the hallway to complete my schoolwork.
There were tradeoffs. Because my school day ended two hours earlier than usual, I had more time to process my coursework. When I went to an actual school, some of my overcrowded classes had more than 80 students and frequently, not enough desks; now I had a desk of my own. As a result, the background noise that filled my brain during my large in-person classes was replaced by something quieter.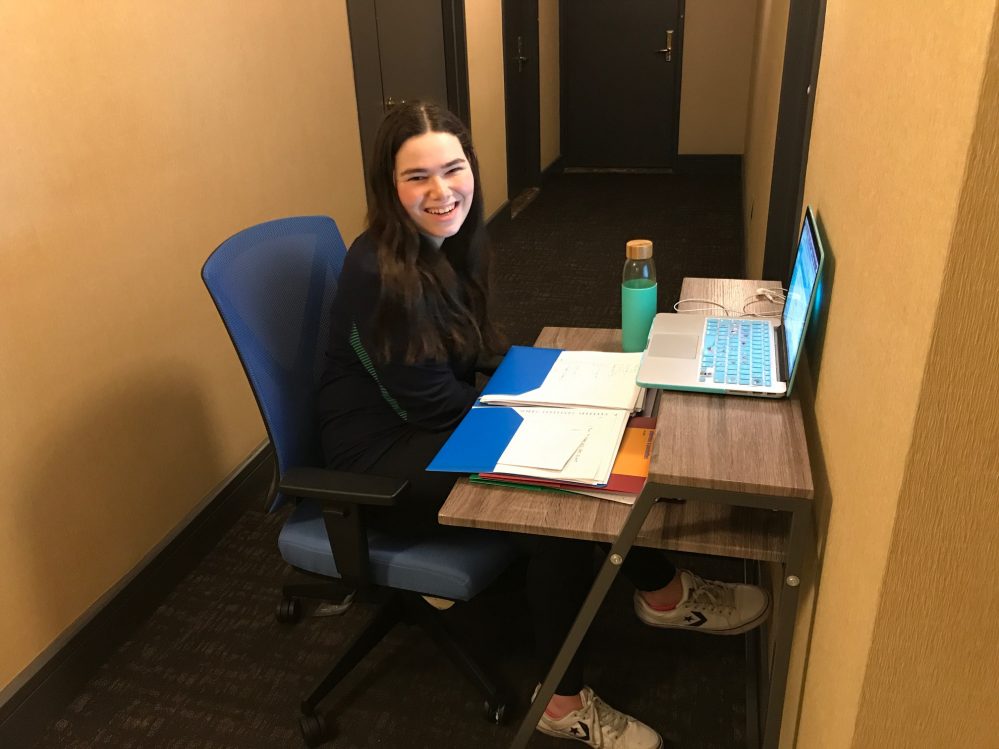 And then a strange thing happened: I began to listen. You can hear everything in the hallway. I heard snippets of conversation from nearby apartments: marital arguments, frustrated parents, stock trades, kids engaging in homeschooling, and, of course, a symphony of barking dogs. I became more interested in my neighbors. I opened up about my learning difference, as I spent hours every afternoon with my Princeton Review AP Calculus review book trying to learn material that seemed so intuitive to my classmates.
Those books became conversation pieces as my neighbors waited for the elevator. I learned that almost every one of them had some sort of academic "backstory." For example, one neighbor told me about how lost she felt in high school calculus and how she subsequently shied away from math in college. Another informed me of his dread of standardized tests. These stories comforted me and allowed me to have "real" conversations at a time when we were discouraged from interacting with friends in-person.
I also got to know the building's staff. While I could have (and probably should have) been asked to leave the hallway, I was encouraged by the staff to stay and "study hard." The staff knew that education was the key to advancement in the United States. I learned one of them, a service technician, had been an engineer in the Dominican Republic, and knew some calculus concepts better than I did. When I was struggling to comprehend volume with the Washer Method of revolving objects, for example, he converted the spatial concepts to language that catered to my strengths. Another staff worker's daughter was studying in her building's stairwell. During this time, I realized that working in the hallway provided me with a passport to conversations that went beyond "hello" and "have a good day."
As the months dragged on, I became a fixture in the hallway. During school days, my teachers and classmates adjusted to seeing delivery persons dashing through my background on the way to my next door neighbors. I made a mental note of which restaurants in our area were open for take out. Upon devoting two hours each afternoon to calculus, I realized that I had gained a greater focus and was able to learn the material. In Covid-time, my loaded march became more of a quiet stroll.
Towards the end of the summer, my parents switched from cable internet to a different network that provides coverage to the entire apartment. I now use my room for Zoom because it's safer than being outside in the hallway or the common room. But I miss regularly seeing my neighbors. While I still get enthusiastic "hellos" and bits and pieces of conversation through the elevator rides to and from the lobby, I yearn for the small moments. Like the time one of my neighbors sat with me for the afternoon because she was afraid of being alone during a tornado warning. She huddled outside her apartment a few feet from me as she nervously scrolled through her phone for weather updates. I have come to know and appreciate the humanity of my neighbors, and our conversations have transformed from discussions about the weather to thoughts about college choices and where we might find ourselves after the pandemic.
My time in the hallway may have had a deeper impact in terms of my academic future. While I ended up getting a top grade in calculus at my science and math school, I've decided upon a new major once I get to college: sociology.
Ilana Drake is a senior at the High School for Math, Science and Engineering in New York City.
"Pandemic Notebook" is an ongoing collection of first-person, student-written articles about what it is like to live through the coronavirus pandemic. Have an idea? Please contact Executive Editor Andrew Brownstein at Andrew@The74million.org.
Support The 74's year-end campaign. Make a tax-exempt donation now.