Survey: Nearly Half of Students Started Last Fall Below Grade Level — Usually in Math and Reading — but Tutoring Remains Elusive
Only 1 in 10 students received the kind of high-dosage tutoring experts believe is most effective in reversing learning loss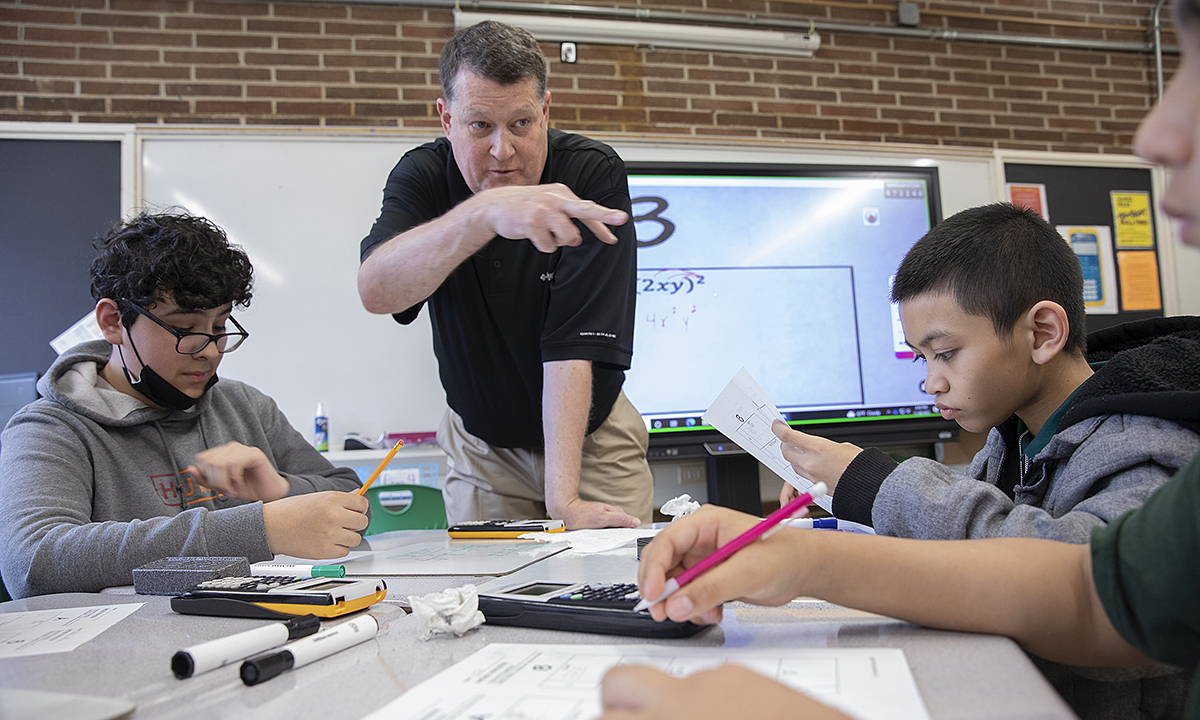 Support The 74's year-end campaign. Make a tax-exempt donation now.
Nearly half of the nation's students entered school last fall below grade level in at least one subject, most often in reading or math, according to new data released Thursday. 
That's essentially unchanged from last school year, but significantly worse than before the pandemic, when only 36% of students started school off track, the National Center for Education Statistics has found.
Additionally, over 80% of the 1,026 schools that responded to the the latest School Pulse Panel survey said they're providing some form of tutoring to help students catch up. But the latest post-pandemic snapshot reinforces the sense that the pace of academic recovery remains slow. 
"We've got a long road ahead of us," said Rachel Hansen, a project officer at NCES.
Districts have about a year and a half left to decide the best way to use their share of $189 billion in federal pandemic relief funds. And with the clock ticking, some experts question whether districts will be able to have a measurable impact on learning loss. About half of the administrators who responded to the latest survey said they're spending relief funds on providing students with extra academic support and training staff to become tutors. But the survey, conducted in December, showed that just 1 in 10 students nationally received high-dosage tutoring.
Students are "not the same level of ready" they were before the pandemic, said Beth Lehr, assistant principal at Sahuarita High School, south of Tucson. "We had a major world event that upended a whole bunch of different things."
Some students in this year's junior and senior classes missed entire semesters of a course during their early high school years, when the pandemic was at its peak. The district tweaked its existing credit recovery program to allow those students to learn the material and graduate on time. 
The NCES data found that schools are employing a variety of recovery strategies to get students back on grade level, including using assessments to identify their needs (88%), covering material students missed (81%) and holding longer classes (29%). Schools were least likely to extend the school day (19%) or extend the school year (10%). 
The latest installment also provided a detailed look at schools' efforts to implement high-dosage tutoring, which Stanford University researcher Susanna Loeb called the "best approach that we know for accelerating students' learning" because it offers students help from "an adult who knows them, cares about them and has the tools to address their needs."
She has been tracking the implementation of large-scale tutoring efforts across the country as part of the National Student Support Accelerator and called the survey results "the most comprehensive information out there" on how schools are addressing learning loss.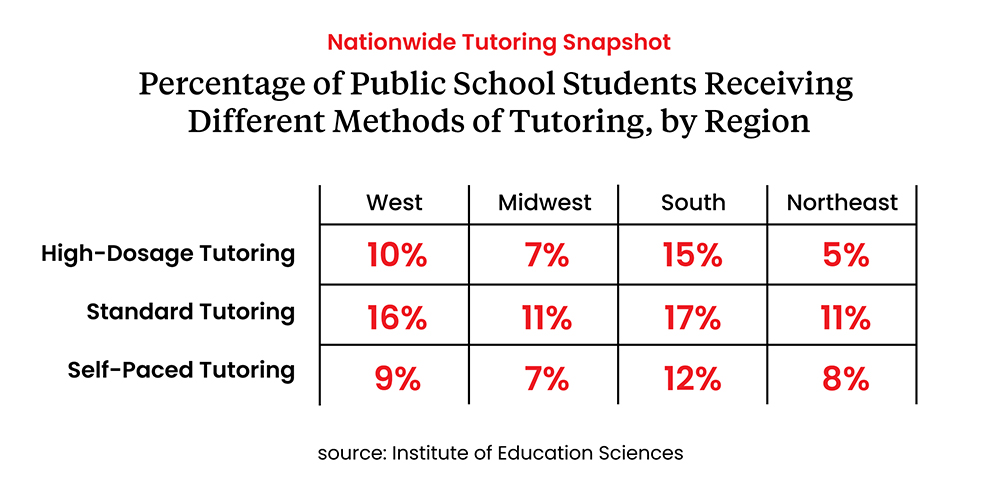 More than a third of schools (37%) say they offer high-dosage tutoring, defined as at least a half hour of one-on-one or small group instruction three times a week with a trained educator. But less than a third of students in those schools participate, according to NCES.
Schools offering a high-impact model primarily lean on existing staff — teachers and aides — to provide it. And they're more likely to schedule sessions during the school day, 64%, compared with 51% after school.
"Our teachers are our experts," said Michael Randolph, principal at Leesburg High School in Leesburg, Florida, where about 150 to 200 students participate in tutoring sessions throughout the week. He said teachers have been willing to put in the extra time because they see the payoff.
His school combines tutoring with twice-a-week remediation sessions added to the schedule the year COVID hit. He thinks those efforts contributed to the school ending last semester with the lowest number of D's and F's since he became principal six years ago. 
But some schools responding to the survey faced ongoing barriers. Forty percent said they can't find tutors and 49% said that even with relief funds, they lack the funding to hire them.
Lehr said it's been hard to get teachers to add tutoring to their plate because they are "almost on empty." If they're "tapped out," she added, it doesn't make sense for them to tack two more hours of work onto their day for another $50.
Schools that are more likely to offer high-dosage tutoring, the data shows, serve elementary students, have high poverty rates and high minority populations and are located in cities. There are also regional differences, with schools in the South offering the most high-dosage tutoring (15%) and those in the Northeast offering the least (5%).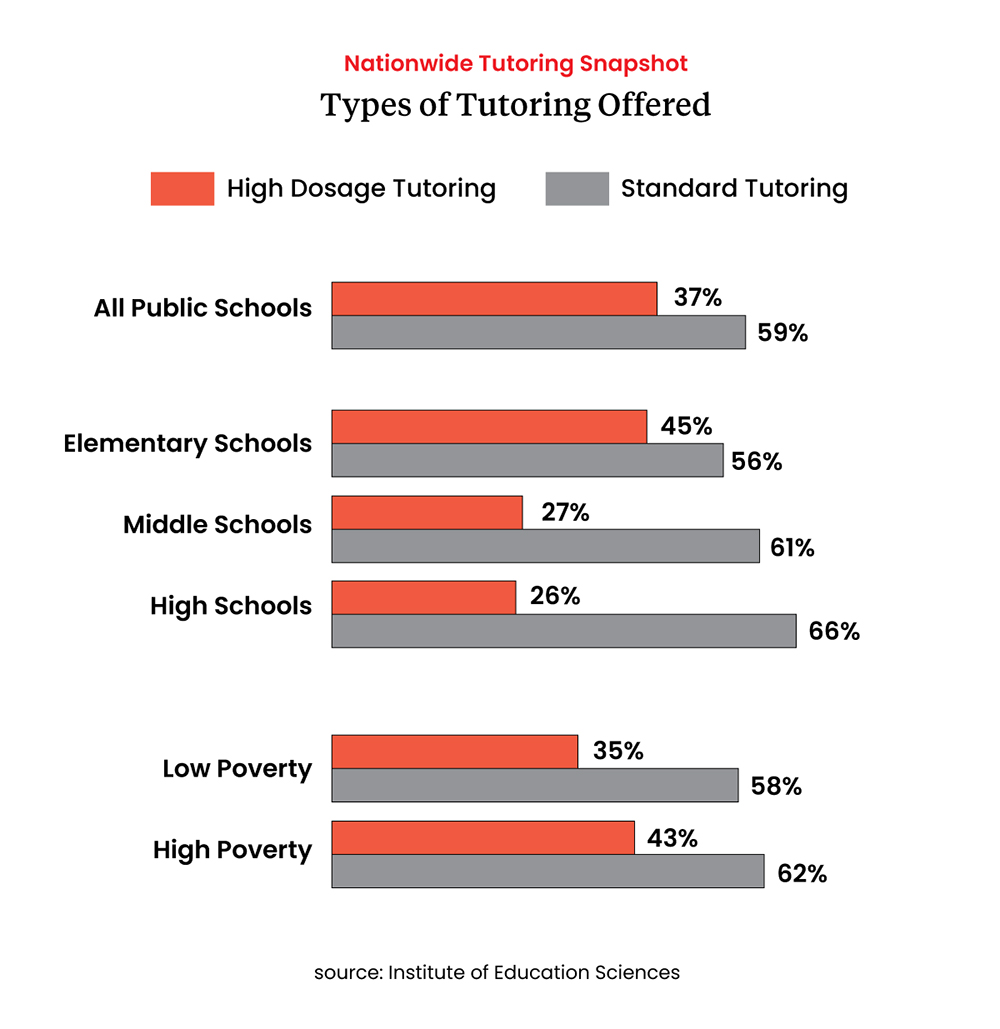 Fifty-nine percent of students receive what the researchers described as "standard" tutoring, which might still be in small groups, but not as frequent. And 22% have access to "self-paced" tutoring from an online provider.
Those services are "useful supplements" for students who might need a little help in a subject area, Loeb said, but the less-intensive approaches are unlikely to "alter the trajectories of students who have disengaged in school or who have fallen far behind academically."
Randolph, at Leesburg High, said he thinks the best decision his district made with relief funds was to add a night school to accommodate students who still work jobs they took during the pandemic. The school has received $250,000 a year to run the program, but when relief funds run out, Randolph said he'll have to find another way to fund it. About 50 students participate. 
"A lot of our students took entry level jobs and became contributors to their households," he said. When remote learning ended, he said, many students would have dropped out. "This has maintained students' ability to stay in school."
Support The 74's year-end campaign. Make a tax-exempt donation now.