Superintendent's View: In Arizona, Collaboration with Our State's Public Universities Is Helping K-12 Students Succeed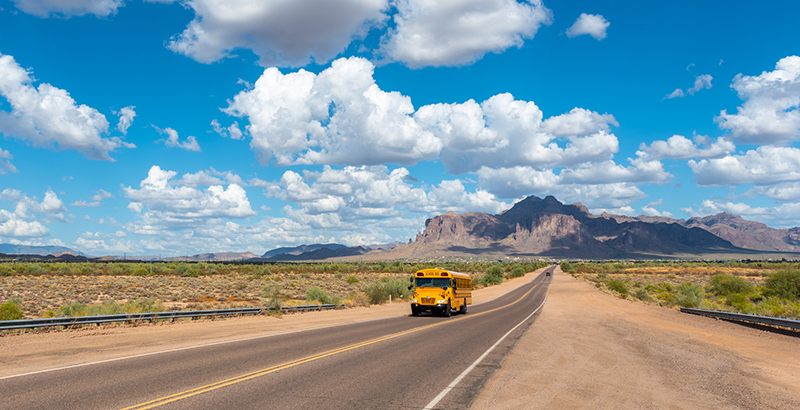 Support The 74's year-end campaign. Make a tax-exempt donation now.
For too long, Arizona students and teachers have lacked appropriate funding and access to high-quality tools in the classroom — particularly in critical areas of mathematics, science and technology. A decades-long, systemic underfunding of our state's public education system left students and teachers unprepared to meet 21st century demands, even before the devastating impact of the pandemic.  
But the challenges brought on by the COVID-19 pandemic have more than proven the value of funding robust education systems that work together to support students at every stage of their educational journey — from early childhood to K-12 classrooms to postsecondary opportunities. In Arizona, a strong collaboration with our state's three public universities has enabled us to leverage much of our federal recovery funding to accelerate student learning with new resources, initiatives and high-quality professional development opportunities for educators across the state.
Last summer, as schools geared up for the first full year of learning during a pandemic, we knew educators needed extra support and training to meet the needs of students engaged in remote or hybrid learning — skills that had never been necessary for the average K-12 educator. We also knew our partners at Arizona State University are experts at delivering high-quality instruction in online or hybrid environments through ASU Prep Digital, their fully online K-12 school.  
By leaning on ASU's expertise and experience, and by using our federal recovery funds and funding from other state and philanthropic partners, we quickly launched the Arizona Virtual Teachers Institute. This online professional development program provides educators statewide with opportunities to learn the skills needed to thrive in new teaching environments and meet students' varying needs — at no cost to them or their schools. As of last month, over 13,000 educators at more than 1,200 Arizona schools have participated in the program.
Our collaboration with university partners has grown with this new school year. Two other programs we have supported with federal recovery dollars are specifically aimed at accelerating math knowledge among vulnerable students and already paying dividends for our schools.
The Getting REAL (reengaging aspirational learners) program at the University of Arizona's Center for the Recruitment and Retention of Mathematics Teachers weaves together professional development in both math education and social-emotional learning. The program, targeted at learners who missed more than 60 percent of school last academic year, helps teachers reengage students with foundational math skills, boosting their confidence that even if they're behind, they can build on what they do know and be confident in their math abilities. 
ASU Prep Digital's Math Momentum program, designed to boost math and digital literacy skills in middle-schoolers, serves 5,000 students at over 40 schools severely impacted by the pandemic, with plans to expand further over the next three years. The program's resources can be customized based on schools' and students' needs. Every school participating in Math Momentum is provided with a dedicated, certified virtual math educator. Additional supports vary depending on a school's needs. In some cases, ASU provides a virtual math teacher and an instructional assistant, facilitator  or long-term substitute on site who provides additional instructional support in overcrowded classes. In schools with sufficient certified math teachers on staff, learning coaches from ASU work with and assist them in delivering engaging lessons adapted to each student's learning needs. 
While Arizona's state universities have been in a great position to help support the existing educator workforce, they are also training hubs for the state's future teachers. To that end, we are focusing on long-term strategies to address systemic challenges facing our education system.
For example, Northern Arizona University AZK12 Center's New Teacher Support program is addressing our state's teacher shortage by helping to keep novice educators in the classroom. The program provides dedicated and trained instructional mentors for new teachers during their first three years in the classroom, and a recent investment of $2.5 million in federal funds has expanded the program's capacity from seven districts to 22, allowing the center to fund all qualifying applications this year. The 22 districts represent communities disproportionately impacted by the pandemic, as well as rural and remote areas with long-term educator recruitment and retention issues. 
Many of those rural and remote schools are in districts on Native American reservations, which often face even steeper challenges, including in recruiting and retaining educators, than the rest of the state. While hiring can be difficult for these districts, data shows us that teachers who are invested in their communities stay teaching in them longer. That's why we've invested in the Indigenous educator preparation programs offered by all three state universities, so we can build a better pipeline of Indigenous teachers to serve in these communities.
If we have learned anything over the last 18 months, it's that recovery and long-term success rely heavily on collaboration. Our agency's ability to move quickly to respond to both longstanding challenges and those exacerbated by the pandemic was possible because of our strong relationships with our higher education partners. I look forward to deepening these relationships — and developing new partnerships with many more agencies and institutions — to better serve Arizona's educators, students and families for generations to come.
Kathy Hoffman is Arizona superintendent of public instruction. 
Support The 74's year-end campaign. Make a tax-exempt donation now.