Student Voice: Pandemic Attendance Crisis is About More Than COVID
When I was hospitalized, I learned about chronic absenteeism firsthand. It's not just a health issue. It's about lost friendships and burnout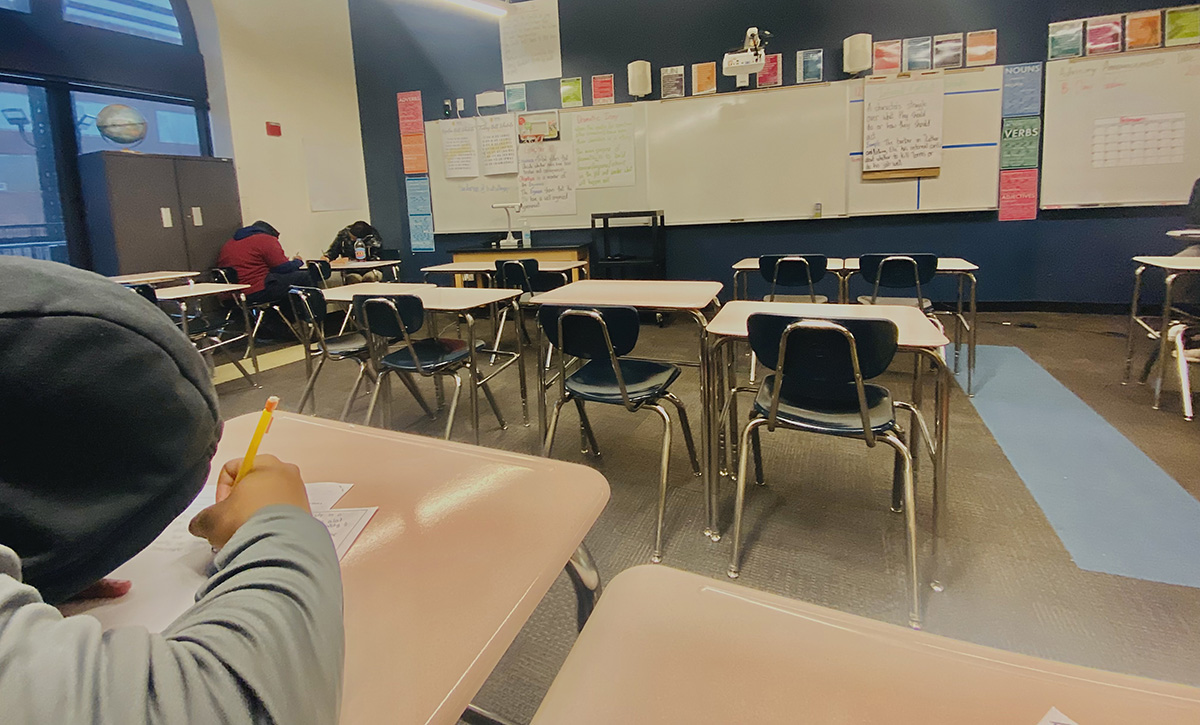 Get stories like these delivered straight to your inbox. Sign up for The 74 Newsletter
When it comes to students missing class, most people think it's about COVID, and COVID only. But in reality, it's more than that. Some students had trouble making friends, and some had no friends at all. Some, like me, struggled with certain classes. And then the number of absent students began to breed more of the same: Some students weren't going to show up if their friends weren't there. It gave them motivation not to come as well.
I got sick with COVID on November 8, two days after homecoming. The sickle cell disease I have heightened my symptoms, and I was in the hospital for about three weeks. The symptoms were really bad, some of the worst pains I've ever experienced: excruciating headaches where I felt pain in my eyes, and feeling like I couldn't breathe.
During my time in the hospital, I was incapable of completing work. All of my grades dropped. I had a 3.5 GPA at the start of the year, but a 1.7 when I was released. I felt left out and kind of dumb, but I knew I had to get back in the grind.
This whole experience opened my eyes to some of the reasons parents were scared to let their children come to school.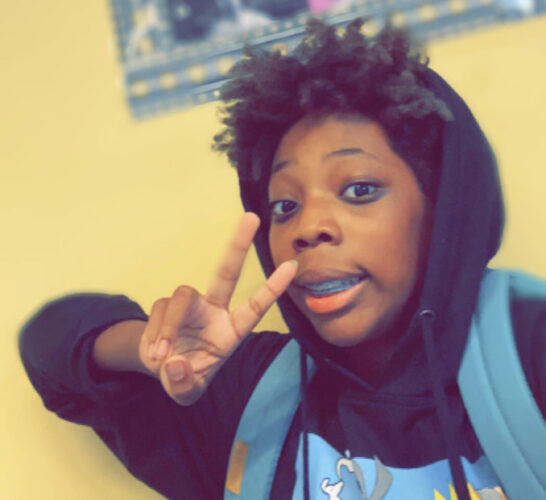 But COVID wasn't the only reason attendance tanked at my school. I heard from other students that they weren't coming because they didn't have any friends. They were too nervous about developing friendships. Some of them were coming straight from the 8th grade of virtual learning into a strange new high school. It's hard to adapt to a new school that not only has a different culture, but an entirely new experience of learning.
When we started school on September 3, 2021, everyone was really excited for a fresh start at DRW College Prep, where I was a junior. It felt good. Things were finally normal for a second, and I had the grades to prove it.
We were given new rules to follow but also additional freedoms. We could wear jeans! We had new uniforms! We could have phones in class! At first, it was smooth, but then things started to unravel. We started to hear loud noises in the hallways from student altercations, which continued throughout the year.
Once the rules settled in, everyone got used to them — and learned how to abuse them.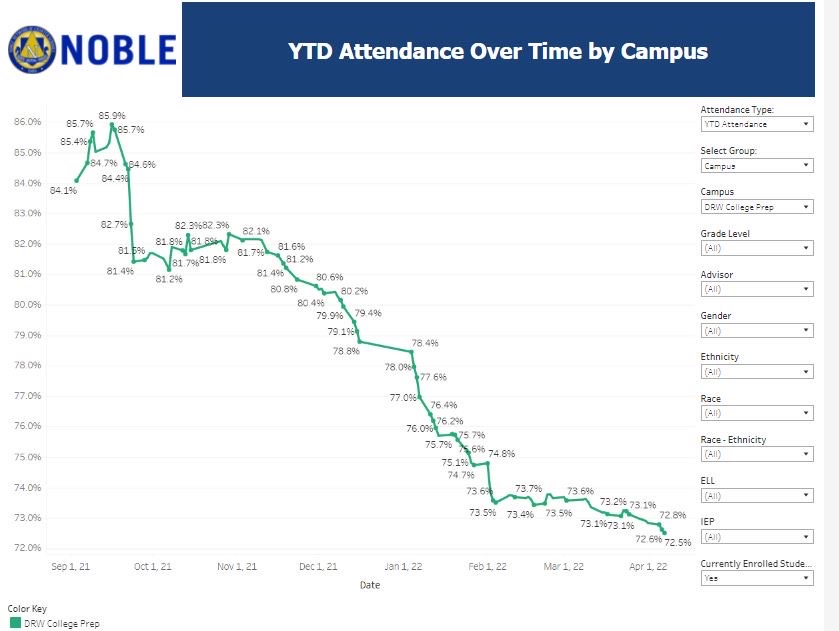 That's when attendance started dropping. Attendance at Noble Charter Schools, which my high school is a part of, dropped from 84 percent in September to 72 percent in April 2022.
Some kids weren't coming to school because of high COVID rates. Students were scared, and so were their parents. My friend Davion didn't come to school for a month and a half because his mother was scared he'd get sick.
Some of my friend's parents were worried their kids would go to school and bring the virus home. My friend Burnett has a 2-year-old brother he has to take care of. That's why his mom was afraid to let him go to school. For young caretakers, getting COVID puts the whole house at risk. When my mother and sister had COVID, everyone had to quarantine.
It was difficult to go to school when I knew some of my classes would be half empty. The social aspect just wasn't there. Plus, when you notice your peers aren't coming more than three days a week, you start to worry about them. I want to graduate with my friends, but it's impossible if they don't pass. This makes me feel helpless. I can't help my friends if they aren't at school. We planned to go to college together, but this might be a real problem if they can't graduate with me.
Not only that, our time management abilities were thrown off when we were virtual. When we took classes at home, we woke up later. Now, it's been hard to wake up on time and get ourselves to school. I have to wake up at 6:30 a.m. and be out of the house by 7 to make it to the Division bus, which takes me from South Austin to North Lawndale. I then switch to the always-packed-with-students Homan bus that takes me to school. I travel with my younger sister, and we usually don't arrive until 8:20 a.m., 25 minutes after we're supposed to.
And to be honest, another reason we weren't going to school was that at first, it felt like we weren't learning anything. There was a lot of repeat material from last year, like 10th grade math. Once students realized this, they checked out. My friends said, "We already learned this, so I don't need to be here." Some started to develop an outside life, like getting jobs, and only came back temporarily.
"I feel like the lessons somewhat have been all over the place because sometimes kids have not been paying attention and not learning," said Tamyra Buckner, who is in 10th grade.
But sometimes, the lessons in some classes were too hard. We felt like we weren't prepared, which also gave us an excuse to not want to show up. A lot of the time, I would procrastinate going to math because I knew it would be stressful.
"I think students aren't coming to school because some teachers are not making it worth the students' time," said Connor Showalter, a math teacher.
Absenteeism has been so bad at DRW College Prep that students were told attendance was exempt from our transcript, which was not surprising since so many of my classmates weren't there. But that only gave students an extra reason to not show up when they were simply not feeling school.
Students coming in and out of school when they feel like it can take a toll on teachers, too. When theater arts instructor Donier Tyler realized that her class kept getting smaller, she had to cancel the planned play for the semester, Twelve Angry Men.
"Students are still caught in the mode they were in during quarantine," she said. "It has made all of us lazier and harder to adjust back to 'normal.' Our cycles were off for a year and a half. It's hard to wake up like normal."
And it's hard for teachers to give a grade when no work is being done. Seeing so many F's is a sad sight, she said.
Also, it has become far too easy for students to call the school and say they have symptoms. My friend Shaun Taylor, who's in 11th grade, said teens "feel like they can take advantage of the system."
I 100% agree with that. The teachers are aware of the problem, and they are listening to our voices. I would like to see administrators listen more as well.
Now, heading into my senior year, I feel that I should help resolve the problem of students not attending school. My friends and I want to start a student government because we don't have one. We want to work to make DRW a better place before we leave.
Andre Young is going into his senior year at DRW College Prep in Chicago. This story was produced as part of the Medill Media Teens journalism program for Chicago Public School students at Northwestern University. The writer worked under the mentorship of Medill graduate Jane Vaughan.
Get stories like these delivered straight to your inbox. Sign up for The 74 Newsletter