Starting My Teaching Day at 3:30 PM and Sharing Friday Movie Nights With My Students: Bringing Joy To Remote Learning in Rural North Carolina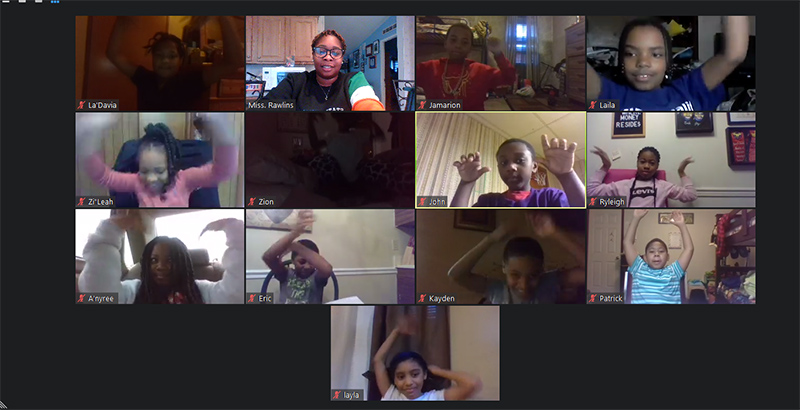 There is no way around it. This year has been difficult to adjust to, but we are making the best of what is happening. I am so used to being hands-on with my students and families in this part of rural North Carolina that not being able to have in-person contact with them throughout remote learning has been challenging.
But my colleagues and I try every day to make every lesson as joyful as we can. We sent students letters, made signs for their yards saying "We miss you" — whatever it takes to let them know that we are still here, that we are still working together. The classroom environment might have changed, but the expectation to learn in my third-grade class, and the love I feel for my students, has not.
As much as I would love to transition back to in-person learning, that doesn't look likely any time soon. Halifax and Northampton counties are both considered to be extremely high risk for COVID-19, based on cases per capita and test positivity, which, as of Feb. 15, was at 14 percent for Halifax County and 9 percent for Northampton. So we've been focusing on making remote learning as sustainable as possible.
We went from distributing instructional packets in a 93-mile bus route throughout the spring and summer to fully remote learning by prioritizing funding to ensure that all students had access to a tech device (tablets for K-2 and Chromebooks for 3-12), as well as distributing hot spots for students in the deepest rural areas. If it's windy or there is a storm, the Wi-Fi freezes up, but I am comforted by the fact that most of the time my students can log on, access their work, and see their classmates virtually. Teachers who have confronted connectivity issues of their own are able to come to the school building to access the internet and our administration gifted us with an extra screen to help us see our students on Zoom and utilize other platforms we use during our teaching time.
We are still delivering meals to our families weekly, and I can't thank our bus drivers and cafeteria staff enough for being on the front lines and making sure our students are fed and ready to learn.
At KIPP ENC, we adapted to the needs of parents who have younger students in elementary and middle school grades. In a town where many parents work in the textile industry, their shifts vary from morning to night shifts, so we divided the classes into remote shifts too. I work the afternoon shift now, and my students log on at 3:30 p.m. to start their day and after small groups and homework help is finished, I end my day at 7:30 p.m. This is the only time their parents can be home to support them in their learning. We call each other and text often to answer questions and help each student complete their assignments. As a KIPP alum myself, I know how important it is for families to know that if their student needs help, I can be there to answer questions.
The biggest shift for me has been the amount of time I have with my 18 students now that we are teaching virtually. I have had to condense 90-minute blocks of math and literacy content into 30 minutes, so my lessons have a laser focus on what matters most. It's taught me that every minute counts, so I am going to teach my heart out during those minutes.
As a teacher, it's so hard seeing some of my students struggle and not being able to sit across from them face-to-face, put a hand on their shoulder and say, "It's OK, we're going to get through this." I am really grateful for our guidance counselor who joins my classroom every other week to teach my students breathing exercises, plans fun activities, and checks in on how students are faring in this new environment.
I also cherish my school's "family huddle" each afternoon, where all the teachers gather to share announcements and shout-outs via Zoom. Each grade level has literacy and math meetings two days each week to discuss how to better serve students virtually when it comes to the content we teach. I know I am not alone in finding new ways to engage our students. We do it as a collective. We do what we can to keep all of our students and families engaged. And we have a lot of fun, too. I have Friday movie nights with my students where we watch a movie together or just socialize, so it is not always about doing their work.
I've never as an educator felt so appreciated by my families. They realize more than ever how much hard work goes into teaching. When I see my students and families at the store, it physically brings tears to my eyes, but I give them an elbow bump and remind them that we are in this together.
I count my blessings that this is the second year that I've taught the Class of 2030, and they can read me like a book. Sometimes they say, "Hey Ms. Rawlins, you are not smiling. It's gonna be okay—see, we are smiling, so go ahead and smile too." My students are the bravest students that I have ever met. For them to go through something so traumatic and still make it to virtual class with a smile on their face ready to learn, really pushes me to keep going and continue to bring joy into my lessons, even if it is through a video chat.
Get stories like these delivered straight to your inbox. Sign up for The 74 Newsletter