Special Blend: Run by New Orleans Students With Disabilities, rOAst Serves Up Hope — and Great Coffee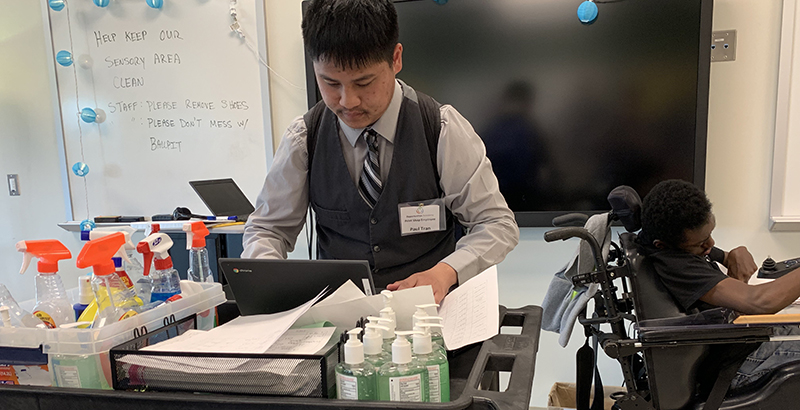 Things have gotten decidedly upscale at the little coffee shop located in George Washington Carver High School, starting with the name. tOAsty's — motto: "We just want to warm you up!" — has been rebranded as rOAst. The conceit common to both names, the capital O-A combination, is the school's shorthand for Opportunities Academy, the student program that runs the New Orleans coffee shop.
OA was launched three years ago by Louisiana's Collegiate Academies network of schools as a way of serving special education students who need transition services, the legally mandated programming that helps prepare 18- to 21-year-olds with disabilities for life after high school. Talk of college is present in virtually every aspect of the culture in Collegiate's schools, and a staff member thought to create a transition program that looked as much like college as possible.
At tOAsty's, the inaugural OA class served a decent, if less than robust, brew in plastic mugs, learning communication, simple math, meal preparation and other skills that would help the handful of young people enrolled lead lives that would be as independent as possible.
The spirit of the enterprise lives on, but rOAst takes things to a whole 'nother level. The Mr. Coffee has been replaced by French presses, pour-over filters and a Keurig — outfitted with refillable pods, of course. Student baristas know the grind for each, as well as the finicky steps for preparing espresso.
Skills polished, a number of OA students have gone on to complete externships with businesses ranging from corporate giant Hyatt, which pours a river of coffee at Starbucks outposts in its hotels, to homegrown favorite Ma Momma's House of Cornbread, Chicken and Waffles.
In August, OA will move into a former elementary school building in the Central City neighborhood. It will still be part of the Collegiate network, but it will operate as a stand-alone school with its own charter.
The shift is significant for many reasons. Previously, potential students had to know that OA existed, something that wasn't always easy to find out when it was a program within a particular high school. Eligible students who somehow found out about it would have to apply to the high school where it's located, facing the same odds of admission as students seeking a seat in a general education classroom.
Now, eligible special ed students from anywhere in Orleans Parish can apply for admission via the district's global enrollment system, OneApp. There, they will not be competing with their typically abled peers for space.
As of mid-July, it had already enrolled 73 students for the 2019-20 school year. The Orleans Parish School Board weights its per-pupil allotments, providing schools with more funding for students who require higher levels of service, including those in special education. This should help OA expand to meet demand.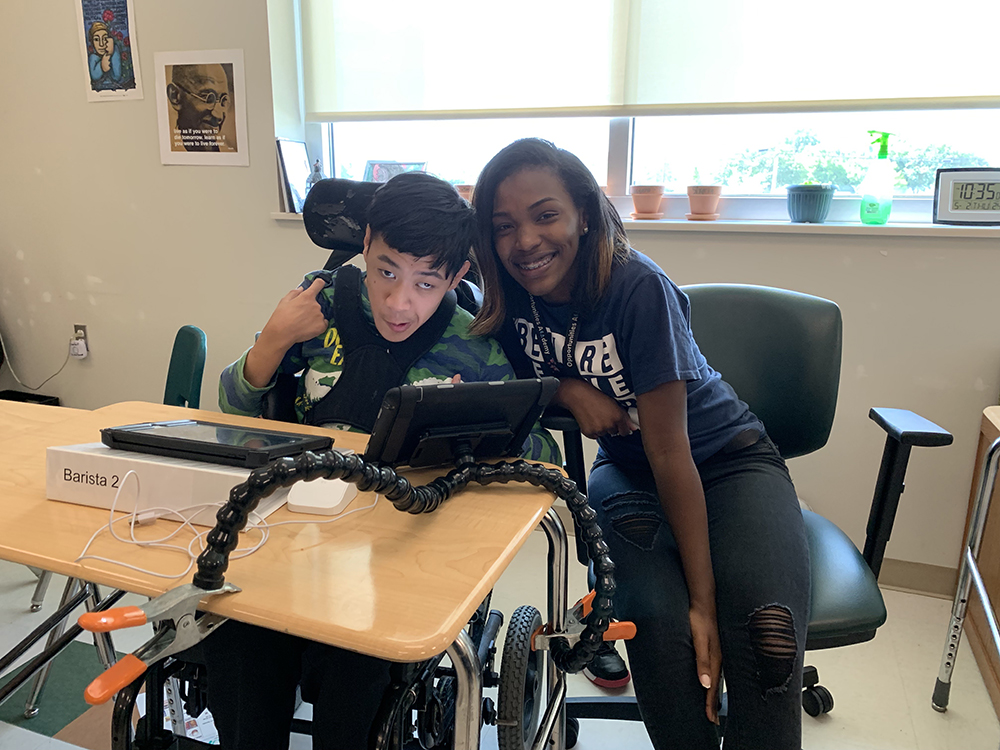 It's a giant leap forward for New Orleans youth with disabilities who are aging out of the school system in a city where social services are scarce. Under federal law, special education students who complete four years of high school but still need support getting ready for higher education, a job or independent living can remain in public schools, for free, until their 22nd birthday. Technically they don't graduate; they just continue on in a status known as transition.
Though they don't get a diploma, Collegiate's transition students have always participated in end-of-school ceremonies with their classmates, unfurling OA T-shirts on Signing Day as graduates reveal their postsecondary plans. With the program now becoming a stand-alone school, however, its students will enroll on a new campus — the same rite of passage their typically abled peers enjoy.
"It will be a real postsecondary program with its own identity," said OA Executive Director James Lukens. "Our students won't be walking back into a high school."
Lastly, the move to independence means the new school will be accountable for its performance. Students who stay on in transition services will no longer mean a lower graduation rate for Carver, and OA will be held responsible for its students' progress.
This is no small thing. Special education programs too often set a low bar for academic and other achievements. Nationwide, just 8 percent of students with disabilities are proficient for their grade in reading and math even though research shows that 90 percent are capable of meeting the same academic standards as other students.
In 2001, four years before Hurricane Katrina, just 5 percent of New Orleans students with disabilities graduated from high school. In 2010, the Southern Poverty Law Center filed a class-action suit over special education conditions in New Orleans schools, resulting in a 2014 settlement committing the district to tracking students served.
In 2016, as the city's education leaders were trying to figure out how to provide transition services — typically highly specialized — in a district composed largely of stand-alone public charter schools, the education incubator New Schools for New Orleans gave a grant to Collegiate Academies, then the operator of the most successful open-enrollment school in the city, to support the creation of a transition program pilot.
In August 2016, tOAsty's opened in a classroom just inside Abramson Sci Academy's front door, with 11 students. Restaurants were still scarce in the decimated New Orleans East neighborhoods nearby, so the coffee shop took orders and delivered to school staff.
Fast-forward three years, and Neptune Nguyen has gone from working on communicating his needs using an iPad to taking online orders from teachers and visitors at Carver, where the program relocated during its second year.
Orders come in via an app called Square, which, in addition to being simple to use, is rapidly becoming a coffeehouse industry standard. Nguyen enters customers' names and, assuming they are in the building, their room numbers into rOAst's system, which notifies another student to make the requisite cups of coffee.
The class clown, Nguyen likes to prank Lukens, adding trail mix to some of Lukens's orders and giant tips to others. The two lime LaCroix sparkling waters teacher Angel Augustine ordered for delivery on a recent morning, however, were processed without hijinks.
Rather than estimating what students are capable of, which runs the risk of imposing a demoralizing ceiling, OA staff start with individuals' ambitions. "The least dangerous assumption is to assume they can do 100 percent [of a task] on their own and then scale back as supports are needed," said Lukens. "Staff should be attentive without being intrusive."
rOAst shares space with a print shop run by transition students that handles everything from teacher paperwork to classroom visual aids and laminated materials. Impeccable in a suit and tie, student Paul Tran oversees the work. His strengths, he says, are "taking responsibility and making sure my co-workers do their jobs."
Tran already has a job independent of OA, reshelving books in two local libraries. By contrast, many of his classmates will need intensive, structured support to make the transition to job sites outside the school. When the program expanded to externships in workplaces besides coffee shops, staff began pounding the pavement, visiting potential sites that were accessible by public transit.
"We've reached out to anyone, talked to anyone we knew who had a business," said Lukens. As employers accepted students, he added, "we saw a snowball effect with the externships. As we had demonstrated success, it got easier to place students."
Ma Momma's House of Cornbread, Chicken and Waffles is one of OA's most rigorous placements; students perform multiple tasks in a single shift. At Logo Express, a school uniform store a short trip from Carver, tasks are simpler and more rote. On a Friday morning near the end of the last school year, Alton Crouch and Jered Chriss were folding dress pants, checking to make sure they were organized according to waist size and that the tags were visible.
An OA job coach watched from a corner of the store in case the students had any confusion. But Crouch, 19, was quick to articulate Logo Express's expectations for his interactions with guests: "When a customer comes in, I say, 'Hello, how do you do? How can I help you?'"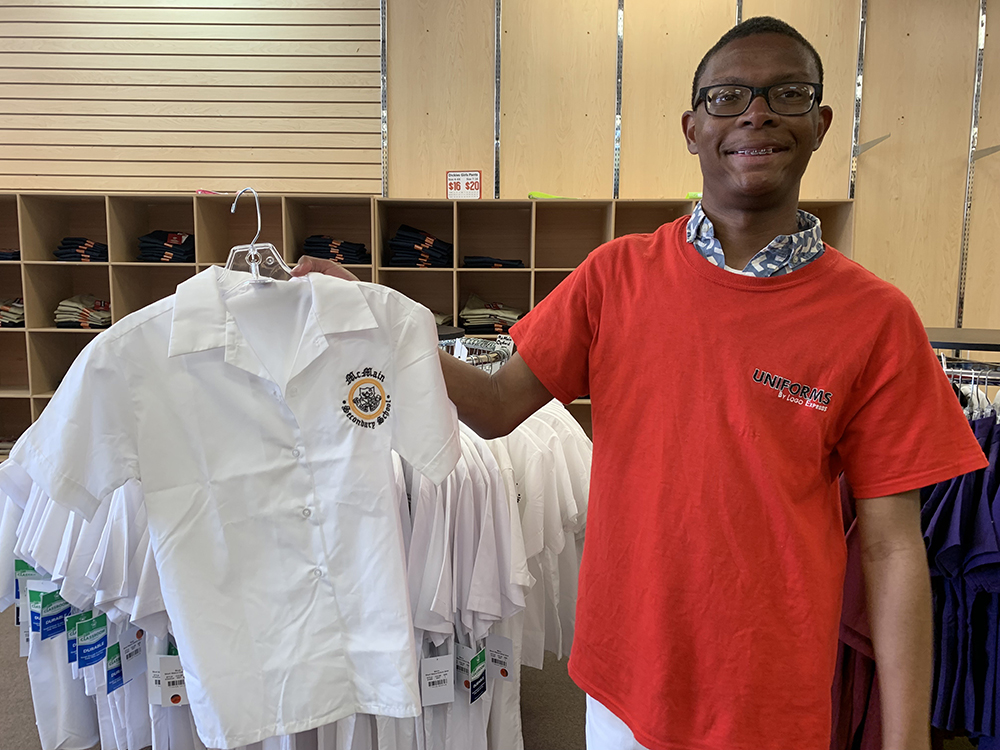 Blue tags identify clothes in girls' sizes, and red tags, boys'. A series of binders contain pictures of uniform options for each participating school. Making sure pants are hung with their creases preserved, by comparison, is a challenge.
Special education funding trails costs everywhere. Even though Louisiana Rehabilitation Services reimburses the program for up to 240 hours of workplace training each year and virtually all OA students qualify for Orleans Parish's maximum tuition reimbursement, Lukens has to fundraise to balance the budget.
Right now, OA has a staff of 26, which includes six teachers, four administrators, a dedicated speech language pathologist and physical therapist, and support from an occupational therapist shared with Collegiate's other schools. Louisiana State University provides mental health services, which are virtually impossible for students with disabilities, which come with unique psychological issues, to find on their own.
It's all still far from satisfactory to Lukens. Last year, for example, one OA graduate who went on to an independent job got support from a caseworker for three months, but then his eligibility for state help ran out. The student made it for three more months on his own before giving up — a preventable tragedy, in Lukens's eyes.
If he had the money, Lukens would lengthen the services provided. "It is crucial that we extend our program past [age] 22," he said. "There are students who, given a few more years, could work a job independently."
Lukens's ultimate dream: to employ OA alums. "The students who enroll with us are capable of so much more," he said. "We want to see them learn as many skills as possible."
Get stories like these delivered straight to your inbox. Sign up for The 74 Newsletter