Seen and Heard: NYC Mayor Bill de Blasio and Schools Chancellor Richard Carranza Tout 3-K Expansion, Tour Schools on First Day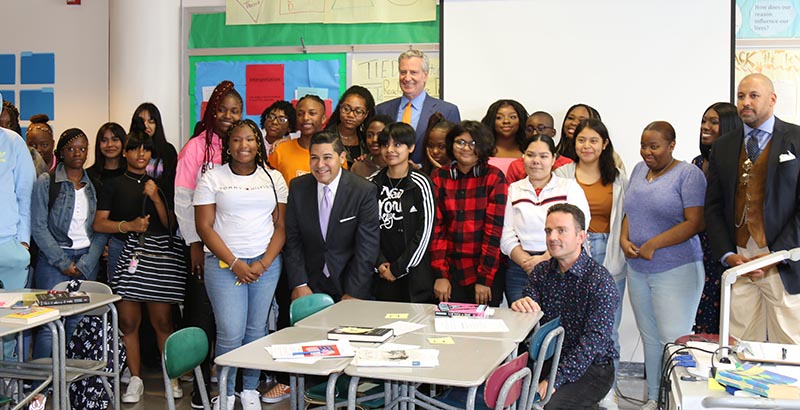 Mayor Bill de Blasio and Schools Chancellor Richard Carranza kicked off the first day of school touting the expansion of "3-K for All" into all five boroughs before popping into a few high school classrooms across the city.
Here are some of the highlights of their tour:
Richmond Pre-K Center (Staten Island)
Thursday marked the grand opening of the Richmond Pre-K Center — the first "3-K for All" program on Staten Island. The mayor's signature initiative provides free, full-day education to 3-year-olds and currently enrolls nearly 17,700 children across 12 local districts.
One by one, youngsters — one wearing sparkly pink and blue bows, another with a Spider-Man backpack — trickled in, holding their parents' hands. A few stopped to listen to a piano player who was singing renditions of "Baby Shark" and "Twinkle Twinkle Little Star." De Blasio and Carranza then took part in a formal ribbon cutting.
Only one kid is putting in some effort here ? pic.twitter.com/M1ZZYoTzbf

— Taylor Swaak (@tswaak27) September 5, 2019

"For years and years and years in this city and all over this country, we missed that whole window [between birth and 5 years old]" in education, said de Blasio, speaking to reporters shortly afterward in the center's basement. "Now the city of New York is focused on reaching our youngest kids and really making sure that they grow."
De Blasio and Carranza then opened the floor for general questions. A few highlights:
● One reporter asked for comment on a motion filed in federal court Tuesday that claims city education officials have blown the legal deadline to help students with disabilities at least 1,000 times. Carranza said he hadn't read the documents but insisted that "we have taken this issue seriously" and that it's "top of the agenda for us."
● De Blasio and Carranza declined to provide a time frame for approving any of the Student Diversity Advisory Group's recommendations — one of which is the contentious proposal to phase out gifted and talented programs. De Blasio said they expect "a long period of reviewing [the advisory group's] work."
● De Blasio said he'd like to see more collective attention citywide paid to a "central question": How can we make every school a good school?
See all of the news conference questions and answers here. Read the transcript here.
Urban Assembly High School of Music and Art (Brooklyn)
In a nod to one of the school's specialized focuses, visitors were greeted by a student duo riffing on a piano and guitar.
There was an audible "Oh s**t!" from one student as de Blasio came through the door of a 10th-grade AP Language and Composition classroom. De Blasio and Carranza sat down with students as they discussed an "America to Me" questionnaire: whether they think America "is a land of equal opportunity" and whether they "feel a loyalty" to the U.S., for example.
"I agree," a student told Carranza in response to where her loyalties lie. "I was born here."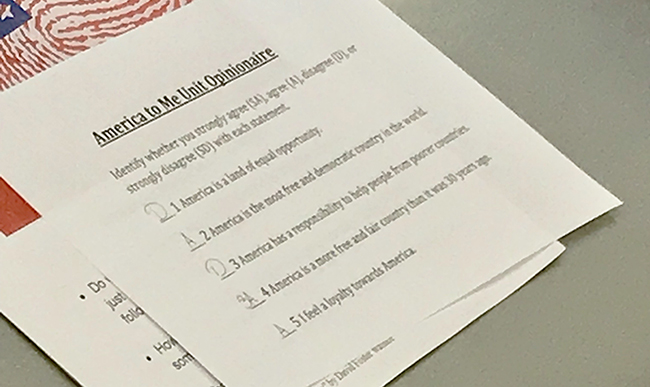 Bronx Leadership Academy II (Bronx)
Carranza and de Blasio then joined a sophomore class at the Bronx Leadership Academy II as they worked through Algebra II quadratic functions.
"Did you help them get the right answer?" one reporter asked Carranza as students filed out after. "No," he said, laughing.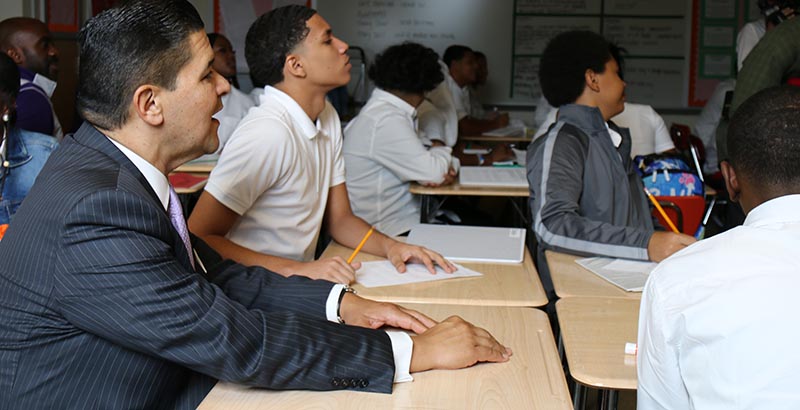 The academy is one of the 60 schools participating in the Bronx Plan, an education department initiative that aims to recruit and retain teachers in hard-to-staff schools, in part by offering them more money. Before leaving, de Blasio spoke briefly with staff about streamlining the process for prospective teacher visits.
"We want to get more teachers to come here, and we have to make it easy for them to experience [what it's like to be here]," de Blasio said. "Most people want to experience something before they come in."
Newcomers High School (Queens)
In one of the final stops, Carranza visited student ambassadors at Newcomers High School to talk about how the education department is supporting immigrants academically, the growth of LGBTQ-inclusive curricula and mental health resources. All of the ambassadors were multilingual, from 14 different countries. The more than 900 students at the school are all immigrants.
Carranza, who is Mexican American, also spoke about overcoming challenges as an EL learner himself in his early school years. He emphasized that speaking a native language other than English is an asset, not a deficit.
"Some of [what was initially an obstacle for me] was my thinking, 'Urgh, English isn't my first language, can I compete with all these students whose first language is English?'" he said. "And the answer very quickly became, 'Absolutely I can compete.'"
Carranza, who is Mexican American, also spoke about overcoming challenges as an EL learner in school.

He would ask himself, "Can I compete with all these students [who speak English as a first language]? The answer very quickly became, 'Absolutely.'" pic.twitter.com/TLkHV1duwc

— Taylor Swaak (@tswaak27) September 5, 2019
Get stories like these delivered straight to your inbox. Sign up for The 74 Newsletter