Rotherham: Restaurants Innovated as a Result of COVID-19. Education Largely Did Not. In Our Relief Over the Pandemic's Coming End, the Opportunity May Slip Away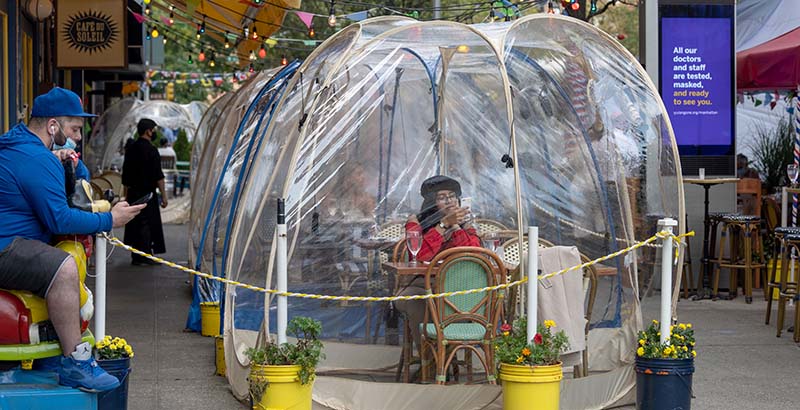 Despite the country's tumult, with a new year, new administration and new vaccines, U.S. schools and the organizations that support them are already beginning to use gossamer language to describe next school year. We'll rebuild with equity, or reimagine the system. We'll dismantle and disrupt. Only the most timid call for just a redesign.
Be skeptical. For the most part, the proposals range from warmed-over versions of old debates to ideas that will not survive contact with the real world. More importantly, this sense of relief or forward momentum — which ignores the fact that millions of Americans are still very much in the midst of health, economic and education crises — is a signal that the country wants to move on. Paradoxically, the risk now may be less that we don't come back from the pandemic educationally than that we snap back and move on so fast that the actual challenges to a more equitable education system are swept aside in our collective relief.
The challenges U.S. schools are facing are in part caused by the compromised political calculus that kept most schools closed and most bars open. It's becoming increasingly obvious that the anemic response to learning during the pandemic is the consequence of an ossified education system with an outdated ethos that was unable to nimbly respond to the crisis.
Some gyms and restaurants innovated as a result of public-health guidance and opinion. For the most part, education did not. Instead of starting from the goal of serving the nation's most vulnerable students — those already on the margins academically, homeless, with learning disabilities, without regular access to technology or the internet — districts and states focused on putting a broken system online and forced teachers, families and students to be resilient and innovative instead. To the extent there was innovation — parent-led learning pods or efforts to let families pursue other online options — the public education establishment generally sought to squash rather than support them.
So what now? The irony, of course, is that we desperately do need to reimagine an education system that is inexcusably inequitable and leads to diminished lives for millions of Americans. And we need big ideas about how to go from a system that requires students, teachers and families to be extraordinary in order to thrive to one that is itself extraordinary — nimble, resilient and equitable.
But what if we should not start with new policies or practices? Perhaps most immediately, we need new perspectives and ideas and more openness to both.
First, we must start living by the oldest education trope around: There is no silver bullet. No faction, ideology or interest group has the market cornered on the right ideas. And, in a diverse country like America, with a decentralized political system, there is not a single answer anyway.
Second, progress demands collaboration with those with whom we disagree. Historically, the left and the right have brought important ideas, innovations and values to the education conversation. Education policy traditionally has created odd bedfellows. No Child Left Behind saw President George W. Bush and Sen. Ted Kennedy working hand in glove. Charter schools and school choice brought together social justice-oriented leaders on the left and market adherents on the right. The standards movement was birthed in no small part because of a bipartisan group of governors and two presidents, George H.W. Bush and Bill Clinton. Today, the absence of big-picture, across-the-aisle efforts is a sad reflection of the times.
The pitiless conversation around teaching and learning during the pandemic is a good example: On the political left and from teachers unions, adult politics and ransom demands — sometimes about money but also about unrelated political issues like charter school moratoriums — dominated the school reopening debate. On the right, even as the limits of a market-based education system and technology became plainly apparent, we still hear more about school choice than the various kinds of support students and schools will need to recover and catch up. Meanwhile, 3 million students have vanished from the nation's schools, and multiple analyses show the potential of a generation-changing learning loss for low-income American kids. There are ideas from across the ideological spectrum and from a diverse array of stakeholders that offer promising ways forward, yet those ideas sink in today's political quicksand.
Third, we must foster renewed respect for empiricism and more skepticism of ideologues and create more spaces where those with a genuine commitment to pluralism, evidence and equity can work together. Among the casualties of our postmodern and alternative-facts political dialogue, political polarization and a click-driven media is too much distortion of what we do know — and too little attention to how we can learn more. On the range of hot-button issues from reading or testing to school choice and teacher effectiveness, evidence is the first casualty of an unmoored political debate. A debate, it must be noted, frequently detached from the everyday concerns of parents.
Change is deceptively challenging to implement for the large, decentralized and hyperpolitical education system we have. The system is designed to be resistant to change, which is sometimes a benefit — bad ideas bounce off as often as good ones. But as we are seeing during COVID-19, it's also a liability in a rapidly changing environment and an enormous problem for anyone concerned about equity in education.
Interact, innovate and learn is probably not much of a political rallying cry or a way to collect the coveted red hearts on social media. And it's the least efficient way to come up with better solutions for policy and practice — except for all the others.
Andrew J. Rotherham is a co-founder and partner at Bellwether Education, a national nonprofit organization working to support educational innovation and improve educational outcomes for low-income students, and serves on The 74's board of directors. In addition, among other professional work, he is a contributing editor at U.S. News & World Report, writes the blog Eduwonk.com, teaches at The University of Virginia and is a senior advisor at Whiteboard Advisors.
Get stories like these delivered straight to your inbox. Sign up for The 74 Newsletter