Rotherham: Matt Damon Seems Blissfully Ignorant of Many Things. So Why Should We Listen to Him on Schools?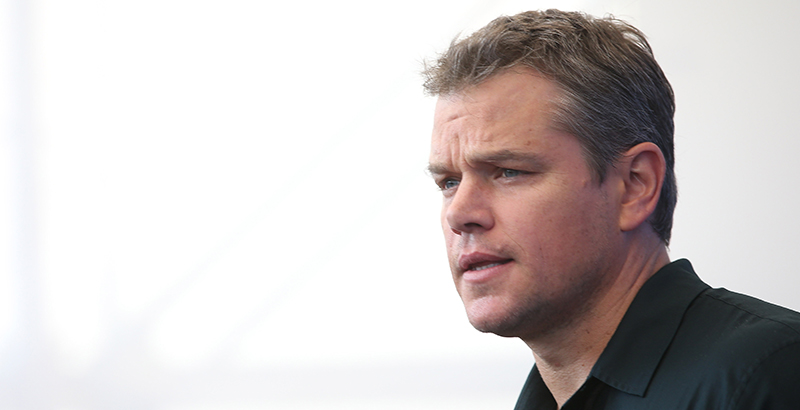 Why would you take school advice from Matt Damon?
The Oscar winner is coming back to the education world. It's a part he's played before: outraged defender of public schools. This time, Damon narrates an anti-school choice documentary, Backpack Full of Cash, that was supported with teachers union cash, among other funding. Reasonable people can disagree about choice policies, so go see it, don't go see it, whatever.
But when it comes to the film's celebrity narrator, you might want to ask yourself: Why would you take education advice from this man?
As a refresher, we last saw Damon on the education scene when he was complaining that there was not a single traditional public school or public charter school in all of Los Angeles that was progressive enough for his kids, so they'd have to go private. This was obviously nonsense, and the Los Angeles Schools superintendent was quick to offer to personally show Damon some of the available options.
I don't begrudge someone in Damon's high-profile position wanting private school, if for no other reasons than security and privacy. The question was whether others should have that choice, given his emergence as an anti-reform folk hero. Here at The 74, Chris Stewart pointed out that the issue wasn't so much hypocrisy as Damon's weaponizing of his own ideology to hold others back. In any event, the entire episode was strikingly disingenuous — and more than a little disappointing for those of us who naively hoped the actor was at least a little bit like his character in Good Will Hunting.
Now, in some bad timing for the education documentary, Damon is back in the news because of his close relationship with disgraced movie producer Harvey Weinstein. Damon was accused of pressuring The New York Times to kill an unfavorable story about Weinstein or his enablers in 2004. Damon denied trying to kill that story about sexual misconduct, and the facts seem to support his version of events. But in the process of distancing himself from the toxic Weinstein, Damon pleaded ignorance about the entire Weinstein pattern of behavior last week with the lawyerly (read weasely) claim that had he seen any "predation," he would have stopped it.
Here we go again. As we're learning, many in the industry — and, as it turns out, in Damon's orbit — knew about Weinstein's behavior. You didn't have to actually see it to know it was going on. Damon's protestations that he just wouldn't stand for this sort of thing grew even hollower when one of his closest friends, Ben Affleck, admitted to the same sort of behavior a few days later. And, of course, there are the persistent accusations that Damon pressured media outlets to go easy on harassment claims against his old friend Casey Affleck during his Oscar campaign this year — for a film Damon produced. Damon was also featured on a mock poster flattering a friendly media outlet in what's said to be an effort to manipulate the press in Weinstein's favor.
So, sure, maybe Damon is genuinely ignorant of the bad behavior all around him. Or perhaps the Oscar winner (and five-time nominee) is simply not wise to the ways of Hollywood. But as more and more (and more) reports emerge charging that Weinstein engaged in a pattern of sexual harassment that was one of Hollywood's open secrets, Damon seems like one of the few to be caught by surprise.
In other words, his protestations of ignorance seem as disingenuous as his claim that his family, with their exceptional means, had no possible alternative to private school. Still, let's give Damon the benefit of the doubt and assume he was the one person in the film business who didn't know what Weinstein was up to. I'm surely not going to take my educational cues, let alone parenting advice, from someone that unaware of what's happening all around him.
You might want to think twice, too.
Support The 74's year-end campaign. Make a tax-exempt donation now.