Rotherham: 5 Ways the Midterm Elections Will Have Major Implications for Education Reform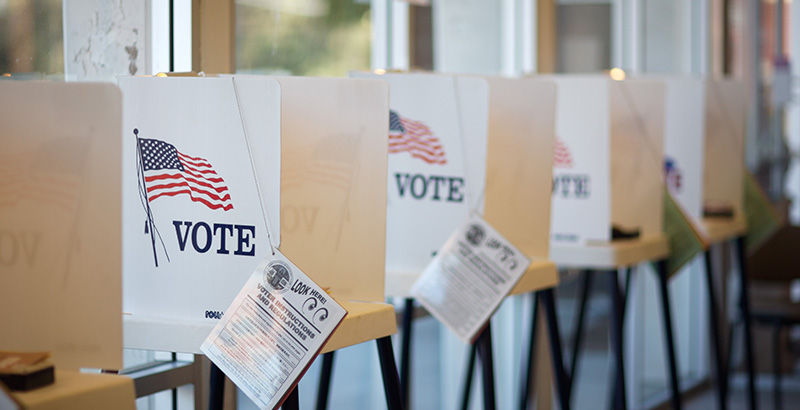 American voters delivered a mixed verdict Tuesday. The House flipped to Democratic control, an unsurprising outcome given the political demographics and voter concerns about health care — a top Democratic priority — this cycle. Republicans made gains in the Senate, aided by a favorable map and fallout from the Kavanaugh Supreme Court confirmation fight. Races for governor were a mixed bag, but while marquee Democrats fell short, the party did pick up several important governorships in the Midwest, an outcome with 2020 implications.
Missing? Education. Sure, Minnesota's new governor was a teacher and the new governor in Wisconsin was previously state education chief there, but despite the hype and the strikes, this midterm election turned on dynamics other than schools.
Still, that doesn't mean the outcome won't affect education policy. Here are five things to watch:
Reality Show Presidency Rolls On
I'm no fan of President Donald Trump, but objectively speaking, he did not have the awful night Tuesday you might have expected given his conduct over the past two years. He heads into 2020 in a relatively strong position, with the big variables being the Mueller investigation and the economy. His base is not going anywhere. In statewide races where Trump acolytes went head to head with progressive Democrats, they fared pretty well. Meanwhile, a divided Washington will play to Trump's chaos-theory approach to politics and expose Democratic political liabilities. Whatever your politics, this is probably bad news for education because it means more theatrics than policy unless schools can get traction by edging into the slipstream of larger issues like infrastructure. Nationally, look for Department of Education officials to be dragged in front of plenty of hearings, as well as some debate on higher education.
Money
There is always a lot of talk about how voters really want to pay more for schools. Then, results at the ballot box call that sentiment into question. There were some wins on funding Tuesday, but measures in states like Oklahoma, Colorado, and Utah went down. Revealed preferences, anyone? It's a good reminder that K-12 schools must focus on productivity measures, because fiscal pressures — notably including pension and health care costs and their downward pressure on teachers' cash compensation — mean the past few decades of spending increases do not likely indicate a future trend. Still, keep an eye on how some of the new governors from both parties navigate campaign promises around teacher pay.
Inclusion
Turns out again that Americans are more tolerant than you might have heard on Twitter, where specific episodes dwarf larger trends and divisiveness is a growth industry. Measures with education implications — for instance, fair treatment for transgender Americans or the continuation of Oregon's sanctuary policy — were supported by voters in referendums. Criminal justice reform did pretty well, too, in states like Louisiana and Florida and against overall favorable backdrops for Republicans. In other words, more opportunities to build coalitions around issues than some of today's political rhetoric reveals. Education reformers should take note.
Guns
About 1 in 10 voters told exit pollsters that guns were their top issue. (That's better than education fared!) But guns trailed issues like health care and the economy as voter concerns. There is no reason the Democratic strategy of making guns an issue in the suburbs and spinning up parents won't continue — and won't continue to overlap with schools.
Rural-Suburban Divide
The suburban-rural schism in American politics is only getting deeper. A key story of this election is how Democrats made inroads in the suburbs and the rural bulwark held for Republicans. That's why Democrats made strong gains in formerly purple states like Virginia, where they picked up several House seats. It was also a dynamic in several key Senate races — there were not enough rural voters in Nevada to save the Republican there, but Democratic Sen. Claire McCaskill could not overcome those headwinds in Missouri.
That's a cleavage that education reformers ought to think about. Ed reform has always struggled in the suburbs and among white college-educated voters — and reformers don't have much to say to rural voters, either. So as Republicans seek to regain suburban traction heading into 2020, don't look to them for a lot of help. It's an open question whether an evolving Democratic Party will compete for rural votes or just write them off and focus elsewhere.
Related to rural, you never want to read too much into a single race, but in Kansas's 3rd Congressional District, voters elected a rookie politician with a fascinating biography that includes a law degree from Cornell and mixed martial arts experience. She's also a Native American, and for all the self-satisfaction in the education world about "wokeness," Native students somehow remain consistently overlooked even as 9 in 10 are in traditional, largely rural school districts. Fresh voices on Capitol Hill on behalf of these students are a welcome sign.
In fact, "overlooked" is really the theme of the 2018 midterms when it comes to schools. There was plenty of noise and plenty of education groups engaged in various races, but education was for the most part not a high-leverage issue. Structurally, the landscape going forward doesn't augur well for attention to schools, either. As both political parties redefine themselves, schools are largely a sideshow in those conversations. Within the education world, that means the divisive macro politics rather than specific education questions are driving the conversation. And for education reformers, it means the window for political traction will continue to get smaller absent compelling new ideas and arguments.
Andrew J. Rotherham is a co-founder and partner at Bellwether Education, a national nonprofit organization working to support educational innovation and improve educational outcomes for low-income students. He is a senior editor at The 74 and serves on the 74's board of directors. In addition, among other professional work, he is a contributing editor at U.S. News & World Report, writes the blog Eduwonk.com, teaches at The University of Virginia and is a senior advisor at Whiteboard Advisors.
Support The 74's year-end campaign. Make a tax-exempt donation now.