Roemer: New Orleans's Unique New District Strengthens Schools & Empowers Parents. It Must Not Repeat Political Mistakes of the Past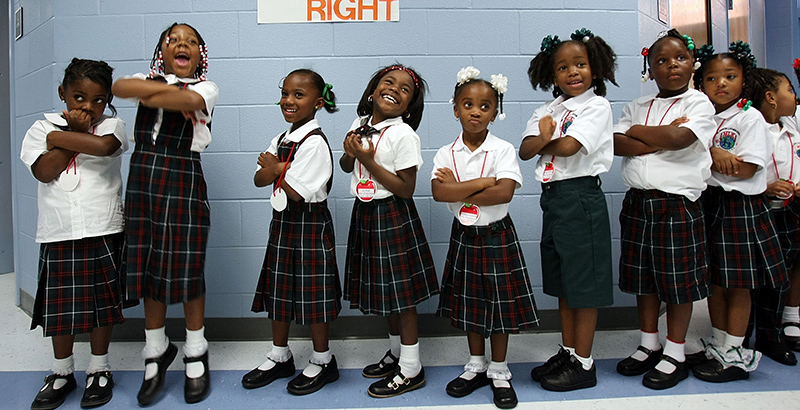 New Orleans is at a crossroads, and the whole country is watching. While Louisiana finds itself at the bottom of many lists, our state has done something powerful for students and their families: It created a seismic shift to strengthen public schools, empower parents with high-quality educational options, and silence special interest groups. Which path New Orleans schools take will heavily depend on a number of factors, none more critical than the vision, leadership, and implementation by the Orleans Parish School Board as the single governing entity of this revamped and unique system of schools.
For almost 13 years, most public schools in New Orleans have been part of the state's Recovery School District, an entity created to assist districts in turning around low-performing schools. The state decided to have the district take over more than 100 failing public schools in New Orleans, arguably among the most corrupt and lowest-performing in the country, in the wake of Hurricane Katrina's massive destruction in 2005. Today, under the district's leadership, the system is dramatically different, with many notable achievements. With 98 percent of students enrolled in charter schools, graduation rates and ACT scores are up, and more than 50 percent of its graduates go on to college. In short, New Orleans schools have improved faster than any other district in the nation over the past decade.
Now, the time has come for a new phase to continue the rebuilding and growth of the school system. On July 1, all district schools returned to the oversight of the Orleans Parish School Board. Under a novel governance and accountability model, the board will not be in charge of directly operating the more than 80 schools in the city, many of them opened since Katrina or taken over by different operators. In this new role, the board will instead be responsible for setting policy, authorizing new schools, replicating successful schools, and, when necessary, closing persistently failing schools. This unique structure challenges traditional bureaucratic models by providing greater local control and autonomy in decision-making while ensuring rigorous accountability for performance.
At this historic moment, it's important to pause and reflect so that we don't repeat past mistakes. While I understand that retaining schools in the district in perpetuity was not the state's intent, I also firmly believe that creating the district was a necessary and effective strategy for challenging the status quo in K-12 education, as it created an environment of collaboration mixed with competition that led to the undeniable improvement in the quality of schools as well as increased equity for all students.
Going forward, we must be mindful that we don't slip back into a decision-making environment rooted in short-sighted politics. To ensure this, we must keep one fundamental principle at the fore — if you don't achieve results in the classroom, you lose the privilege of educating kids. We should hold the board to the same standard as the schools it oversees. Unification should be an opportunity for the board, as the authorizer of schools, to review and strengthen its oversight of schools. It is critical that the board create a strong vision for the types of schools and missions that serve all children in New Orleans and not create burdensome mandates but, instead, hold schools accountable for outcomes that focus on students' well-being.
Perhaps the most effective defense is great schools and engaged, empowered families and teachers. The board must lead with a clear vision for this system of schools; identify and address unresolved issues that impact students citywide; communicate clearly and consistently with families and the community; and have the courage to make tough decisions in order to continue the state's efforts to improve education.
We will also need more powerful collaborations among the district, schools, nonprofits, the community, and philanthropy if we are to meet the demand for more seats in highly rated schools and early education, serve our special needs students, and continue innovative efforts related to finance, curriculum, educator recruitment and preparation, and transportation.
So far, the news is good. The board recently demonstrated a commitment to holding schools accountable, taking action on thorny issues like differentiated funding, holding schools responsible for providing transportation, and refining and expanding its complex citywide enrollment process. It has also approved, after significant public input, a new accountability framework that outlines when and how it will intervene when schools aren't meeting expectations. That, combined with Act 91 — state legislation that limits the school board's authority to interfere in the day-to-day operations of schools in New Orleans — will, I hope, mean that we can avoid the creep of the status quo of mediocrity and political infighting that ails too many school districts in our state.
As we ask the board to do, we will work to hold the bar high and remain steadfast in demanding high-quality educational options for all students in Louisiana.
My mom always told me that the only thing you can count on in life is change. As New Orleans makes this transition, I'm taking the advice of one of the world's greatest teachers, Socrates, who said, "The secret of change is to focus all your energy not on fighting the old, but on building the new." In New Orleans, we are well on our way to strengthening public schools and creating a national model.
Caroline Roemer is founder and executive director of the Louisiana Association of Public Charter Schools.
Get stories like these delivered straight to your inbox. Sign up for The 74 Newsletter